Federal Government: Electric Cars Will Account For Only 1 Out Of 100 Cars In 2040
The era of the electric car isn't likely to arrive for a long time, if ever.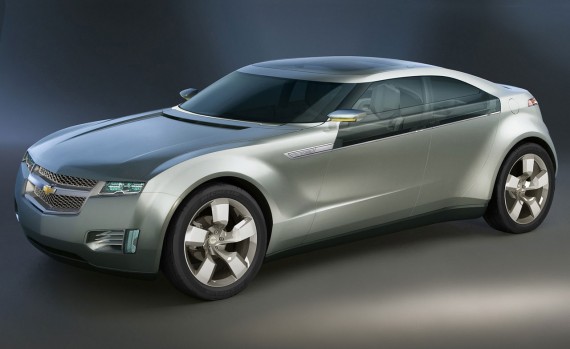 A new government study projects that we're a long way away from the time with gas-powered automobiles will be a thing of the past:
Electric vehicles are gaining a small foothold in the U.S., but according to the feds, it will remain just that — small. Fossil fuels will power the vast majority of vehicles for the next two and a half decades, with electric cars accounting for a scant 1 percent of vehicles sold in the United States in 2040, according to Uncle Sam.

The U.S. Energy Information Administration Annual Energy Outlook report for 2014 predicts that by 2040, nearly eight in 10 cars sold will run on gasoline, down marginally the number sold last year. The number of diesels rolling out of showrooms will double to 4 percent of all vehicles sold, while hybrids will comprise 5 percent of cars. That's up from 3 percent last year.

But the headline figure is this: The EIA predicts that only 1 percent of total vehicle sales in the U.S. will be plug-in hybrids, with another 1 percent being fully electric in 2040.

"The numbers of LDVs [light duty vehicles] powered by fuels other than gasoline, such as diesel, electricity, or E85, or equipped with hybrid drive trains, such as plug-in hybrid or gasoline hybrid electric, increase modestly from 18 percent of new sales in 2012 to 22 percent in 2040," the report states.

Last year, around 14.5 million vehicles were sold nationwide. If the EIA's numbers pan out (and overall vehicle sales stay about the same), fewer than 300,000 EVs and plug-in hybrids will be sold in 2040. That's bad news for the Obama administration, which has long hoped to see 1 million EVs and plug-in hybrids on the road by 2015.
This should not be a surprise, of course.
Sales of electric, or mostly electric, vehicles like the Chevrolet Volt have been lagging hoped-for target numbers for years now. Partly this is because even the Volt is hardly competitive in price with the average gas powered or hybrid vehicles on the market even though Chevrolet loses a reported $50,000 every time it sells a Volt. Other electric cars, such as the Nissan Leaf are comparably priced with the Volt, while still others, such as the cars produced by Telsa Motors are essentially super-luxury vehicles that are realistically available only to upper income earners willing to put down the cash to have something that constitutes the cutting edge of technology. According to some studies, the supposed cost savings of owning an electric vehicle when it comes to fuel costs doesn't justify the markup that consumers would have to pay upfront to buy the car, not to mention the interest costs that would be incurred on a loan for a far more expensive vehicle. That's a fact, by the way, that apparently still remains true for hybrid vehicles, which is why in many areas the most widely touted benefit of paying the extra money it takes to buy a hybrid is the fact that it allows one to drive in High Occupancy Vehicle lanes during commuting hours without regard to how many people are in the car. Indeed, that's been a quite popular sales point here in the Northern Virginia for years.
There are, of course, other issues related to electric vehicles that make the prospect of quick adoption of the technology unlikely, and most especially the Obama Administration's of 1,000,000 such vehicles by 2015. For the most part, these vehicle tend to have a range of ~100-120 miles between charges. Due to the fact that there is no extensive network of charging stations in the same way that there is an extensive nationwide network of gas stations, it's quite simply impractical at the moment to rely upon these vehicles as anything other than something to be used for short drives such as commuting to work. Even in those situations, though, there are people whose daily commutes and/or work hours in which they need to travel by car are quite extensive, meaning that they too would have a problem with a vehicle that couldn't be easily recharged. This will continue to be an issue until battery storage increases significantly and some means develops for people to easily charge their electric vehicles as easily as we can now fill our tanks with gasoline.
Finally, there's the simple fact that the internal combustion engine, which has been around for more than a century now, continues both to do its job for what amounts to an amazingly low price and to improve in both energy efficiency and performance. Properly maintained cars last far longer today than they did 20 or 30 years ago, and that's likely to remain true going forward. While a lot of very smart people have long made fools of themselves making predictions about future technology, it seems a safe bet that gas powered vehicles will retain their dominance in the market for some time to come. None of this means that the automobile industry should give up trying to improve the electric car as a concept, or to try to develop things like hydrogen fuel cells. However, the cars we have today been around for a very long time, and they're likely to stay around much further into the future than electric car enthusiasts would like you to believe.