Chevy Volt: Game Changer Or Electric Edsel ?
General Motors, and Barack Obama, are betting the future on a car that may be nothing more than an electric lemon.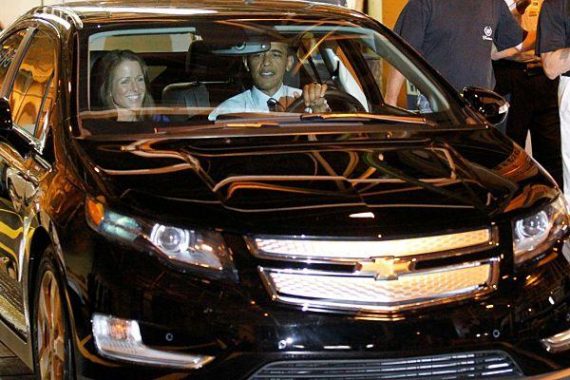 Last week, President Obama went to Michigan to tout what he claimed was the success of the G.M. and Chrysler bailouts and, stake center stage was G.M.'s newest gamble, the $ 41,000 Chevy Volt:
President Obama went on a short Chevy Volt test drive while visiting General Motors' Hamtramck, Mich., plant where the Volt will be manufactured.

It wasn't a very long test drive.

"Some of you saw me drive the Volt about 12 inches; they don't let me drive much these days," he says.

Obama is in Detroit defending his decision to invest more than $50 billion to save GM and Chrysler last year, when both automakers were on the brink of failure. He visited a Chrysler plant and a GM plant in the Detroit area. The decision to let the automakers go into bankruptcy and then support them when they emerged was controversial, and still up for debate in many corners.

"It's estimated we would have lost another million jobs had we not stepped in," Obama said.
While the Volt has been in development for years, it is the centerpiece of the government-run bailout that was put into place last year:
In developing the Volt, General Motors is seeking to fulfill its promise to Congress during the government bailout to move beyond gas-guzzlers.

The Obama administration has put its weight, and billions of dollars, behind an effort to develop electric cars and batteries in the United States. During the 2008 presidential campaign, then-Sen. Barack Obama pledged to put 1 million plug-in vehicles on the road by 2015. Whether he succeeds could depend in part on whether the Leaf and the Volt are priced low enough to be quickly embraced by consumers.

The president has expressed optimism that automakers will be able to lower the price tags of electric vehicles, suggesting that major reductions in battery costs are on the horizon.

"Because of advances in the manufacturing, [battery] costs are expected to come down by nearly 70 percent in the next few years," Obama said earlier this month at the site of a planned battery factory in Michigan. "That's going to make electric and hybrid cars and trucks more affordable for more Americans."
An electric — or at least party-electric car — it sounds like something we've been waiting for for decades, America's answer to the Toyota Prius. As Edward Niedermeyer noted in Friday's New York Times, however, the Volt is really nothing more than an electric boondoggle:
General Motors introduced America to the Chevrolet Volt at the 2007 Detroit Auto Show as a low-slung concept car that would someday be the future of motorized transportation. It would go 40 miles on battery power alone, promised G.M., after which it would create its own electricity with a gas engine. Three and a half years — and one government-assisted bankruptcy later — G.M. is bringing a Volt to market that makes good on those two promises. The problem is, well, everything else.

For starters, G.M.'s vision turned into a car that costs $41,000 before relevant tax breaks … but after billions of dollars of government loans and grants for the Volt's development and production. And instead of the sleek coupe of 2007, it looks suspiciously similar to a Toyota Prius. It also requires premium gasoline, seats only four people (the battery runs down the center of the car, preventing a rear bench) and has less head and leg room than the $17,000 Chevrolet Cruze, which is more or less the non-electric version of the Volt.

In short, the Volt appears to be exactly the kind of green-at-all-costs car that some opponents of the bailout feared the government might order G.M. to build. Unfortunately for this theory, G.M. was already committed to the Volt when it entered bankruptcy. And though President Obama's task force reported in 2009 that the Volt "will likely be too expensive to be commercially successful in the short term," it didn't cancel the project.

Nor did the government or G.M. decide to sell the Volt at a loss, which, paradoxically, might have been the best hope for making it profitable. Consider the Prius. Back in 1997, Toyota began selling the high-tech, first-of-its-kind car in Japan for about $17,000, even though each model cost $32,000 to build.

By taking a loss on the first several years of Prius production, Toyota was able to hold its price steady, and then sell the gas-sippers in huge numbers when oil prices soared. Today a Prius costs roughly the same in inflation-adjusted dollars as those 1997 models did, and it has become the best-selling Toyota in the United States after the evergreen Camry and Corolla.

Instead of following Toyota's model, G.M. decided to make the Volt more affordable by offering a $350-a-month lease over 36 months. But that offer allows only 12,000 miles per year, or about 33 miles per day. Assuming you charged your Volt every evening, giving you 40 miles of battery power, and wanted to keep below the mileage limit, you would rarely use its expensive range-extending gas engine. No wonder the Volt's main competition, the Nissan Leaf, forgoes the additional combustion engine — and ends up costing $8,000 less as a result.
If all of this had been done with the money of General Motors investors, it would be a stupid business decision perhaps, but we've lived through stupid business decision. This time it's a gamble on questionable technology with a car that is less energy efficient and more expensive than the forthcoming Nissan Leaf and the hugely popular Toyota Prius, and the only reason to buy it is if you want to endorse an auto industry bailout that never should've happened in the first place:
The future of General Motors (and the $50 billion taxpayer investment in it) now depends on a vehicle that costs $41,000 but offers the performance and interior space of a $15,000 economy car. The company is moving forward on a second generation of Volts aimed at eliminating the initial model's considerable shortcomings. (In truth, the first-generation Volt was as good as written off inside G.M., which decided to cut its 2011 production volume to a mere 10,000 units rather than the initial plan for 60,000.) Yet G.M. seemingly has no plan for turning its low-volume "eco-flagship" into a mass-market icon like the Prius.

Quantifying just how much taxpayer money will have been wasted on the hastily developed Volt is no easy feat. Start with the $50 billion bailout (without which none of this would have been necessary), add $240 million in Energy Department grants doled out to G.M. last summer, $150 million in federal money to the Volt's Korean battery supplier, up to $1.5 billion in tax breaks for purchasers and other consumer incentives, and some significant portion of the $14 billion loan G.M. got in 2008 for "retooling" its plants, and you've got some idea of how much taxpayer cash is built into every Volt.

In the end, making the bailout work — whatever the cost — is the only good reason for buying a Volt.
I don't know about you, but that's not a good enough reason for me.