40-Hour Week An Anachronism
Most managers work beyond 9-to-5.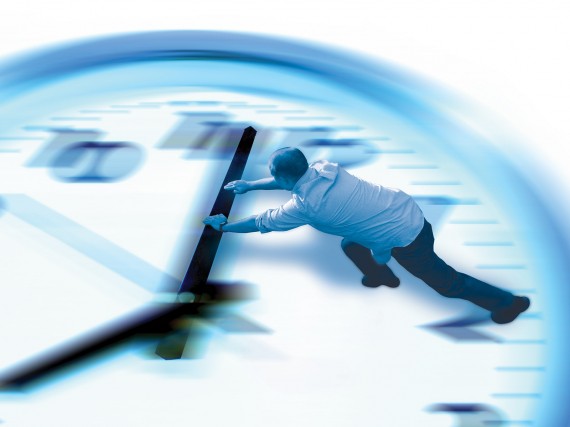 AP ("The 40-Hour Work Week Is a Thing of the Past"):
The phrase "nine to five" is becoming an anachronism.

About half of all managers work more than 40 hours a week, according to a new survey from tax and consulting firm EY, and 39% report that their hours have increased in the past five years. Little wonder, then, that one-third of workers say it's getting more difficult to balance work and life.

The survey, which fielded opinions from 9,699 full-time employees in eight countries, raises some questions about the sustainability of the current pace of work, said Karyn Twaronite, who heads up diversity and inclusion efforts for EY and commissioned the study.

Employees report that their responsibilities at work have increased while wages have largely stayed flat. And while technologies like company-provided smartphones and remote-work software have bought workers some flexibility, they also keep "people tied to work seven days a week," Ms. Twaronite noted.

Fifty-eight percent of managers in the U.S. report working more than 40 hours a week, surpassed only by managers in Mexico, where 61% say they're working those hours. By comparison, just over a third of U.K. managers and under a fifth of managers in China report working beyond 40 hours.

The reported shift in working hours appears to hit parents particularly hard. Some 41% of managers who have kids say they've seen their hours increase in the last five years, as compared to 37% of managers who do not have children. Working women and parents also rated the task of managing their work and personal lives as slightly more difficult than men and those without children, but respondents of both genders and all generations reported that they're feeling the crunch.
The 40-hour work week is an anachronism because it was a byproduct of the industrial age, which is long past. Regular, fixed working hours were a hard-fought concession those who labored in factories and coal mines. In the information age, though, they're incredibly difficult to arrange.
I made a conscious decision decades ago to trade earning power for quality of life and chose a career path that offered a lot of flexibility. But, even teaching and writing—which offer much more autonomy and off time than typical office or retail sector jobs—have become more demanding in the modern information environment. Email, texting, and smart phones make me much more connected to students and administrators than was the case early in my career, let alone those who had the same jobs 25 or 30 years ago. And the Internet and the proliferation of venues for publishing—including, of course, this site—incentivize writing in what would have been off hours in the evenings and on weekends.
Additionally, these tools have further globalized the economy. I know a lot of people—senior managers in the private sector, scholars, policy wonks, and civil servants—who are on US time during their regular workday and then on Asia time in the evenings. When they travel to Asia, it's the reverse—they're still expected to take calls, respond to emails, and otherwise deal with urgent matters going on back at the office.
Some of this is the same sort of managerial abuse of employees as well saw during the worst days of the industrial age. Much of it, though, is just a function of grappling with a new information environment. Some European countries are trying to regulate work-related email, for example. But it's just going to be incredibly hard to come up with rules that make sense given a global, connected, I-need-answers-right-now world.