America's Disgruntled Civil Servants
America's federal workforce is increasingly disenchanted.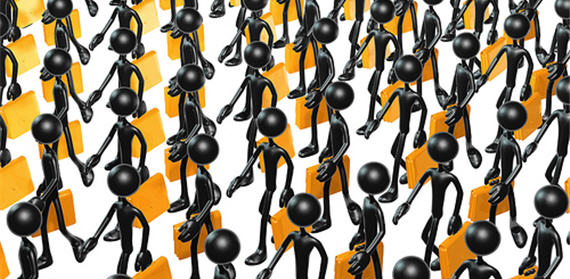 America's federal workforce is increasingly disenchanted.
Josh Hicks, reporting for the Washington Post ("Morale drops among Defense Department's civilian workers"):
Civilian defense employees have grown increasingly dissatisfied with their jobs, and many wouldn't recommend their organization as a good place to work, according to the federal government's 2014 personnel survey.

Employee approval ratings for the Defense Department, the federal government's largest agency, dropped in 47 of 84 categories, according to a government workforce survey.

Paige Hinkle-Bowles, the Pentagon's head of civilian personnel policy, acknowledged in a memo to employees that the results of the annual worker survey revealed "challenges," but he said agency leadership is committed to addressing worker concerns through "action planning and ongoing process improvements."

This year's results show that the civilian defense workforce remains dissatisfied with senior leadership and managers. More than 42 percent of respondents said managers do not communicate goals and priorities effectively, and barely more than half said they respect senior leadership. Both rates declined by more than two percentage points compared with 2013.

At Defense, according to the survey, problems also have persisted in the areas of training, career advancement, accountability and openness to new ideas.

Fifty-two percent of employees indicated that they are not satisfied with job training, and 69 percent said they are not content with career-advancement opportunities.

Federal training budgets have shrunk in recent years because of spending cuts, and some Democrats have already used the survey results to argue that Congress needs to be more generous with funding.

"The level of dissatisfaction is not surprising in light of furloughs, government shutdown, pay freezes and [the] requirement to do more with less resources at a time when the demand for U.S. military involvement in world events is at an all-time post-9/11 high," said Michael Amato, a spokesman for Rep. Adam Smith, Wash., the top Democrat on the House Armed Services Committee.

Sen. Jim Inhofe, Okla., the top Republican on the Senate Armed Services Committee, argued that President Barack Obama needs to prioritize defense funding.

"It's no surprise that the morale of DOD employees has suffered under this president's misguided spending priorities," he said.

Only 52 percent of respondents said senior leaders maintain high standards of honesty and integrity, representing a drop of about four percentage points compared with last year. Additionally, 63 percent of employees indicated they don't believe innovation is rewarded, and 55 percent said they don't feel empowered to affect work processes.

Among the lowest scores, only 18 percent of employees said pay raises are based on job performance, and just 27 percent said they believe management takes steps to deal with poor work.

On a positive note, the vast majority of employees expressed satisfaction with work-life programs.
And it's not just DoD. Kellie Lunney for Government Executive ("Overall Morale at VA Dips, Along With Faith in Leaders"):
Employees at the Veterans Affairs Department are less enchanted with their job and agency this year than they were in 2013.

Sixty-four percent of VA respondents to the 2014 Federal Employee Viewpoint survey reported being content with their job overall, down from 66 percent last year. Satisfaction with the department overall also was worse: 53 percent of respondents said they were satisfied with the VA compared to 55 percent in 2013. The decrease in satisfaction isn't particularly surprising given the widespread management problems at VA that came to light this spring, including cover-ups related to patient care.

Faith in senior leadership also took a hit over the past year, similar to the response from Defense Department employees on that topic.

Forty-four percent of VA workers who responded to the 2014 Federal Employee Viewpoint Survey agreed that their organization's top leaders "maintain high standards of honesty and integrity," compared to 49 percent in 2013. Thirty-six percent said their senior leadership generated "high levels of motivation and commitment in the workforce," compared to 41 percent who agreed with that statement last year. And the number of respondents who said they felt a "high level of respect" for their organization's top tier fell four percentage points from 2013 to 2014, from 50 percent to 46 percent. A paltry 37 percent said they were satisfied with the policies and practices of the VA's senior leaders.

[…]

Forty-nine percent of VA employees reported being satisfied with their pay, the same as in 2013. Employees were particularly unhappy when it came to job performance and fairness: Twenty-eight percent said their work units took steps to deal with poor performers, while just 30 percent said promotions were based on merit. Pay raises also were a point of contention: Only 20 percent said they believed salary bumps "depend on how well employees perform their jobs."

Still, VA employees reported a strong sense of mission and enthusiasm for their work, with 92 percent agreeing that what they do is important, 85 percent saying they enjoy their work and 92 percent supporting the statement: "I am constantly looking for ways to do my job better."
Most agencies have not yet released their survey results but, given the standardization of pay and benefits and the fact that all are suffering from cuts to training and travel budgets in the current environment, one would expect similar results across the board. If anything, DoD and VA are likely to have higher morale, given that they both have active, real world missions and therefore provide a sense that work is meaningful.
Of course, given widespread public sentiment that government workers are overpaid and underperforming, these results are unlikely to yield much sympathy. Then again, as Government Executive's Howard Risher reports ("The High Cost of Federal Workforce Depression") low morale translates into worse performance.
Low employee morale adversely affects employee performance. When morale deteriorates, and it's not addressed, at some point it transitions to what is best understood as workplace depression. This can happen when employees feel "overwhelmed, lost or fatigued as a result of excessive work demands," says David Ulrich, one of the country's experts on workforce issues.

[…]

The best way to understand the impact of that drop is to consider what research and anecdotal stories tell us about organizations with a high level of esprit de corps. There is a shared commitment to the organization's success. Employees gain a high level of satisfaction from knowing they played a role in that success. They believe they are doing something important. The level of camaraderie and teamwork is high. They are willing to make sacrifices for the organization.

Where that's true, employees typically perform at demonstrably higher levels. Research and anecdotal stories show that in a positive, supportive environment, employee performance can be as much as 30 percent to 40 percent higher than the norm. Workers enjoy being challenged and demonstrating their capabilities.

When morale is low, employees tend to lose their focus, are less attentive and diligent, withdraw and become less cooperative, and avoid responsibility. Everyone who interacts with a disgruntled employee recognizes the problem. It shows up as increases in common measures like absenteeism and grievances. The recently reported porn-watching at work is evidence of the problem.
Risher's report focuses on the Secret Service, which has had several high profile incidents of late. But the effect is generalizable. And, the obvious answer—quit your job if you don't like it—is even less of an option for most government workers than it is in the private sector in this economy.
Everyone wants to be treated fairly. In a work situation we all operate from what is referred to as a "psychological contract." That contract defines the relationship between an employee and his or her supervisor. It covers what we expect from our employer and what's expected of us. When that contract is breached, it's a problem. Initially, employees see it as unfair—triggering grievances—and over time they become disenchanted or angry.

In the private sector, disgruntled employees quit. Turnover goes up as morale declines. Employees no longer have loyalty to an employer.

It's not as simple in government, however. Especially at an agency like the Secret Service, employees have made a career commitment to the mission and agency. They are extremely reluctant to make the decision to quit midcareer. In fact, many would find it difficult to secure a job that pays as well. Their government experience does not translate easily, and often private employers are skeptical. Disgruntled employees and their agency would both benefit from their resignation.
My own situation is somewhat unique, in that civilian professors at professional military education institutions are in the excepted service and have substantially more autonomy than most of our general schedule counterparts. While I'm for all intent and purposes a civil servant, I'm hired on a short-term contract basis and never get career status. In exchange for that lack of job security, I'm largely left alone to pursue my work as I see fit. I have a much more structured work schedule than my counterparts in civilian academe but much more flexibility than most of the DoD workforce. Even so, the recent years of pay freezes, unpaid furloughs, and cutbacks in resources required to do our jobs (most notably, funding for research and travel but also such niggling things as paying to use certain copyrighted materials) has taken a toll on those who've been around awhile. (I've only been at it a little over a year, starting just after the last round of furloughs, and factored in the pay situation when taking the job, so find the strictures mildly annoying rather than soul crushing.)
Fiscal austerity is here to stay and probably should be. For my own part, I'd be fine with that if it were being managed thoughtfully rather than applied through random inaction. Sequestration was designed as a poison pill to force rational compromise and, instead, became reality. Instead of looking at the various services the federal government pays for and deciding which ones it no longer needs or otherwise realigning our priorities with our new spending posture, Congress and the administration have been content to simply cut across the board. The result is a mismatch of demands and resources that impact mission performance. That, as my former director observed at the time of last year's government shutdown, is no way to run a railroad. But it's quickly becoming status quo or, to use an old military acronym, SNAFU.