Did House Impeachment Managers Make Their Case?
Most agree that it was good theater. But it's not clear what they've proven.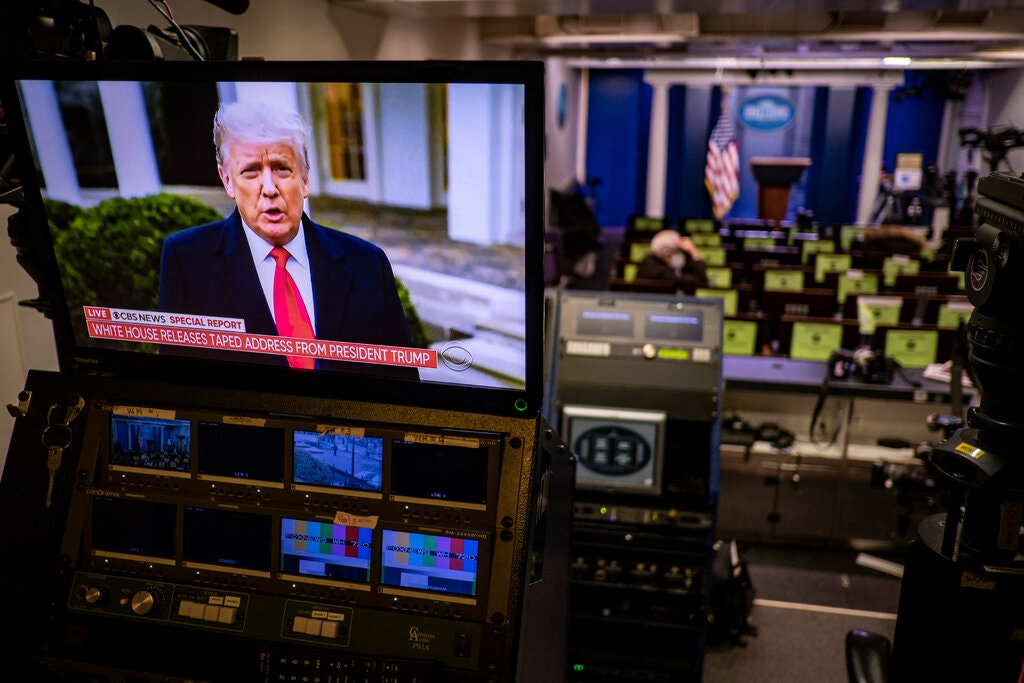 The Democratic Representatives presenting the case for impeaching former President Trump to the Senate have rested their case after two days of sensationalistic videos juxtaposing the terrifying events of January 6 with statements from Trump and his supporters. Was it enough?
Certainly, as expected, it didn't persuade enough Republican Senators to vote to convict. Many, indeed, are dodging the question altogether, hiding behind a dubious technicality.
The Hill ("GOP senators praise impeachment managers but say Trump will be acquitted"):
Senate Republicans on Thursday were complimentary of the two-day presentation from House impeachment managers, but signaled that it won't change the ultimate outcome of the trial: former President Trump's acquittal.

The House team, led by Rep. Jamie Raskin (D-Md.), wrapped on Thursday afternoon, after hours of opening arguments that included a detailed timeline of Jan. 6 events and new video footage of the attack on the Capitol that day.

Republicans acknowledged that they thought the presentation was effective, while adding that they didn't think it changed many minds and nowhere near the number needed to make Trump the first U.S. president to be convicted.

"I think they did a good job. I don't believe the facts are largely in dispute about what happened that day or the nature of what happened," said Sen. Marco Rubio (R-Fla.).

"The fundamental question for me, and I don't know about everybody else, is whether an impeachment trial is appropriate for someone who is no longer in office. I don't believe that it is. I believe it sets a very dangerous precedent," Rubio added.

Sen. Ron Johnson (R-Wis.), who has said he believes the impeachment trial is unconstitutional, said he thought the House managers "put forward a good case."

"Obviously, it was their side, their perspective," he said.

Sen. Mike Rounds (R-S.D.) said that he thought Rep. Ted Lieu's (D-Calif.) line about being concerned not about Trump running again and winning but Trump running again and losing was "a very powerful statement."

"I know I wrote that down. I know a number of my colleagues did. But once again, the issue for most of us is: Are you asking us to do something that we simply don't have the capability of doing because the Constitution does not give us that tool with regard to a private citizen?" Rounds said.

Democrats on Thursday emphasized their belief that unless the Senate convicts Trump, he could go on to incite future violence.

Over the past two days, they repeatedly argued that Trump was the primary driver of the deadly mob that stormed the Capitol.

Senators were visibly shaken on Jan. 6 and several Republicans fumed at Trump in the immediate aftermath of the attack, which required senators to evacuate the chamber and shelter in place for hours.

But since then it's become apparent that there is not enough support within the Senate to convict Trump.

Only a handful of GOP senators are viewed as potential "yes" votes on convicting Trump. None have announced that they will, as they wait for Trump's team to present its opening argument Friday.

Sen. Bill Cassidy (R-La.), who surprised his colleagues when he voted this week to proceed with the trial, said he wanted to hear from Trump's lawyers.

But, he noted that he thought the House impeachment managers had "done very well."

"I think that's generally conceded," Cassidy said.

Sen. Susan Collins (R-Maine), another potential swing vote, urged Trump's legal team to match the detailed presentation of the House impeachment managers.

"I hope they'll be as specific as the House managers were — who went through the evidence, provided legal arguments and gave a very thorough presentation," Collins said.

But even if every Democrat votes to find Trump guilty, it would still take 17 GOP senators to convict him. If the Senate successfully convicted him, it would only a simple majority in a subsequent vote to bar him from holding office again.

Sen. Mike Braun (R-Ind.) said he didn't think the House impeachment managers changed minds among Republicans who have already decided to vote to acquit.

"You know, I don't think so. I think that when you have two votes that preceded the one we're going to make, there's a lot within that that tells you kind of where we're going to be," Braun said.

Sen. Roy Blunt (Mo.), a member of GOP leadership, said the House impeachment managers didn't change his mind on the trial being unconstitutional.

"Well, my view is unchanged as to whether or not we have the authority to do this, and I'm certainly not bound by the fact that, you know … 56 people think we do. I get to cast my vote and my view is that you can't impeach a former president," he said on Thursday.

Sen. Ted Cruz (Texas), who was part of a group of GOP senators who met with Trump's legal team Thursday, predicted that the trial will end in Trump's acquittal.

"I think the end result of this impeachment trial is crystal clear to everybody … Donald Trump will be acquitted," he said. "And every person in the senate chamber understands there are not the votes to convict him."
While I'm sympathetic to the argument that impeachment is a tool for sitting officials only, I see little merit in the idea that the trial for an impeached sitting official can't proceed because the Senate intentionally recessed to let the clock run out. Beyond that, with a majority of the Senate having already voted that the trial may proceed, it strikes me that dodging a vote on this basis is cowardly. After all, a convicted Trump could take the matter up with the courts.
As to the merits of the case, it's not obvious to me who was supposed to be persuaded by it that wasn't already on board.
I believed on January 6 and continue to believe that Trump's repeated attempts to overturn the legitimate vote, urging of various officials to commit crimes to keep him in office, and repeated fanning of the flames of illegitimacy with his supporters warranted his impeachment, removal from office, and bar from future office. But the sensationalism of the impeachment managers' presentation actually detracted, in my judgment, from the notion that Trump incited the riot.
Indeed, they reinforced my view that the storming of the Capitol on January 6 was not, as it appeared in real time, simply a bunch of zealous Trump supporters pushed over the edge by a speech that morning but rather multiple, overlapping events—including pre-planned terrorism by various Patriot Militia and white supremacist extremist groups that were clearly operating independently from Trump.
Indeed, were this a criminal trial about incitement rather than a political verdict on a President's duty to the Constitution, I would likely judge that the impeachment managers had failed to make their case. Even aside from the extremely high bar the Supreme Court has placed on criminalizing incitement, there's a reasonable argument to be made that Trump was not urging people to literally break into the Capitol, let alone commit acts of violence against people.
Yet, beyond all the distractions, they made the more important case that Trump's high crime wasn't simply a single speech that may or may not by itself have incited a riot. Rather, as WaPo's Aaron Blake summarizes it, the real crime was a years-long process.
This is hardly the first time people have tied Trump's comments to real or potential violence. It happened throughout his presidency. It happened to the point where even many Republicans now allied with Trump — who are playing down the need for his impeachment — warned about a situation similar to this, including former South Carolina governor Nikki Haley and Sen. Ted Cruz (Tex.).

Raskin referred to many of these instances, including Trump jokingly praising a Montana politician for assaulting a reporter, suggesting that there were good people on "both sides" of the racist rally in Charlottesville in 2017, and his repeated suggestions both at his 2016 rallies and since that his supporters might get violent. Trump also endorsed a clip from a supporter saying "the only good Democrat is a dead Democrat" — before that supporter was arrested for his part in the Capitol riot.

Perhaps most compellingly, Raskin noted Trump's tweet to "LIBERATE MICHIGAN" in April. It came two weeks before armed protesters flooded the state Capitol there. Trump suggested approval for their show of force and, in response, urged Gov. Gretchen Whitmer (D) to negotiate with them on the coronavirus restrictions Trump had criticized. Two weeks later, protesters returned with more violent rhetoric. Then an alleged plot to kidnap Whitmer surfaced — a plot in which the alleged perpetrators echoed Trump's rhetoric.

"This Trump-inspired mob may indeed look familiar to you," Raskin said of the initial scenes at the state Capitol. "Confederate battle flags, MAGA hats, weapons, camo Army gear — just like the insurrectionists who showed up and invaded this chamber on Jan. 6. The siege of the Michigan Capitol was effectively a state-level dress rehearsal for the siege of the U.S. Capitol that Trump incited on January 6th."

Trump's defenders have focused narrowly on his speech Jan. 6, which they argue was unremarkable, and which they note included one line that those marching to the Capitol should "peacefully" protest. They have even argued that revelations about planning by some Capitol rioters suggest that they couldn't have been incited.

That ignores everything that preceded Jan. 6, and Trump's efforts to overturn the election. The fact is that there had been all kinds of suggestions that Trump's rhetoric could lead to what we saw. Trump often did far less than his critics said he should to prevent or condemn such scenes.
Moreover, while it doesn't directly go to the "incitement" charge, Blake's colleagues Rosalind S. Helderman and Josh Dawsey lay out a rather persuasive case in "Mounting evidence suggests Trump knew of danger to Pence when he attacked him as lacking 'courage' amid Capitol siege" of gross malfeasance of presidential failure to Take Care that the laws be faithfully executed.
Mounting evidence emerging as former president Donald Trump's impeachment trial unfolds in the Senate this week indicates Trump may have been personally informed that Vice President Mike Pence was in physical danger during the Jan. 6 Capitol siege, just moments before denigrating him on Twitter.

Trump's decision to tweet that Pence lacked "courage" — a missive sent shortly after the vice president had been rushed off the Senate floor — underscores how he delayed taking action to stop his supporters as they ransacked the Capitol.

Many of them were intent on doing harm to Pence, whom Trump had singled out at a rally earlier in the day, falsely claiming the vice president had the power to stop Congress from formalizing Joe Biden's electoral college victory.

Trump's tweet came at 2:24 p.m. that day — only 11 minutes after live television coverage showed Pence being hustled from the Senate floor because rioters were streaming into the building one floor below. The Senate then abruptly went into recess.

rump was watching news coverage of the session after he returned from his rally at the Ellipse, according to a person familiar with the events of the day who, like others interviewed for this report, spoke on the condition of anonymity to describe what was happening behind the scenes.

The White House was typically immediately informed by Pence's Secret Service detail about any significant movements involving the vice president, according to another person with knowledge of the security protocols.

In addition, Trump heard directly about the vice president's movements from a GOP senator. Shortly after Pence was rushed out of the Senate chamber, Sen. Tommy Tuberville (R-Ala.) spoke to Trump on the phone and told him about Pence's hasty exit, Tuberville told reporters Thursday.

"I said, 'Mr. President, they just took our vice president out, they're getting ready to drag me out of here. I got to go,' " Tuberville said he told Trump during the brief call.

The exact time of their conversation is unknown, but Pence was pulled from the room by the Secret Service at 2:13 p.m. and senators had fully evacuated the chamber around 2:30.

A Trump spokesman did not respond to a request for comment.

Trump had spent days leading up to Jan. 6 publicly and privately pressuring Pence to use his ceremonial role as the presiding officer of the joint session of Congress to overturn the election results. Pence had warned Trump that he did not believe the Constitution gave him that power.

Former administration officials have said Trump was enraged early that day when Pence privately informed the president that he had made a final decision: He would not interfere with the process.

Still, Trump attacked Pence repeatedly in his midday speech to thousands of supporters gathered at the Ellipse. Though Trump knew of Pence's plans, he led the crowd to believe that the vice president's actions remained an open question — elevating the suspense and eventual shock among his supporters at Pence's perceived betrayal when the session opened.

"Mike Pence, I hope you're going to stand up for the good of our Constitution and for the good of our country," Trump said. "And if you're not, I'm going to be very disappointed in you."

Before Trump finished speaking, Pence issued a lengthy statement announcing publicly that he would not reject Biden's electoral college votes.

People familiar with Trump's activities said he returned to the White House seething with anger at his vice president. One said Trump had considered tweeting about his anger earlier in the day — but decided to hold off until after Pence had formally opened the proceedings at 1 p.m.

During this week's Senate trial, House impeachment managers have zeroed in on Trump's treatment of his vice president, showing how the mob specifically targeted Pence, hunting him in the Capitol, chanting, "Hang Mike Pence," and calling him a "traitor."

The Trump tweet about Pence came more than an hour after police reported that metal barricades outside the Capitol had been overwhelmed by the angry mob and about 12 minutes after the rioters had made it inside the building.

"Mike Pence didn't have the courage to do what should have been done to protect our Country and our Constitution . . . USA demands the truth!" Trump tweeted.

On Thursday, Rep. Joe Neguse (D-Colo.), a House impeachment manager, emphasized that Trump did nothing to try to stop the mob as rioters stormed the building, hunting for Pence.

"What did President Trump do?" he asked. "He attacked him more. He singled him out by name. It's honestly hard to fathom."
Again, none of that is evidence of incitement but there are multiple impeachable offenses in that sequence and, certainly, ample evidence that Trump is unfit to hold the office of President or any other office of responsibility in the future.
As noted in previous posts, I'd be surprised if the six Republicans who voted to allow the trial to proceed all voted to convict Trump of incitement, and positively shocked if another eleven joined them to get the required two-thirds to convict. So, really, this is a show for the public. And I doubt many minds were changed.
Most obviously, people are still self-segregated into news silos, getting their information filtered through their preferred ideological/cultural/tribal lenses. One imagines Fox, much less NewsMax and OAN, are presenting a much less compelling case against Trump than CNN, much less MSNBC.
Even beyond that, though, while long video montages may well be good theater, they're really hard to boil down into 30-second bites. So, I have no idea how even the relatively neutral networks are covering this.
And, of course, those of us getting our news from multiple elite outlets almost certainly made up our minds on all of this on January 6—if not years before that.