6 Senate Republicans Vote Trump Trial Constitutional
As expected, the second impeachment trial of the 45th President will proceed.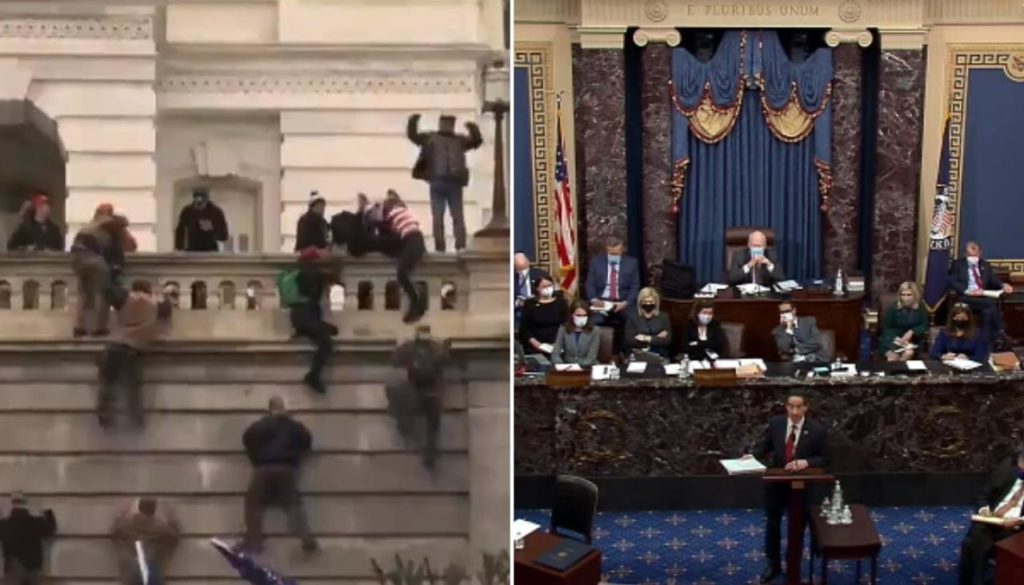 The Senate impeachment trial of former President Donald Trump kicked off yesterday with a powerful video montage that wouldn't be allowed in any American courtroom, with a jury pool that would be disqualified from any other trial by virtue of their conflicts of interest. This was followed by every Senate Democrat and six Senate Republicans ruling against Trump lawyers' motion that trying an official no longer in office violated the Constitution.
WaPo ("Senate votes to pursue Trump impeachment trial after declaring the proceedings constitutional"):
The Senate voted along mostly partisan lines Tuesday to pursue Donald Trump's second impeachment trial, after hours of arguments and the airing of a gripping documentary of the deadly Capitol riot that followed Trump's inflammatory rally on Jan. 6.

Aided by the graphic 13-minute video that spliced violent images of the Capitol siege with Trump's rhetoric, Rep. Jamie B. Raskin (D-Md.) and other impeachment managers delivered an impassioned account of the physical and emotional trauma to lawmakers, police, staffers and local residents. They said there was no "January exception" in the Constitution — meaning that a president couldn't escape accountability through impeachment just because he had left office before the trial.

"If that's not an impeachable offense, then there is no such thing," Raskin said of Trump's behavior.
That the events happened or that they were emotionally impactful is not in dispute. The question is whether Trump is guilty of inciting the events. He almost certainly is not under the standards of American law, which affords protections to speech well beyond those in other Western democracies.
But an impeachment trial is not a criminal court. Stunts like a choreographed video splicing out-of-context quotes in for cinematic effect are allowed. Having a jury pool that was personally involved in the incident in question is allowed; indeed, required in this instance. And, ultimately, the standard isn't whether Trump is guilty of criminal incitement but whether 67 Senators believe his conduct warrants his removal from office or, in this case, his being barred from eligibility to hold federal office in the future.
Yesterday's vote confirmed what we've known all along: there are not. Still, there's one more than there was last month.
Trump's lawyers countered that the trial — the first proceeding of its kind for an ex-president — would be unconstitutional because Trump was no longer in office, even if he was impeached by the House before leaving. One of the attorneys acknowledged that the former president lost the election, undercutting one baseless claim that Trump has spread since Nov. 3.

The Senate swiftly voted 56 to 44 against Trump. The proceedings will resume at noon Wednesday.

[…]

That vote was similar to one taken by the Senate last month, in which only five Republicans — Susan Collins (Maine), Lisa Murkowski (Alaska), Mitt Romney (Utah), Patrick J. Toomey (Pa.) and Ben Sasse (Neb.) — voted that an impeachment trial of a former president was constitutional. Sen. Bill Cassidy (R-La.) joined them Tuesday in breaking with their party to allow the trial to proceed.
56 votes isn't 67 and, given that everyone in the body is intimately familiar with the details of the events in question, it's hard to imagine what new evidence or arguments will get another 11 to switch sides. Indeed, it's more likely that one or more of the six Republicans who voted that the trial is Constitutional will nonetheless vote to acquit.
It's possible that some Republican Senators legitimately believe Trump's actions, while outrageous, don't rise to the level of impeachable offense because they were protected speech. Most, though, are making a political calculation about how a vote to convict will play with their constituents.
That's regrettable but par for the course. As noted here many times, before Trump, only two Presidents had been impeached by the House. Not only were both acquitted by the Senate, but not a single Senator from their political party (Democrats, in both instances) voted to convict. Mitt Romney's Yes vote in Trump's first impeachment has been the only exception to the rule—and in, fairness, that vote was performative, in that he knew it would not be decisive.