Republican Leadership Face Tests with Cheney and Greene
Mitch McConnell is testing out his spine again.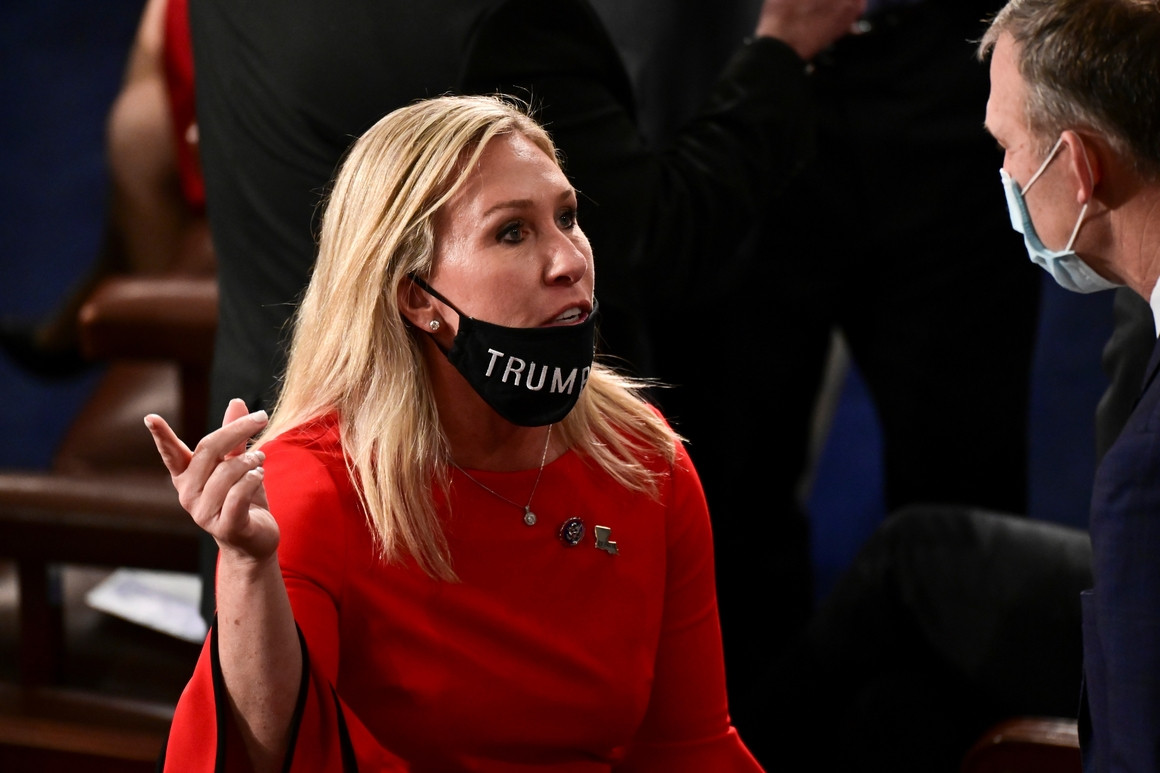 WaPo ("Senate Republicans move against 'nutty' House member in widening GOP rift"):
A growing number of Republicans took sides Tuesday in a brewing House battle over the shape of the GOP after the Donald Trump presidency, amplifying pressure on Minority Leader Kevin McCarthy as he decides this week whether to sideline conspiracy theorists and secure a place for anti-Trump voices in party leadership.

Leading the charge was Senate Minority Leader Mitch McConnell (R-Ky.), who made an unusual detour into the other chamber's affairs by denouncing the extremist rhetoric of Rep. Marjorie Taylor Greene while offering a gesture of support for Rep. Liz Cheney, the No. 3 House GOP leader, who voted last month to impeach Trump.

He was joined Tuesday by several other Republican lawmakers, as well as pillars of the conservative establishment, who together warned that sidelining Trump critics from the party while tolerating purveyors of social-media-driven paranoia would spell long-term disaster — a "cancer for the Republican Party and our country," as McConnell put it.
McConnell displayed flashes of courage in the aftermath of the election, refusing to go along with efforts to reject the Electoral College vote, and especially after the 6 January storming of the Capitol, condemning President Trump's role in inciting the rioters and even hinting that he might go along with convicting him in the impeachment trial. But, ultimately, he backtracked when his caucus applied pressure. So, there's certainly reason to doubt his steadfastness here.
Still, McConnell is nothing if not a shrewd, calculating politician. He likes being Majority Leader and he rightly believes Trump, Trumpism, and general kookiness are why he is giving up that title. If he wants it back in two years, he needs a party that can attract more than the hard-core base. (And, indeed, it might not even have managed that in the Georgia runoffs.)
He has, well, at least one supporter in the Senate:
Sen. Todd C. Young (R-Ind.), a McConnell confidant who recently ended a stint as chairman of the National Republican Senatorial Committee, called Greene "nutty" and "an embarrassment to our party."

"The people of her congressional district, it's their prerogative if they want to abase themselves by voting to elect someone who indulges in anti-Semitic conspiracy theories and all manner of other nonsense. But I've got no tolerance for people like that," he told reporters. "In terms of the divisions within our party, she's not even part of the conversation, as far as I'm concerned."
Of course, being crazy has worked well for her so far.
Greene, meanwhile, boasted of raising more than $85,000 in the 24 hours following McConnell's statement late Monday and fired back at him on Twitter: "The real cancer for the Republican Party is weak Republicans who only know how to lose gracefully."
Regardless, the GOP Congressional leadership has some choices to make.
The debate over the future of the GOP comes a day before House Republicans are scheduled to meet privately to debate whether Cheney (R-Wyo.) — the daughter of a former vice president who has spent a lifetime in Republican politics — can continue in her role as GOP conference chairwoman.

They are also facing pressure to swiftly remove Greene (R-Ga.) from two House committees after the unearthing of social media posts in which she endorsed the assassination of prominent Democrats, including Speaker Nancy Pelosi; promulgated conspiracy theories involving the same; and claimed mass shootings in Las Vegas and Florida were "false flag" operations staged by supporters of gun control.

At the center of the pressure is McCarthy (R-Calif.), who has maintained his position as the top House Republican leader by hewing closely to Trump and an evolving GOP electorate that eagerly embraced the former president's hard-edge populism while casting aside much of the party's conservative orthodoxy.

After unexpected GOP gains in November's elections, McCarthy is well-positioned to succeed Pelosi as speaker in the upcoming midterm elections, but he is now facing an intraparty crisis following the Capitol riot — one that some Republicans say has been exacerbated by McCarthy's own vacillations in the four weeks since.

After publicly holding Trump at least partially responsible for the events of Jan. 6 and endorsing a first-ever presidential censure, McCarthy later tempered his criticism — culminating in a meeting with Trump last week at his Florida estate. The two agreed to work in tandem to win the House back for Republicans in 2022 — an outcome that could vault McCarthy into the speakership and demonstrate the durability of Trump's appeal to GOP voters.

But the fracture inside the party of Cheney and Greene could throw that plan into doubt — and it is in McCarthy's hands to navigate a path through the turmoil. On one side are Trump loyalists who make up the bulk of the House GOP — two-thirds of whom voted to reject state electoral votes and endorse Trump's baseless voter fraud claims — while a significant minority are eager to move the party away from Trump and toward a more policy-driven foundation.
In an ideal world, someone other than McCarthy would be the House Republican Leader at this point. He's lost his integrity card. I would love to see Cheney take over for him and signal a line in the sand. But that's not going to happen.
In the latter camp are many Republicans who see the moment as akin to the mid-1960s reckoning when journalist William F. Buckley Jr. and key GOP politicians banded together to marginalize the anti-Communist extremism and conspiracy-mongering of the John Birch Society. The echoes of that moment could be heard in the statement from McConnell, who dismissed Greene's statements as "loony lies" that have "nothing to do with the challenges facing American families or the robust debates on substance that can strengthen our party."

Sen. John Thune (S.D.), the No. 2 GOP leader, said House Republicans faced a simple choice: "Do they want to be the party of limited government . . . or do they want to be the party of conspiracy theories and QAnon?" he asked, referring to the extremist ideology that Greene embraced during her campaign and has been linked to violent incidents culminating in the Capitol riot.

Said Sen. Mitt Romney (R-Utah), "Our big tent is not large enough to both accommodate conservatives and kooks."

Robert Doar, president of the American Enterprise Institute, which has historically enjoyed close ties with Republican policymakers, said it was incumbent on the GOP to accept Trump critics like Cheney into the fold and root out extremists or watch the party's electoral coalition continue to unravel.

"The risk is that they'll drive reasonable people who would likely be supportive of right-of-center policies away because they don't want to be a part of a party that has those elements in it," he said. "What will happen is that the substance that you really care about — a certain kind of tax policy, a certain kind of budgetary policy, an approach on issues concerning cancel culture and identity politics — will lose."
This isn't the mid-1960s, alas. Gone are the days of the smoke-filled rooms. As noted in a recent post, it's not at all clear how the Republican leadership can cast out the kooks. Greene wasn't chosen by "the Republican Party" but rather by those who showed up to vote in a multi-candidate primary race in an extremely safe Republican district.
But, certainly, the leadership can marginalize her by refusing to give her influential committee assignments. Theoretically, they could expel her altogether, although I'm not sure there's precedent for doing so on the basis of outrageous statements made before being elected to office.
But the other camp, largely consisting of newer Republicans who came to power with Trump, see establishment figures as attempting to pull the party back to its Reagan-Bush days.

"If I was a Republican at risk of losing a primary, I do not know that Mitch McConnell's endorsement would be the first I would seek," Rep. Matt Gaetz (R-Fla.), first elected alongside Trump in 2016, told reporters Monday evening. He flew to Wyoming last week to campaign against Cheney.

"I listed Mitch McConnell right along the establishment figures like Joe Biden and Liz Cheney and Nancy Pelosi and Mitt Romney who want to return our government to its default setting of screwing the American people to their benefit," Gaetz said of his trip to Wyoming.
There are at least two "Republican Parties" in Congress right now. And it may well be that the "kooks" outnumber the "normal" ones at this point.
Next week, the Senate is set to try Trump on the impeachment charge that he incited the Jan. 6 riot by inviting his supporters to rally in D.C. as Congress tallied the electoral votes after spreading the false claim that he did not lose the November election.

But because most Republican senators have signaled that they plan to sidestep the question of Trump's culpability and acquit him on constitutional grounds, the fates of Cheney and Greene have become the most important proxy battles for the party's future.
Ultimately, the unprecedented step of convicting a President for his malfeasance while in office, would be a much stronger signal than marginalizing a backbencher. But it's clear there aren't seventeen votes for that.
Cheney's fate as a GOP leader will be debated in Wednesday evening's private meeting of Republican lawmakers. While some Trump loyalists have made clear they intend to turn the meeting into a session to air long-simmering grievances, it will be largely up to McCarthy how the challenge will be resolved. Many Republicans say he is likely to bottle up any motion to dismiss Cheney in a committee of party leaders rather than put her service up for a vote.
This, too, is rather spineless. He should force Members to go on the record.
But avoiding accountability for Greene could be much more difficult. House Democrats have announced plans to move forward with a resolution removing Greene from her two committees unless Republicans act first.

In recent history, a House majority has never removed a minority member from a committee without the minority's consent. But Democrats say they are on firm political ground given the nature of Greene's comments — and many Republicans acknowledge that the rarity of the move won't shield them from electoral repercussions.

"That puts every single member of our conference in a very difficult position — having to take an up-or-down vote" on Greene, said one House Republican official, who spoke on the condition of anonymity to speak about internal discussions. "The worst-case scenario is to take this to the floor."
I don't love the precedent of the majority party expelling a member of the minority party from Congress on the basis that they think she's a kook. Ultimately, the people of a district deserve to be represented by their chosen candidate. But, if it's ever going to happen, a conspiracy theorist who has advocated violence against other Members of Congress seems like a reasonable starting point.
UPDATE: Just after publishing this, I see that the WSJ Editorial Board ("House Republican Reckoning") agrees, if only on purely pragmatic grounds, on Cheney:
If bowing before all things Trump is the litmus test for being a loyal Republican, the party should get used to continued losses in the suburbs. Mr. McCarthy should be defending his colleague's vote as a matter of principle, even if he disagreed with it, rather than living in fear of the wrath of Mar-a-Lago.
They're more equivocal on Greene:
Ms. Greene somehow won a crowded primary, then a runoff, in her heavily GOP district. But it's not clear how tuned-in many Georgians were to her wilder views. John Cowan, the Republican she beat, recently said voters wanted a flamethrower. Now, he added, "A lot of people call me and say, 'Wow, we didn't know she was really going to be this way!'" Mr. Cowan could have used more help from the rest of the party.

But Ms. Greene won, and she deserves to be judged on how she handles herself in office. Democrats also have their share of cranks in the ranks. "Israel has hypnotized the world, may Allah awaken the people and help them see the evil doings of Israel," Democratic Rep. Ilhan Omar once wrote. After being elected, she explained her view of why Congress backs Israel: "It's all about the Benjamins baby."

California Rep. Maxine Waters urged people to harass Trump Administration officials at restaurants or gas stations, and she now runs the Financial Services Committee. The point is that ousting a Member of Congress has usually been left to the voters, with the exception of criminal behavior.

The House GOP could deny Ms. Greene committee assignments, as it did with former Iowa Rep. Steve King in 2019. But Mr. King had spent years in Congress making noxious racially tinged statements. Iowa voters defeated him in a primary. Ms. Greene has been in the House for only a month. Mr. McCarthy's best option for now might be to warn her about future comments and behavior, and if she crosses a line he can then strip her of committee slots. Voters in her district will get another chance in 2022, and Georgia Republicans could also reconfigure her district based on the 2020 Census.

Congress has had many oddballs over the decades, but in our social-media age the opposition will try to turn the words of even a single Member against the whole party. That's the GOP's Marjorie Taylor Greene problem. Congress today also has many Members like Mr. Gaetz, who view the House as a platform for their personal political brand rather than a place to legislate.

The main goal of the House minority is to become the majority, and in 2022 Republicans should have an excellent chance. But they'll squander it if they purge serious Members like Liz Cheney and let themselves be defined by conspiracy theorists and Parkland truthers.
I've always thought Waters a lunatic but she's at least motivated by legitimate rage over generations of wrongs perpetrated against her community; Greene is a privileged narcissist. Regardless, though, the GOP and its infotainment complex has spent decades portraying her and other fringe candidates from unrepresentative districts as the face of the Democratic Party. Of course Democrats will do that with Greene.