'60 Minutes' Past its Prime
A format unchanged since the Ford Administration* doesn't suit the modern era.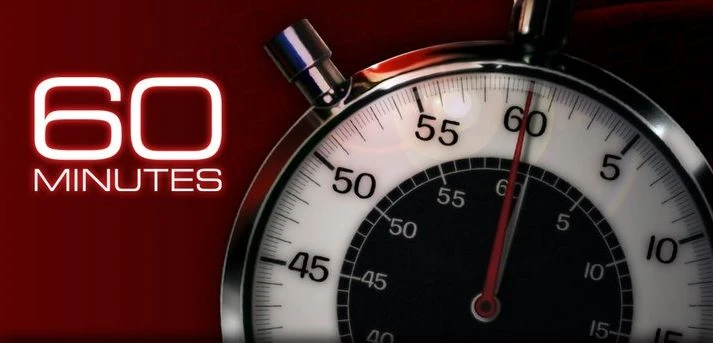 The fact that the nutty Congresswoman Margorie Taylor Greene was to appear on the CBS News magazine "60 Minutes" was a subject of much controversy on Twitter the other day, with most arguing that it was irresponsible to give her airtime. That argument struck me as silly: like it or not, she's a genuine public figure. And, hell, the show made its name by interviewing controversial figures, including all manner of con artists and other criminals.
Now that the show has aired, the postmortem focuses on the quality of the interview itself. This critique is more than fair.
Caleb Ecarma, Vanity Fair ("MARJORIE TAYLOR GREENE HIJACKED EVERY MINUTE ON 60 MINUTES")
CBS's esteemed newsmagazine broadcast 60 Minutes has spent decades building a strong reputation for journalistic "objectivity" and hard-hitting news. But on Sunday, during a widely mocked profile of Marjorie Taylor Greene, the program's apparent aversion to bias backfired spectacularly after Lesley Stahl, one of its most distinguished correspondents, let Greene spew baseless invective with little to no pushback.

At one point Stahl specifically asked the Georgia Republican why she doesn't use a lighter touch in wording her "over-the-top" smears. She also went so far as to describe Greene—a former QAnon enthusiast who once endorsed calls to execute top Democrats—as "smart and fearless."

Perhaps most notable, though, was Stahl's rather toothless response to Greene's claim that Democrats support children "being sexualized and having transgender surgeries"—with the lawmaker adding that sexualizing kids "is what pedophiles do."

"Wow. Okay," Stahl replied. "But my question really is, can't you fight for what you believe in without all that name-calling and without the personal attacks?" In other words, Stahl, the 81-year-old embodiment of Washington's old guard press corps, was troubled not by the substance of Greene's lie—the depiction of gay and transgender people as inherently predatory—but by the unpleasant name-calling used in its packaging.

Even 60 Minutes' on-air fact-check, the esteemed antidotal device for right-wing disinformation, seemed comically inadequate. When Stahl raised Greene's past claim that the 2018 Parkland school shooting was a false flag designed to induce gun control laws—a screenshot of which was shown during the segment—the lawmaker flipped the script. "I never said Parkland was a false flag…. Have you fact-checked all my statements from kindergarten through 12th grade? And in college?" she said. "And as I've paid my taxes and never broken a law, and the only—I got a few speeding tickets. Do we need to talk about those too?" Wow. Okay. Next question.

[…]

Meanwhile, journalists and other media figures criticized Stahl's approach, with many contending that the interview itself was a mistake. "How are you going to tee Greene up with the pedophile stuff and not be willing or able to quickly dismantle it?" tweeted Washington Post columnist Philip Bump. "If you're new to it and find it disdainful, OK, sure, but you owe viewers more." Stahl's approach to the "grooming" discourse was "an abuse of media power," argued author and Vanity Fair contributor Jeff Sharlet, who also deemed it an example of "the vanity of the 'center' that refuses to see the rising tide." Former Republican congressman Adam Kinzinger likewise condemned the interview as "insane" on the part of 60 Minutes.
Greg Sargent, WaPo ("How Marjorie Taylor Greene's 'pedophile' slur made it to '60 Minutes'"):
CBS anchor Lesley Stahl was shocked to hear that Rep. Marjorie Taylor Greene stands firmly behind her frequent claim that Democrats are "pedophiles." On "60 Minutes," Stahl pressed Greene on her use of the slur, and the Georgia Republican defiantly responded that it's the truth: "They support grooming children."

"They are not pedophiles," Stahl rejoined incredulously. "Why would you say that?"

Stahl has been roasted online for granting Greene a plum "60 Minutes" interview, which aired Sunday night. But the real problem with this exchange is that Stahl did not show any signs of understanding the longtime role of the "pedophile" insult in right-wing discourse as an expression of deliberate bigotry against transgender Americans.

As a result, Stahl squandered a high-profile opportunity to explain to a large prime-time audience what Greene and others really intend when they use this smear.

The "pedophile" slur, a companion of the term "groomer," is regularly applied by Republicans and right-wing media figures to Democrats and others who stand up for transgender rights, including gender-affirming treatment for adolescents. Greene cheerfully flaunted this use of the term on "60 Minutes," which left Stahl utterly flummoxed

[…]

Not only did Greene casually conflate "sexualizing children" with transgender care, but she also is being despicably dishonest by reducing gender-affirming care to "surgeries." Yet this conflation of support for trans youth with pedophilia slipped by, unrebutted, to a national audience. No wonder Greene told Semafor she was pleased with how the interview went.

Calling this mere "name-calling," as Stahl did, does not communicate what is so hateful about it. And it implies a lack of awareness of the slur's role in a discourse of deliberate dehumanization of trans people and those who minister to or validate gender dysphoria, who are said to be "grooming" children for nefarious purposes.
Matt Lewis, Daily Beast ("Marjorie Taylor Greene's '60 Minutes' Segment Was a Lesson in How Legacy Media Fails"):
The 60 Minutes interview with Rep. Marjorie Taylor Greene was yet another example of how the mainstream news media has proven it can't handle the moment.

[…]

What I am suggesting is that our antiquated 20th century figures and institutions (yes, with its still consistently high ratings, name recognition, and prestige—60 Minutes is still one of the closest things we have to a broadly respected institution that remains in this country) are no longer equipped to respond to the challenges of the moment. The sooner we admit this, the sooner we can fix it.

If you watched Sunday night's episode, you know what I mean. What you saw was an interviewer who was likely air-dropped into a segment that was prepared and staged by a crack production team, using an antiquated style of semi-confrontational interviewing that's ineffective on a politician as oft-removed from reality as Greene.

If 60 Minutes once made powerful people squirm and melt down, it now makes them boast, "It wasn't so bad!"—as Greene told Semafor after the segment aired. "I don't call you guys 'fake news.' I used to," Greene also said.

[…]

Part of 60 Minutes' appeal is (like another CBS institution, The Price Is Right) the format is almost exactly the same in 2023 as it was in 1973.

You probably already know all the beats of the tired, worn formula. Here's the part of the segment where MTG listens to mean things people have tweeted about her. Here's b-roll video of MTG lifting weights (see, she's just like us!). Here's MTG and Lesley Stahl walking down the street in MTG's Georgia district.

I mean, an AI bot could have produced it.

Many extremely online progressives were livid with the lack of pushback from Stahl. Instead of tough follow-up questions, we got shots of the long-time CBS News correspondent furrowing her brow and making faces, presumably, to let us know when she didn't agree.

To her credit, Stahl did ask Greene about some of her crazy past comments, such as referring to Democrats as "pedophiles." Greene went on to rationalize the slur by explaining that "Sexualizing children is what pedophiles do to children." This left Stahl essentially speechless—her comeback consisted of saying, "wow," and then, "okay." Mike Wallace, this was not.

A better-equipped reporter (and let's be clear, while Stahl was once a reporter, but at this point in her distinguished career, she is more of a TV news personality than a dogged muckraker) might have landed a coup de grâce here. One suspects that ex-Axios reporter Jonathan Swan would have lit MTG up as he did with Trump—asking devastating follow-ups, armed with receipts. Instead, the interview just sort of moved on without much meaningful combat. Someone watching at home could be forgiven for thinking that Stahl and Greene simply agreed to disagree.

[…]

We're witnessing a larger systemic issue here. Instead of relying on the same old packages they've been producing since Gerald Ford was in office, 60 Minutes (and the mainstream media, writ large) should rethink everything.

They can start with this: Instead of using media personalities and TV hosts who formed their opinions about politics decades ago, it's time to pass the torch to a new generation of journalists who are well-sourced, real-life reporters, and not afraid to ask tough follow-up questions.
My family routinely watched the show when I was growing up, likely from its debut, and I continued to be a regular viewer well into adulthood. I can't remember the last time I watched but Andy Rooney was still part of the cast. He died, aged 92, in 2011—just a month after his last appearance. (Indeed, I noted in my OTB obit that it had been "years" since I'd watched.)
Lewis is likely right that the octogenarian Stahl is past her prime as an interviewer. And Sargent is certainly right that she should have been better prepared on the substance of the "pedophile" charge, understanding that it's more cultural code than a literal description.
But the broader point is that shows like "60 Minutes" don't translate well to the modern context. There was a time when Congressmen would have been ashamed to repeat scurrilous charges on national television and would have backed off with some variation of "What I really meant was . . . ." But the MTGs and Trumps of the world have no sense of shame.
Additionally, the median "60 Minutes" viewer is 65 years old. I wonder how that impacts the coverage of someone like MTG. Most likely think she's a bit nuts but they're also likely to be broadly sympathetic to her views on LTBTQ matters.
_________
*UPDATE: This description was used in Lewis' commentary linked above. The show actually debuted in September 1968, which was at the tail end of the Johnson administration. But it was not until December 7, 1975 that the show finally settled into its current timeslot and format.