McConnell Congratulates Biden and Harris
Our long national farce is over.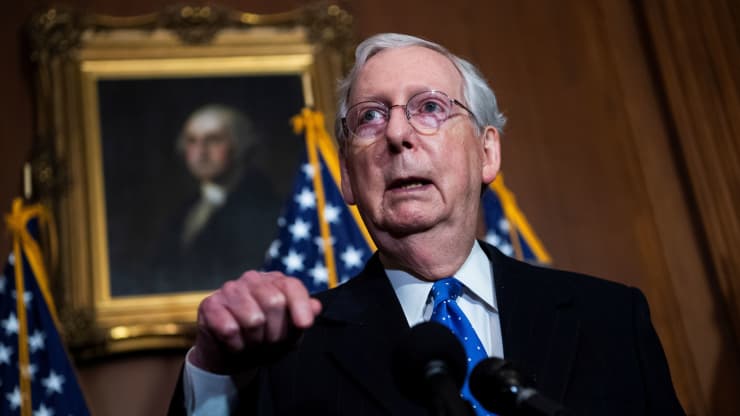 MSNBC ("After weeks of delay, Senate GOP leader McConnell congratulates Joe Biden following Electoral College vote"):
Senate Majority Leader Mitch McConnell explicitly acknowledged Joe Biden as president-elect for the first time on Tuesday after weeks of Republican delays in recognizing the 2020 election result.

The Kentucky Republican congratulated the incoming Democratic president after the Electoral College formally certified Biden's victory on Monday. Numerous GOP senators did not acknowledge Biden as the election winner for more than a month as President Donald Trump made baseless claims that widespread election fraud cost him a second term in the White House.

"Our country has officially a president-elect and a vice president-elect," McConnell said on the Senate floor on Tuesday.

"The Electoral College has spoken. So today I want to congratulate President-elect Joe Biden" and Vice President-elect Kamala Harris, he later continued.
While I considered simply adding this as an update to this morning's post about Senate Republicans finally rallying, I decided that this is sufficiently noteworthy to highlight in a separate post. This should be the end of this nonsense, at least from the official GOP. Presumably, Trump himself will continue maintaining that the election was somehow stolen but the rest of the party has no choice but to move on.
Again, I don't think McConnell deserves any praise for doing what he should have done weeks ago. But it's a signal that the transition will happen and the Republican Party will recognize Biden as the legitimate President of the United States.
The real test is whether Senate Republicans—especially if they preserve a thin majority after the Georgia runoffs—will work as a responsible opposition party, allowing Biden to govern while extracting compromises. There is, sadly, little reason to hope that they will after eight years of obstruction under President Obama. But it's possible that either their respect for Biden as one of their own or reading the writing on the wall will nudge them in that direction.