(Many?)(Most?) Republicans Acknowledge Biden WIn
Too little, too late.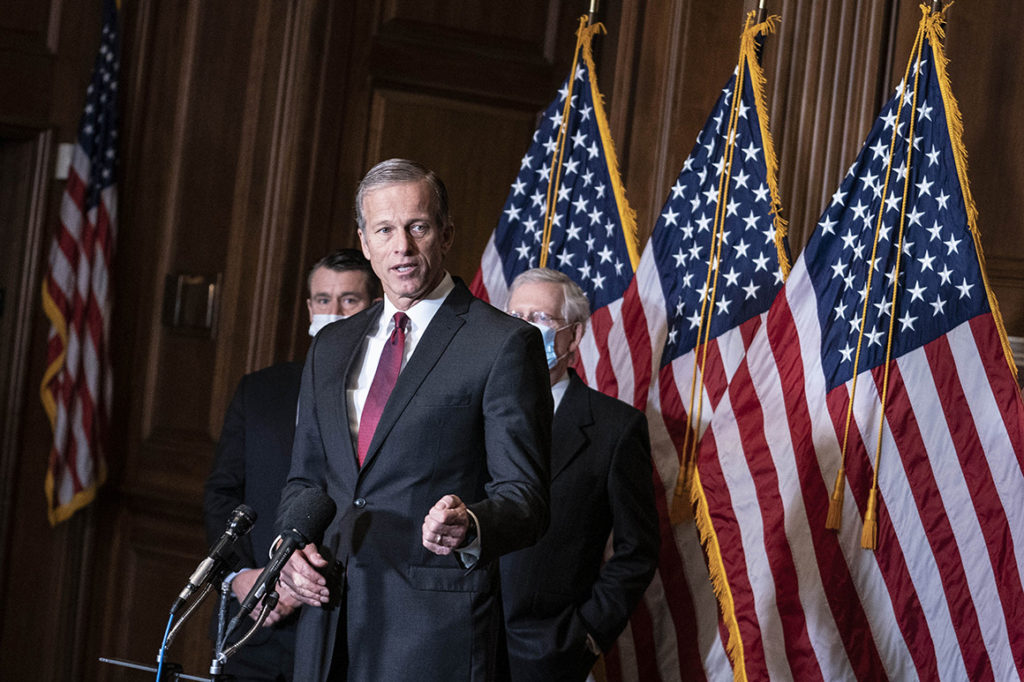 It only took six weeks, sixty losses in court, and the Electoral College making it official but Congressional Republicans are coming around to reality. More or less.
WSJ ("More Republicans Now Say Joe Biden Is President-Elect"):
Many top Republican senators and close allies of President Trump said they now view Democrat Joe Biden as the next president, after more than a month of unsuccessful GOP efforts to get courts and state officials to overturn the election results.

The shift by prominent GOP lawmakers, who had supported Mr. Trump's efforts, came as the Electoral College on Monday formally counted the ballots and reaffirmed Mr. Biden as president-elect. Many Republicans had been wary of publicly breaking with the president, given his popularity among GOP voters and the need for his backing in two Georgia runoffs next month that will determine control of the Senate.

But as state electors nationwide made it official, the dam broke.

Shortly before votes for Mr. Biden surpassed the key electoral threshold of 270, Sen. John Thune (R., S.D.), the No. 2 Republican in the Senate, told reporters there would be no doubts that Mr. Biden is president elect.

"I understand there are people who feel strongly about the outcome of this election," said Mr. Thune. "But in the end, at some point you have to face the music, and I think that once the Electoral College settles the issue today that it's time for everybody to move on."

"We've now gone through the constitutional process, and the electors have voted, so there's a president-elect," said Sen. Roy Blunt (R., Mo.), the fourth-ranking Senate Republican.

[…]

"Like it or not—I know for Iowans it's disappointing—but the process is what it is, and the Constitution will be followed," said Republican Sen. Joni Ernst, a member of GOP leadership whose state backed Mr. Trump in November.

Sen. Rob Portman (R., Ohio), who is running for re-election in 2022, said members of Congress had to respect the will of the voters.

"The orderly transfer of power is a hallmark of our democracy, and although I supported President Trump, the Electoral College vote today makes clear that Joe Biden is now President-Elect," Mr. Portman said.

Sen. Lindsey Graham (R., S.C) replied, "Yeah," when reporters asked him if the Electoral College votes meant that Mr. Biden now is the president elect. "It's a very, very narrow path for the president," Mr. Graham said of Mr. Trump's remaining options.

"I think there comes a time when you have to realize that despite your best efforts you've been unsuccessful," said Sen. John Cornyn (R., Texas). "It's sort of the nature of these elections. You've gotta have a winner, and you've gotta have a loser."

Messrs. Cornyn and Thune both said they weren't in favor of Republicans challenging the results at a joint session of Congress on Jan. 6. That is the date federal law sets for the House and Senate to jointly count and certify the results of the electoral vote.

It takes one member of the House and one senator to formally challenge the electoral votes of any state. Majorities in both chambers would have to agree to reject the votes. So far no senator has joined in an effort led by Rep. Mo Brooks (R., Ala.) to challenge the results in several states. Messrs. Cornyn and Thune warned any such attempt likely would be doomed to fail.

Senate Majority Leader Mitch McConnell (R., Ky.) didn't comment on Monday.

[…]

Some senators remained reluctant to say the words "President-elect Biden."

"Well, it seems to me that being elected by the Electoral College is a threshold where a title like that is probably most appropriate, and it's—I suppose you can say—official, if there is such a thing as official president-elect, or anything else-elect," said Sen. Kevin Cramer (R., N.D.).

Asked whether it is time to acknowledge Biden as president-elect, Sen. Chuck Grassley (R., Iowa) replied, "I don't have to—the Constitution does."

"That's like the gotcha question of the day," complained Sen. John Barrasso (R., Wyo.).
NPR ("With Electoral College Vote, More Republicans Recognize Biden As President-Elect") adds:
With the Electoral College votes now complete, a new wave of Senate Republicans are acknowledging what's been clear for weeks: Joe Biden is the president-elect.

In the days after the Nov. 3 election, only a handful of GOP senators — mostly moderates — recognized the win for Biden and Vice President-elect Kamala Harris. Since then, many of the chamber's Republicans have deferred to President Trump's legal challenges instead.

That began to change on Monday.

[…]

"It certainly looks that way, and I think it's time to turn the page and begin a new administration," Sen. Shelley Moore Capito of West Virginia told a Capitol Hill pool reporter.

Others in that camp included Senate Majority Whip John Thune of South Dakota and Sens. Roy Blunt of Missouri, John Cornyn of Texas, Thom Tillis of North Carolina and Kevin Cramer of North Dakota.

"At some point you have to face the music. And I think once the Electoral College settles the issue today, it's time for everybody to move on," Thune told reporters.

Tillis said Biden is the president-elect, pending remaining legal issues.

"He's presumptive president," Tillis said. "But I don't want to discount valid, legal disputes that'll be settled over the next couple weeks."

When asked, Cramer stopped short of using the phrase "president-elect" to describe Biden, but conceded that appeared to be the case.

"I guess if that's what you officially call somebody after the Electoral College, I'm fine with that," Cramer said.

Sen. Rob Portman of Ohio was among those who issued clear statements affirming the win.

"Although I supported President Trump, the Electoral College vote today makes clear that Joe Biden is now President-Elect," he said.

Retiring Tennessee Sen. Lamar Alexander took that acknowledgment a step further, urging Trump end his claims.

"The presidential election is over. States have certified the votes. Courts have resolved disputes. The electors have voted. I hope that President Trump will put the country first, take pride in his considerable accomplishments, and help president-elect Biden get off to a good start," Alexander said. "Especially during this pandemic, an orderly transition of power is crucially important."

Still, many of their colleagues remain holdouts. And some declined to comment, including Senate Majority Leader Mitch McConnell of Kentucky, who didn't respond to repeated questions from reporters on Monday.

"I'd call him Joe until he gets sworn in," said South Carolina Sen. Lindsey Graham when asked, before noting some legal challenges remain.

Sens. Jim Inhofe of Oklahoma and John Barrasso of Wyoming were among those that still weren't ready on Monday to acknowledge the president-elect.

"Not yet," Inhofe said.
POLITICO ("'Time for everybody to move on': Senate GOP accepts Biden's win") adds:
Senate Republicans are finally starting to recognize Joe Biden as the next president of the United States — even if they waited until the very last minute.

When asked on Monday afternoon whether Biden was the president-elect, some GOP senators paused and asked how far along the Electoral College count was taking place that day. Others declined to comment until results were officially certified and until Biden climbed past the necessary 270 votes.

But as the day went on and the Electoral College's verdict was made clear, an increasing number of Republican senators — though certainly not all — began to say what the leader of their party won't and what they declined to acknowledge for weeks: Biden will take office in January.

[…]

Sen. Shelley Moore Capito (R-W.Va.) agreed that "it's time to turn the page and begin a new administration." And Sen Mike Rounds (R-S.D.) was unequivocal: "Vice President Biden is the president-elect based on the electoral count."

[…]

But some senators who have helped push some of Trump's unsubstantiated claims of voter fraud are inching closer to acknowledging reality.

"Certainly walking down that path, isn't it?" Senate Homeland Security and Governmental Affairs Committee Chair Ron Johnson (R-Wis.) quipped. Johnson is still preparing to hold a hearing later this week on alleged "irregularities" in the election.

[…]

Sen. John Barrasso (R-Wyo.), another member of GOP leadership, told reporters that asking about Biden's status was a "gotcha question."

"It's what every senator is being asked. Three weeks ago, the transition occurred in terms of … access to the briefings and access to the money. That all occurred three weeks ago. So nothing changed," he said. "This is the Constitution and I believe in the Constitution."

Sen. Steve Daines (R-Mont.) said Trump still has every right to "get to the bottom" of any purported election discrepancies and suggested it would be weeks still before he calls Biden the president-elect.

"Every legal vote needs to be counted and every illegal vote needs to be thrown out," Daines said. "Montana cast three electoral votes for President Trump. We'll wait now and see if Congress will certify that in January."

And Sen. Jim Inhofe (R-Okla.), when asked if Biden is the president-elect, gave a terse "no."
Between the three articles, we have a goodly number of Senate Republicans on the record that Biden won the election. And we know that a few others, including Mitt Romney and Susan Collins, acknowledged the outcome immediately.
Still, one hardly deserves credit for stating the obvious after going along with what was at best a farce and at worst an attempt at a legal coup for weeks. And few are even being magnanimous about it even at this point.
Graciousness in loss—praising the fact that we live in a country where citizens get to chose their leaders, congratulating the winner on a fine contest, and offering to work to bring one's supporters along to work for the benefit of all—is mostly performative but serves an important healing function in a democracy. No one expected that from Trump, who is incapable of such a thing. But an entire political party thumbing their nose at this tradition and openly undermining the legitimacy of the election has done lasting damage to the country.