McConnell Backtracks
Maybe his title should be "Minority Follower."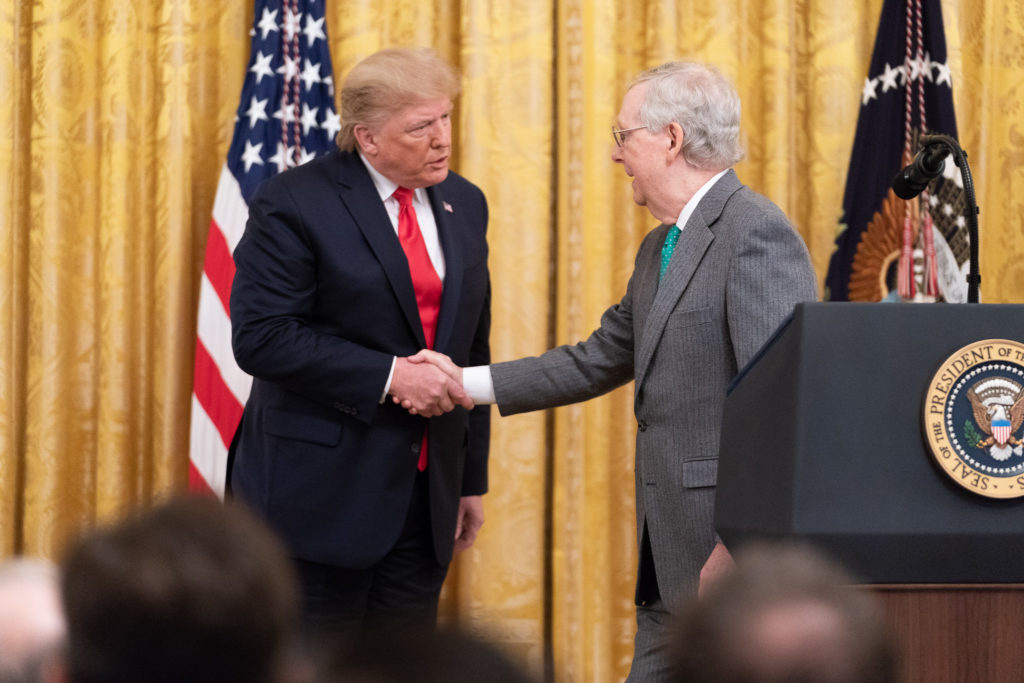 After several attempts at strong words aimed at President Trump, Senate Minority Leader Mitch McConnell voted with 45 other Republicans to object to the House's impeachment article. Via the NYT: McConnell Was Done With Trump. His Party Said Not So Fast.
For Mr. McConnell, a leader who derives his power in large part from his ability to keep Republicans unified, defying the will of his members would have been a momentous risk, putting his own post in peril and courting the ire of the far right.

[…]

"Let's face it: Many of the people there — they want to be re-elected, most of them," said Bob Corker, a former Republican senator from Tennessee who retired in 2018 after clashing with Mr. Trump. "For those people, whose service in the Senate is their entire life, I'm sure just what they are hearing back home has an effect on them."
This is a clear illustration of two principles. First, office-holder privilege re-election above all else almost all of the time. Second, American parties are nonhierarchical, meaning the party leadership has scant power over the re-election of their members (a point I made in my recent post on primaries). And, therefore, limited influence over their behavior.
In contrast, I would point to British Prime Minister Boris Johnson expelling 21 Members of Parliament from the Conservative Party because they wouldn't vote the way he wanted regarding Brexit. They remained in Parliament but became independents from a party POV. That meant that they could not run as Conservatives for re-election. It effectively killed their chances of being re-elected, and thus ended their careers. Johnson's ability to disaffiliate those MPs is an illustration of the power of party label and why it is so important to understand that party leadership in the US does not control the label.
This was dramatic because, again, politicians tend to do what it takes to be re-elected.
Republicans in the House and Senate are currently scrambling to bolster their political fortunes vis-a-vis their supporters in their home states and districts. And since that often means pleasing a vocal and more fringe segment of their primary electorate, they clearly feel the need to double-down on Trump. And so here we are.
At a minimum, McConnell's ability to be "the leader" is limited. And it also show that all the "serious" Republicans who thought they could control Trump and all that he has unleashed were dead wrong. The problem is that as the GOP becomes more engulfed in this nonsense, the worse off the country is.