Thoughts on the Breonna Taylor Case and Beyond
Considering Breonna Taylor's death, police shootings, and human rights.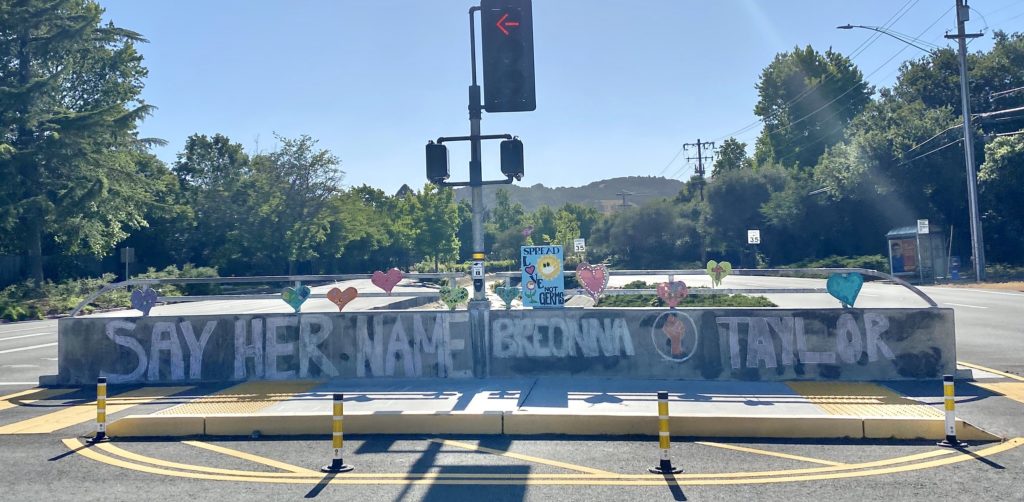 Note: I had written the bulk of the following yesterday, prior to James Joyner's most recent post on the subject.
Before getting into a broader convsersation, let me acknowledge context. The death of Breonna Taylor is a tragedy, plain and simple. It was avoidable. The idea of being killed in one's own home through no fault of your own in the middle of the night is a horrific notion. And regardless of the legalities of the actions undertaken by officers that day, this death adds to the tally of Black Americans unnecessarily killed because the operative paradigm of law enforcement (indeed, overlapping and self-reinforcing paradigms) is warfare.
While the phrases are not deployed as often as they used to be, we are fighting a war on crime and war on drugs. Our mentality is therefore that of warfighting, and the way police act, dress, and equip themselves reinforce those notions.
And a disclaimer: I am not anti-police. I have family members, friends, and former students in law enforcement. I have a family member who is a first responder who is often put in difficult situations and often needs police protection to do his job. I understand, although certainly not as well as some, that these are dangerous jobs. I further acknowledge that we, as a society, out a lot of pressure on them to "keep us safe" often with low pay and inadequate training.
But, the problem is the broader framework of America's approach to crime. The fact that we wage "war" on crime and "war" on drugs is part of the problem. In war you win by using violence to make your opponent back down, often by killing them. This is a terrible framework for domestic law enforcement. After all, the wars in question aren't actually fought against crime nor drugs, but against American citizens and human beings.
This an extremely important point. In war one attacks the enemy. The enemy can legally be killed. The enemy doesn't have civil rights. The enemy is not a fellow citizen.
And I know that law enforcement tries to balance things like Miranda rights and other procedures within this warfare paradigm, but the bottom line remains that the warfighting mentality is not healthy for a situation in which citizens are dealing with citizens. And the bottom line is that suspects (because they are innocent under the law until proven guilty) are still citizens.
Further, battlefields have what is euphemistically called "collateral damage." In war, innocents are killed and property is destroyed in the process of getting the bad guy. Breonna Taylor was collateral damage in the war on drugs, and worse she died because of her association with someone who might have possibly received drug deliveries at her home who wasn't even present.
(And before it is noted, but to also risk going well outside my expertise, it is often the case as I understand it that soldiers in the field often have stricter rules of engagement than we see in the case of police).
It is frequently the case that these cases boil down to a moment when an officer feels threatened and they react. So, for example, I am not convinced that Jeronimo Yanez, the officer who shot Philando Castile, had no choice but to shoot Castile. It seems to me that he just as much time to get out of a potential line of fire as he did to pull his weapon and start shooting (after all, Castile was seated in a car with the door closed–and probably still buckled in). I know that that is easy for me to say, but that doesn't make Castile's death just. But one thing is clear: the law was one Yanez's side.
In the shooting of Breonna Taylor, the officers who inadvertently killed her had cause to feel threatened. After all, a shot had been fired. And the law, understandably, allows him to defend himself. And I say that without trying parse whether he should have shot without a clear line of sight and other issues. I am saying this because I have a very hard time seeing any jury convicting a police officer of the consequences of a shootout wherein the police where fired upon first.
I think, however, getting caught up in the exact incident misses the point. While the phrase "defund the police" is fraught, the foundational issue contained within it, I think, is "rethink law enforcement." We need to rethink, for example, whether it is really necessary to be busting down doors in the middle of the night to find evidence against a small-time drug dealer.
Put another way, to the broader point about officers having to react with deadly force when threatened, how about not creating situations wherein they will very likely be threatened?
I recognize that a point of these types of raids is to catch people unaware so as to possibly forestall violence although it seems more than anything else about stopping them from destroying evidence. However, I also have a hard time believing that this kind of chaos creation, on balance, is really all that safe nor, ultimately, worth it.
Put another way, if officer safety is important (and it should be), maybe these kinds of raids aren't a very good idea and are just a demonstration of the pernicious influence of a warfighting paradigm. At a minimum, there are a lot of guns out there and a lot of people who have been told they have the right to protect their homes with those guns.
And here is where I will readily note that I am not an expert on such tactics, and will concede that maybe I am missing something (even multiple somethings). But from a straightforward public policy and human rights point of view, I am not sure that the destruction of property and the disruption of lives is anywhere near worth it. Indeed, I know it isn't. It isn't like the only person harmed by these actions are criminals. Even if Taylor had not been shot, and even if the ex-boyfriend the police were looking for had been present, there still would have been a busted door and a destroyed apartment at the end of the event.
Is that really justified? Is the war on drugs really worth that collateral damage to people's lives? Just think for a moment if a family member, unknown to you, was engaged in criminal activity and the police destroyed part of your home in the hopes that some amount of drugs might be found on your property. Or, worse, what if the police got the house wrong or, like in this case, the person they were looking for no longer lived with you?
What if, when you hear the noise at your door, you choose to do what Americans are constantly told they have the right to do and defend yourself with a firearm? That's what Taylor's boyfriend Kenneth Walker did on the night she died.
It is what Kathyrn Johnson did the night she was killed:
On November 11, 2006, three Atlanta police officers kicked in the door of a home on Neal Street in northwest Atlanta's English Avenue community. The officers had a no-knock warrant, and they expected to find a drug haven.

But they were at the wrong house. Instead of drugs, they found 92-year-old Johnston, armed with an old gun she kept for protection.

The elderly woman, frightened by the noise, fired once at the officers. The police officers fired 39 shots back in response. Five of the shots from officers struck Johnston, killing her. Some of the other shots hit the officers as friendly fire.

Source: 11 Alive, Elderly woman killed, baby injured | Prominent cases of no-knock warrants in metro Atlanta, which has other examples.
Of course, there's a war going on and you can't make an omelet without breaking some eggs.
Or something.
Is it really a wonder that people are in the streets? Is it really a surprise that vast segments of our society don't trust law enforcement? Is it shocking to hear things like "defund the police?"
Is it really any wonder why so many citizens read about these cases ask wonder why it seems that Black lives don't matter?
We seriously need to rethink how we approach crime and policing and very much need to utterly start over on the topic of drugs.
Governing, indeed, life, is about making choices and setting priorities. We need to think more about the rights of citizens and less about wars on our own citizens. We need to find ways not to put law enforcement in a position wherein fear for their own safety leads to violence. And we need to rethink the laws that end up translating into near impunity for law enforcement to use violence against fellow citizens.
I understand the need to parse out the events of a given shooting, I understand that dispassionate laws govern these processes, not our passions and frustration in the aftermath of these tragedies. But we need to get beyond just asking, was X legal and justified? and ask: what were the steps that got us to X and how can we prevent them? And that isn't just about doing current policing better, it is about really reconsidering what choices we are making in the first place and what our priorities ought to be.
To move fully into my area of academic expertise, I will note that if I was studying the quality of democratic governance in a country wherein law enforcement was empirically shown to be disproportionately using deadly force against a distinct minority group in that country, that would lead to an assessment to downgrade the quality of democracy in that country. Such outcomes matter in making assessments of democratic quality. While I usually write about other aspects of democratic governance, the reality is that the protection of citizens' rights is an essential part of democracy. How the majority treats the minority (broadly defined) matters in assessing the quality of democracy.
In a more practical example, I know that in Colombia, in its fights both in the war on drugs but also the war against guerrillas and other subversive groups has frequently led to some pretty horrific collateral damage and this fact is part of why Colombia cannot be said to have a fully realized democratic state. When the state turns its own violent capacities against its own citizens, it needs to be extremely careful. The US is by no means Colombia, but we are not being careful enough in this arena.
---
To add to the above, I will also recommend Radley Balko's piece in WaPo: Correcting the misinformation about Breonna Taylor.
I will share his concluding paragraphs, which dovetail with a good deal of what I said above:
To simply blow this off as a tragedy for which no one is to blame is an insult to the life and legacy of Taylor, but also to the dozens of innocent people who have been gunned down in their own homes before her. And the effort by Cameron and others to make all of this go away by feeding the public half-truths that blame the victims in this story — Taylor and Walker — for Taylor's death is inexcusable.

We could prevent the next Breonna Taylor. We could ban forced entry raids to serve drug warrants. We could hold judges accountable for signing warrants that don't pass constitutional muster. We could demand that police officers wear body cameras during these raids to hold them accountable, and that they be adequately punished when they fail to activate them. We could do a lot to make sure there are no more Breonna Taylors. The question is whether we want to.
The entire piece, which is lengthy and detailed, is very much worth your time.