Trump Backs Down On Mass Deportation Threat
With hours to go before they were set to start. the President delayed the mass deportation raids that were supposed to begin this morning.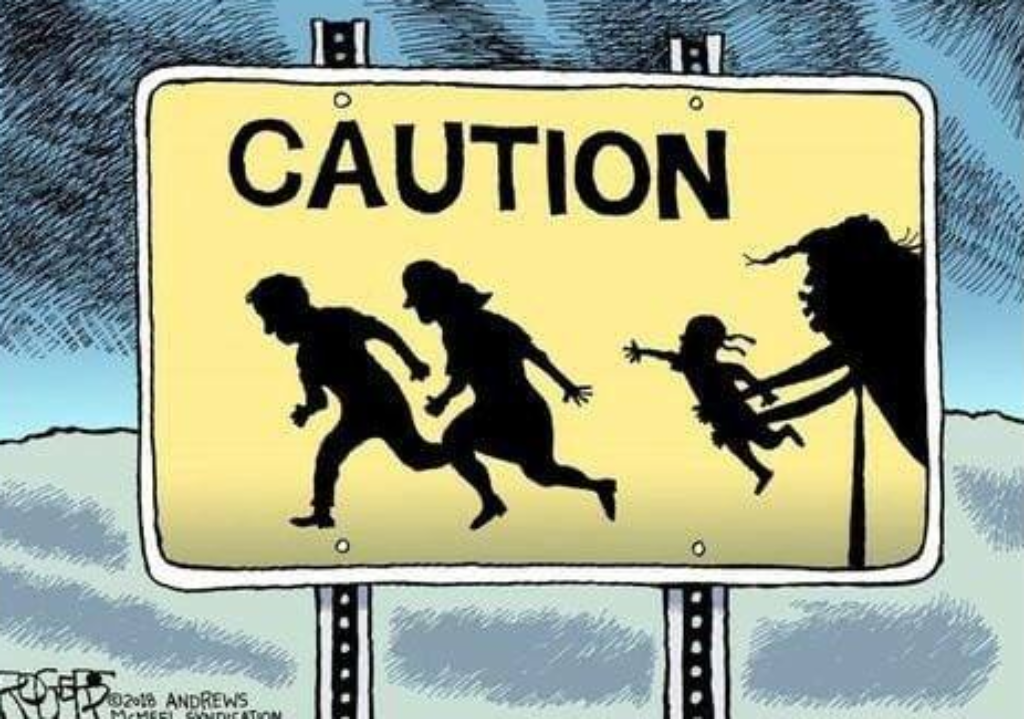 As I noted in an update to yesterday's post about the Trump Administration's plans to begin mass deportation raids aimed at families of undocumented immigrants, President Trump ended up calling off on the raids at nearly the last minute, saying that he was doing so to give Democrats a chance to act on immigration reform:
President Trump on Saturday delayed plans for nationwide raids to deport undocumented families, but he threatened to unleash Immigration and Customs Enforcement agents in two weeks if Democrats do not submit to changes in asylum law they have long opposed.

The announcement, made on Twitter as Mr. Trump was meeting with aides at Camp David, was the president's latest attempt to pressure his adversaries into making immigration changes. Last month, he threatened to levy tariffs on Mexico unless it did more to stop the flow of migrants into the United States.

Immigration agents had been planning to sweep into several immigrant communities in 10 major cities — including Miami, Los Angeles, Baltimore and Chicago — beginning on Sunday. Officials said on Friday that they had targeted about 2,000 families in a show of force intended to demonstrate their strict enforcement of immigration laws. Children of immigrants — some of whom were born in the United States — had faced the prospect of being forcibly separated from their undocumented parents.

Mark Morgan, the acting director of Immigration and Customs Enforcement, had announced this month that his agency would begin the raids at some point in the future. But on Monday, Mr. Trump revealed on Twitter that they would start the following week, claiming that officials would deport millions of people and sending panic through cities across the country.

The president's abrupt reversal on Saturday came as lawmakers were considering a measure to send $4.5 billion in humanitarian aid to the border, money the Trump administration has said is desperately needed to handle a huge influx of migrants.

Some Democrats, including members of the Congressional Hispanic Caucus, had threatened to withhold their support for the funding package when it comes to a vote in the House this upcoming week, in protest of Mr. Trump's immigration policies. The specter of high-profile immigration raids had risked imperiling its chances of passage.

The Senate has reached a bipartisan deal on a similar measure, though Democrats have conditioned their support on assurances that none of the money would go toward Mr. Trump's threatened raids.

Democratic lawmakers and immigration activists had demanded in recent days that the raids be prevented, calling them a cruel attack on minority communities whose only crime was illegally entering the country.

Speaker Nancy Pelosi called Mr. Trump on Friday evening to persuade him to cancel the raids, according to a person familiar with the conversation who was not authorized to speak about it. During the 12-minute call, the president said he would consider doing so but made no commitments, the person said.

On Saturday, Ms. Pelosi put out a strongly worded statement, calling the raids "heartless" and saying they would rip families apart and terrorize communities. She publicly urged Mr. Trump to "stop this brutal action."
The president did that a few hours later, announcing that "at the request of Democrats, I have delayed the Illegal Immigration Removal Process (Deportation) for two weeks."

But Mr. Trump made clear he planned to use the threat of family deportations to extract concessions from Democratic lawmakers. He said he had delayed the raids "to see if the Democrats and Republicans can get together and work out a solution to the Asylum and Loophole problems at the Southern Border."

"If not, Deportations start!" he tweeted.

Senator Lindsey Graham, Republican of South Carolina, has said he wants to work with Senator Dick Durbin, Democrat of Illinois, on a possible solution to asylum and other immigration issues. Mr. Graham introduced a bill that would radically revamp immigration policy, blocking many migrants from seeking asylum and loosening rules around detention. But the odds that a negotiation between the two senators will bear fruit are exceedingly slim.

Shortly after Mr. Trump's tweet, Ms. Pelosi responded on Twitter, saying: "Mr. President, delay is welcome. Time is needed for comprehensive immigration reform. Families belong together."

The president was not specific in his tweet about what changes he was demanding, but Mr. Trump has angrily denounced the country's asylum laws as "stupid" and the "worst in the world." He has claimed that releasing migrants and their families into the United States while they wait for their asylum cases to proceed amounts to the "catch and release" of dangerous criminals.

The coordinated deportation operation, scheduled to begin in the predawn hours of Sunday, would have targeted immigrants who crossed the border in recent years and either received deportation orders from a judge or failed to appear for a court appearance. They were among thousands of migrants who had their immigration cases expedited by the Trump administration last fall.

Deportation raids are not uncommon. ICE will often approach undocumented immigrants in their home, workplace or even in court to detain and deport them. But the scale of the raids that were expected to begin on Sunday was much greater, spanning several states over multiple days.

The raids also drew condemnation because ICE agents planned to specifically target adults with children, raising again the possibility that families would be separated. The Trump administration abandoned its policy of separating migrant families at the border after it incited global outrage
More from The Washington Post:
President Trump abruptly suspended his wide-ranging threat to deport "millions" of undocumented immigrants starting Sunday, demanding that Democrats and Republicans forge a plan to stanch the record flows of asylum-seeking families across the southern border into the United States.

Trump had announced the raids Monday in a surprise tweet that ignited a frenzy of fear in immigrant communities nationwide and drew criticism from law enforcement and elected officials in California, New York and other states. Then, in a move that has become a hallmark of his chaotic presidency, he reversed the plan in a tweet Saturday, mere hours before the raids were to begin.

Trump tweeted that he had "delayed the Illegal Immigration Removal Process (Deportation) for two weeks to see if the Democrats and Republicans can get together and work out a solution to the Asylum and Loophole problems at the Southern Border."

"If not, Deportations start!" he wrote.

In his tweet, Trump said "Democrats" had asked him to hold off on the raids. According to a person familiar with the call, who like others interviewed for this report spoke on the condition of anonymity, House Speaker Nancy Pelosi (D-Calif.) called Trump on Friday night and asked him to call off the raids. They spoke for about 10 minutes.

Democratic lawmakers celebrated the decision. In a tweet, Pelosi wrote that the delay "is welcome."

"Families belong together," she tweeted.

Trump's eleventh-hour reversal and warning to Democrats mirrored his strategy earlier this month to push the Mexican government to launch a crackdown on Central American migrants passing through that country en route to the United States, postponing for 45 days his threat to impose tariffs. Since the June 7 agreement, Mexico has deployed elements of its national guard to the country's southern border and has arrested more migrants. Unauthorized border crossings into the United States have shown signs of decline for the first time this year.

Trump administration officials had sought to cement those efforts with ramped-up enforcement in the interior of the United States, although the actual plans were to target thousands of migrant family members, not millions.
Quite honestly, it's hard to be sure exactly what it is the President wants from Congress other than the obvious funding for his border wall. As has been the case throughout Trump's Presidency, the White House has been rather silent when it comes to the details of policy, at least in public. Additionally, it's hard to understand exactly what Trump expects Congress can accomplish in the two week period that starts today. That's certainly not enough time to put together legislation on an issue as complicated as this, never mind get anything of substance passed. Things are even further complicated in this regard by the fact that Congress will be out of session after the end of this week for the 4th of July holiday and won't return until after the end of Trump's two-week extension. The idea that agreement can be reached on an issue like this in such a short period of time is fanciful at best.
One possibility, of course, is that this is yet another example of the President making a threat only to pull back at the last minute, something that Steven Taylor suggested in his post last night. We've seen several examples of that over the course of his Presidency, of course, and at least three of them within the past month. At the end of May, for example. Trump announced new widespread tariffs on Mexico that he said he was imposing due to that nation's lack of cooperation on immigration. Just before those tariffs were supposed to kick in, though, he announced that an agreement had been reached and that the tariffs would be put on hold. As it turned out, that deal was much less than met the eye, and that most of what Mexico had agreed to do were things it had already agreed to do months earlier. The next example can be found in the apparent planned military strike on Iran which was called off at the last minute. Finally, of course, there are these mass raids which were called off mere hours before they were set to start.
Trump supporters argue that this tendency of the President to act in an inconsistent and hard to predict manner is an asset rather than a flaw because it keeps his adversaries guessing. Frankly this President doesn't strike me as being smart enough or insightful enough to have any kind of a long-term plan regardless of what kind of policy area we're talking about. Moreover, when it comes to things such as foreign policy, unpredictability is not necessarily a good thing since it increases the risk of miscalculation.
Getting back to these mass raids, as I said it's hard to see exactly what it is that Congress can do over the course of the next week that it will be in session that would satisfy Trump. That means that we'll be back at square one right after the 4th of July holiday.