A Nuclear Fusion Breakthrough?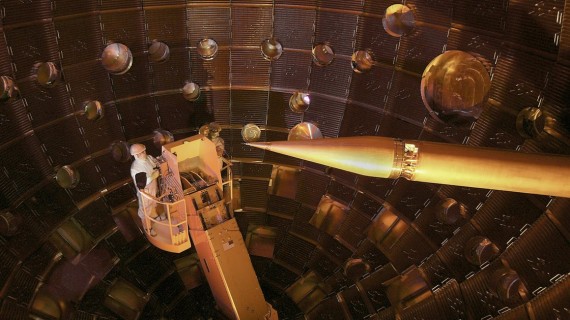 For decades, science has been pursuing what seems to be the Holy Grail of energy production, the idea of tapping the same forces that work inside of a star, or are responsible for the destructive power of a Hydrogen Bomb, as an energy source. So far, they've encountered one blind alley after another and fusion power remains confined to the realm of science fiction. Now, however, scientists are reporting what may end up being a breakthrough that could lead to a virtually endless supply of energy:
Researchers at a laboratory in California say they've had a breakthrough in producing fusion reactions with a giant laser. The success comes after years of struggling to get the laser to work and is another step in the decades-long quest for fusion energy.

Omar Hurricane, a researcher at Lawrence Livermore National Laboratory, says that for the first time, they've produced significant amounts of fusion by zapping a target with their laser. "We've gotten more energy out of the fusion fuel than we put into the fusion fuel," he says.

Strictly speaking, while more energy came from fusion than went into the hydrogen fuel, only about 1 percent of the laser's energy ever reached the fuel. Useful levels of fusion are still a long way off. "They didn't get more fusion power out than they put in with the laser," says Steve Cowley, the head of a huge fusion experiment in the U.K. called the Joint European Torus, or JET.

The laser is known as the National Ignition Facility, or NIF. Constructed at a cost of more than $3 billion, it consists of 192 beams that take up the length of three football fields. For a brief moment, the beams can focus 500 trillion watts of power — more power than is being used in that same time across the entire United States — onto a target about the width of a No. 2 pencil.

The goal is fusion: a process where hydrogen atoms are squeezed together to make helium atoms. When that happens, a lot of energy comes out. It could mean the answer to the world's energy problems, but fusion is really, really hard to do. Hurricane says that each time they try, it feels like they're taking a test.
I've noticed that some of the media coverage of this story has treated the scientists findings as a massive breakthrough of some kind. While I'll admit to not being an expert at all on this matter, it's fairly clear that this isn't really the case. Indeed, as the whole "cold fusion" fantasy taught us some 20 years ago or more, it's best to treat any story in this field with a healthy dose of skepticism. One day, we may see the point where nuclear fusion becomes a viable source of energy. If and when that occurs, it will be a technological breakthrough on a par with the greatest in human history. We're not there quite yet though.