Lockheed Martin Says It Made A Breakthrough On Nuclear Fusion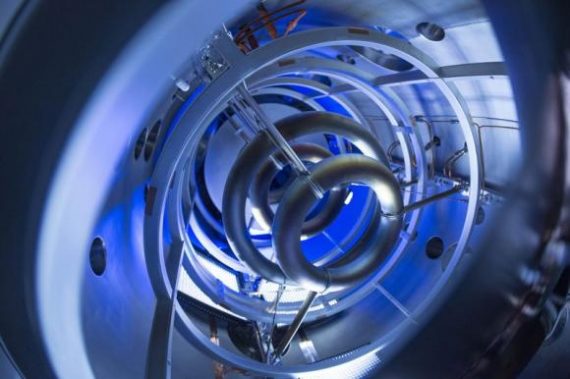 Lockheed Martin says that it has made a promising breakthrough that could lead to the development of reactors based on nuclear fusion, the same process that powers the Sun:
(Reuters) – Lockheed Martin Corp said on Wednesday it had made a technological breakthrough in developing a power source based on nuclear fusion, and the first reactors, small enough to fit on the back of a truck, could be ready for use in a decade.

Tom McGuire, who heads the project, said he and a small team had been working on fusion energy at Lockheed's secretive Skunk Works for about four years, but were now going public to find potential partners in industry and government for their work.

Initial work demonstrated the feasibility of building a 100-megawatt reactor measuring seven feet by 10 feet, which could fit on the back of a large truck, and is about 10 times smaller than current reactors, McGuire told reporters.

In a statement, the company, the Pentagon's largest supplier, said it would build and test a compact fusion reactor in less than a year, and build a prototype in five years.

In recent years, Lockheed has gotten increasingly involved in a variety of alternate energy projects, including several ocean energy projects, as it looks to offset a decline in U.S. and European military spending.

Lockheed's work on fusion energy could help in developing new power sources amid increasing global conflicts over energy, and as projections show there will be a 40 percent to 50 percent increase in energy use over the next generation, McGuire said.

If it proves feasible, Lockheed's work would mark a key breakthrough in a field that scientists have long eyed as promising, but which has not yet yielded viable power systems. The effort seeks to harness the energy released during nuclear fusion, when atoms combine into more stable forms.

(…)

Compact nuclear fusion would produce far less waste than coal-powered plants since it would use deuterium-tritium fuel, which can generate nearly 10 million times more energy than the same amount of fossil fuels, the company said.

Ultra-dense deuterium, an isotope of hydrogen, is found in the earth's oceans, and tritium is made from natural lithium deposits.

It said future reactors could use a different fuel and eliminate radioactive waste completely.

McGuire said the company had several patents pending for the work and was looking for partners in academia, industry and among government laboratories to advance the work.

Lockheed said it had shown it could complete a design, build and test it in as little as a year, which should produce an operational reactor in 10 years, McGuire said. A small reactor could power a U.S. Navy warship, and eliminate the need for other fuel sources that pose logistical challenges.
Beyond military applications, of course, this kind of development could have a revolutionary impact on domestic energy production that has been only a dream since the dawn of the Atomic Age. We've been here before, of course, most notably with the so-called "Cold Fusion" frenzy in the 1990's that later proved unworkable, so some degree of healthy skepticism is certainly called for. That being said, one can only hope that this pans out and can be implemented widely because it would prove to be the solution to a wide range of problems facing humanity, and just maybe an end to our dependence on fossil fuels.
Photo via Reuters/Lockheed Martin