North Korea Claims To Have Detonated Hydrogen Bomb In Nuclear Test
The North Koreans claim to have made a major advance in their nuclear weapons program, but there are many reasons to be skeptical.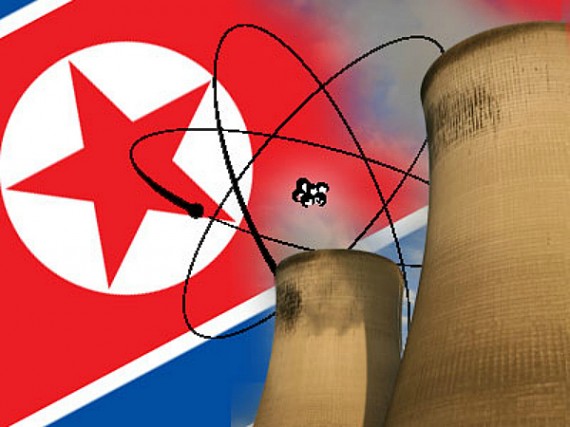 North Korea claims that it has detonated a hydrogen bomb in a nuclear test for the first time, but many experts are skeptical:
WASHINGTON — North Korea declared on Tuesday that it had detonated its first hydrogen bomb.

The assertion, if true, would dramatically escalate the nuclear challenge from one of the world's most isolated and dangerous states.

In an announcement, North Korea said that the test had been a "complete success." But it was difficult to tell whether the statement was true. North Korea has made repeated claims about its nuclear capabilities that outside analysts have greeted with skepticism.

"This is the self-defensive measure we have to take to defend our right to live in the face of the nuclear threats and blackmail by the United States and to guarantee the security of the Korean Peninsula," a female North Korean announcer said, reading the statement on Central Television, the state-run network.

The North's announcement came about an hour after detection devices around the world had picked up a 5.1 seismic event along the country's northeast coast.

It may be weeks or longer before detectors sent aloft by the United States and other powers can determine what kind of test was conducted. Ned Price, a spokesman for the White House National Security Council, said in a statement that American officials "cannot confirm these claims at this time."

But he said the White House expected "North Korea to abide by its international obligations and commitments."

The tremors occurred at or near the Punggye-ri nuclear test site, where three previous tests have been conducted over the past nine years.

In recent weeks, the North's aggressive young leader, Kim Jong-un, has boasted that the country has finally developed the technology to build a thermonuclear weapon — far more powerful than the low-yield devices tested first in 2006, then in different configurations months after President Obama took office in 2009 and again in 2013.

The North Korean announcement said the test had been personally ordered by Mr. Kim, only three days after he signed an order on Sunday for North Korean engineers to press ahead with the attempt.

The announcer added that for the North to give up its nuclear weaponswhile Washington's "hostile policy" continued would be "as foolish as for a hunter to lay down his rifle while a ferocious wolf is charging at him

Satellite photographs analyzed by 38 North, a Washington research institute that follows the North's nuclear activity closely, showed evidence of a new tunnel being dug in recent weeks.

Another test by itself would not be that remarkable. The North is believed to have enough plutonium for eight to 12 weapons, and several years ago it revealed a new program to enrich uranium, the other fuel for a nuclear weapon.

But if the North Korean claim about a hydrogen bomb is true, this test was of a different, and significantly more threatening, nature.

In recent weeks, Mr. Kim, believed to be in his early 30s and determined to accelerate the nuclear weapons program that his grandfather and his father promoted to give the broken country leverage and influence, boasted that North Korea had finally developed the technology to build a thermonuclear weapon.

When Mr. Kim first made the claim, in December, the White House expressed considerable skepticism, and several other experts say that the accomplishment w

Outside analysts took the claim as the latest of several hard-to-verify assertions that the isolated country has made about its nuclear capabilities. But some also said that although North Korea did not yet have H-bomb capability, it might be developing and preparing to test a boosted fission bomb, more powerful than a traditional nuclear weapon.

Weapon designers can easily boost the destructive power of an atom bomb by putting at its core a small amount of tritium, a radioactive form of hydrogen.

Lee Sang-cheol, the top nonproliferation official at the South Korean Defense Ministry, told a forum in Seoul last month that although Mr. Kim's hydrogen bomb boasts might be propaganda for his domestic audience, there was a "high likelihood" that North Korea might have been developing such a boosted fission weapon.

And according to a paper obtained by the South Korean news agency Yonhap last week, the Chemical, Biological and Radiological Command of the South Korean military "did not rule out the possibility" of a boosted fission bomb test by the North, although it added it "does not believe it is yet capable of directly testing hydrogen bombs."

For the Obama administration, which only six months ago defused the Iranian nuclear threat with an agreement to limit its capabilities for at least a decade, the announcement rekindles another major nuclear challenge — one that the administration has never found a way to
Until there's more technical analysis, as well as whatever intelligence can actually be obtained from sources in North Korea by South Korea or other nations, it's obviously premature to say whether or not these latest claims by Pyongyang are true. As I noted when Kim Jong Un's claim that North Korea had developed thermonuclear weapons was reported, there is a long history of the DPRK making claims about its military prowess that turned out to be largely untrue. In recent years, for example, the regime claims to have developed a submarine-based missile capable of delivering a warhead, nuclear warheads small enough to fit on a missile, and to have restarted its primary nuclear research facility. Over time, it became clear that none of these representations were true and, indeed, there have been more documented failures of North Korean military technology than there have been successes of late, such as confirmed failures of missile tests. This, combined with the fact that the technological leap from the fission bombs that we know the North Koreans have been able to develop to a fusion bomb that would be capable of being tested is quite a large one. Additionally, the fact that we recently passed the fourth anniversary of the death of Kim's father, Kim Jong Il suggests strongly that last night's claims are as likely to be propaganda as they are to be true, and perhaps more likely to propaganda.
Notwithstanding the doubts about the claims out of Pyongyang, North Korea's neighbors are condemning this latest test, and the move is likely to increase tensions on the peninsula once again just as similar moves by Kim and his father have in the past. Usually, these periods of tension end up being temporary and are often related to internal political matters in Pyongyang such as potential threats to Kim's grip on power. Nonetheless, as Zach Beauchamp notes, if this was indeed a hydrogen bomb rather than a conventional atomic weapon, or a conventional weapon that was enhanced with tritium as described above, it would represent a significant step forward for the North even if it doesn't really change the status quo:
If this turns out to be a successful test, hydrogen or otherwise, it won't fundamentally change the status quo in the Korean peninsula. North Korea has had nuclear weapons since 2006, and last tested one in 2013. A hydrogen bomb would be a major technological step up for the North, but would be more a change in degree than in kind in military terms.

Regardless, it would represent a significant provocation on the North's part. Why it would do this is very hard to say: North Korea is notoriously secretive, and so the reasons for actions are often difficult to interpret. One reason could be extracting concessions out of its enemies: North Korea occasionally heightens military tensions with South Korea and then demands increases in aid from international actors in exchange for backing down.

Another could be domestic politics. North Korea is a country "where the leadership culture demands a powerful leader, one capable of achieving great accomplishments," Bennett writes. "So it is not surprising that [ruler Kim Jong-Un] needs to periodically demonstrate his power. His claim that he has achieved a major advance in nuclear weaponry could be just such a demonstration, focused significantly on his internal audience."
As with most things regarding Pyongyang, what's actually going on is a mystery wrapped in a mystery inside an enigma, as Winston Churchill famously said about Russia. If anyone truly knows what's going on, it would be the Chinese and, so far, they've been silent in the wake of this latest test. If history is any guide, though, it's likely that Beijing isn't entirely pleased by this latest outburst from a client state that has become increasingly problematic, a phenomenon which makes one wonder just how far the Kim dynasty can push things before the Chinese feel compelled to act.
Update: China's People's Daily expresses the same skepticism from official sources as we've heard from elsewhere in the world:
Data so far cannot support #DPRK's claims of a #Hbomb test, further analysis required, said #Chinese military expert pic.twitter.com/fDjyXw6fav

— People's Daily,China (@PDChina) January 6, 2016
The news agency also reports that Russia's Foreign Minister condemned the test:
#Russia's FM Sergey Lavrov Wed condemns #DPRK's nuclear test as "flagrant violation" of int'l law & UN's resolutions pic.twitter.com/wSbRK9y8XC

— People's Daily,China (@PDChina) January 6, 2016