A Simple Example of Constitutional Interpretation
Constitutional interpretation is easy, right?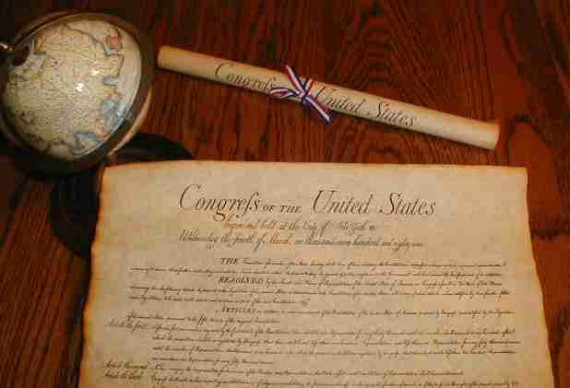 Thanks to Ezra Klein, Constitution Day has come early (or perhaps late) to OTB. Both James Joyner and Doug Mataconis has weighed in today, but let me add the following to augment the discussion.
Consider the First Amendment:
Congress shall make no law respecting an establishment of religion, or prohibiting the free exercise thereof; or abridging the freedom of speech, or of the press; or the right of the people peaceably to assemble, and to petition the Government for a redress of grievances.
There is quite a lot in there to be sure and an initial and casual reading makes it seem perfectly straightforward. However, to start with one example, the exact meaning of the word "establishment" has been an issue of major debate, especially over roughly the last century.
Setting that observation aside, let's consider the following: "Congress shall make no law…abridging freedom of speech."
It is hard to be clearer than that, yes? And yet, it has proven to be less clear than a plain reading would suggest. What about slander? What about the Heckler's veto (e.g., if the biologist down the hall wants to come into my classroom and shout "blah blah blah" at the top of his lungs for 50 minutes while I am trying to teach my political theory class, ought he be allowed to do so? It is speech, after all.) What about pornography? How about child pornography? How about the ever popular yelling "fire" in a crowded theater? Inciting violence? Should a soda manufacturer be allowed to claim that Sprite cures cancer? I won't even get into the question of how the 14th Amendment leads to the application of the 1st Amendment restrictions to state and local governments as well.
All of the above have required interpretations by courts and congresses over the decades and often with a great deal of controversy. Indeed, some of the above remain topics of controversy and/or remain incompletely settled issues.
And if we need an example of how the Framers' fully understood the Constitution in a way that can settle our understanding once and for all, it is worth noting that early on that the 5th Congress passed the Alien and Sedition Acts. Yes, they were soon repealed, but the very fact that they could be passed in first place underscored that even in the 1790s there was a far from perfect consensus regarding the precise meaning of constitutional passages.
If we start talking about freedom of the press we have some similar issues (like libel) but also also the issue of how to apply the clause to situations that the Framers could not have anticipated, specifically radio, broadcast TV, cable TV, satellite TV and radio, and the internet.
So, yes, constitutional interpretation, even with seemingly clear passages with straightforward language, is far more complicated than many seem to think.