A Study In Contrasting New York Times Editorials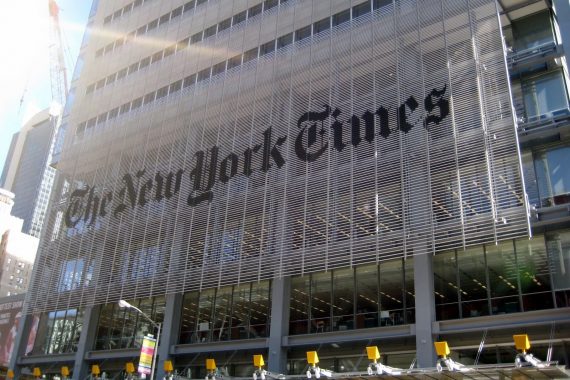 The New York Times on July 26, 2007 regarding an Executive Privilege dispute between the Bush Administration and Congress:
The House Judiciary Committee did its duty yesterday, voting to cite Harriet Miers, the former White House counsel, and Joshua Bolten, the White House chief of staff, for contempt. The Bush administration has been acting lawlessly in refusing to hand over information that Congress needs to carry out its responsibility to oversee the executive branch and investigate its actions when needed. If the White House continues its obstruction, Congress should use all of the contempt powers at its disposal.

The committee really had no choice but to hold Ms. Miers in contempt. When she was subpoenaed to testify about the administration's possibly illegal purge of nine United States attorneys, she simply refused to show up, citing executive privilege. Invoking privilege in response to particular questions might have been warranted — the courts could have decided that later. But simply flouting a Congressional subpoena is not an option.

(…)

Congress must not capitulate in the White House's attempt to rob it of its constitutional powers. Now that the committee has acted, the whole House must vote to hold Ms. Miers and Mr. Bolten in contempt. The administration has indicated that it is unlikely to allow the United States attorney for the District of Columbia to bring Congress's contempt charges before a grand jury. That would be a regrettable stance. But if the administration sticks to it, Congress can and should proceed against Ms. Miers and Mr. Bolten on its own, using its inherent contempt powers.

It is not too late for President Bush to spare the country the trauma, and himself the disgrace, of this particular constitutional showdown. There is a simple way out. He should direct Ms. Miers and Mr. Bolten to provide Congress with the information to which it is entitled.
The political feud between the White House and Congressional Republicans has now culminated in a House oversight committee vote to cite Attorney General Eric Holder Jr. for criminal contempt. His supposed crime is failing to hand over some documents in an investigation of a botched gunrunning sting operation known as "Fast and Furious."

The Republicans shamelessly turned what should be a routine matter into a pointless constitutional confrontation. And the White House responded as most administrations do at some point: it invoked executive privilege to make a political problem go away.

(…)

Mr. Issa has relished making this investigation a political fight. Last week, he seemed to bait Mr. Holder when he said in a statement, "the Obama administration has not asserted executive privilege or any other valid privilege," so it could not refuse to produce the materials.

On Wednesday, for the first time since he was elected, President Obama invoked executive privilege on the disputed documents. Doing so now bars prosecution of Mr. Holder in federal court should the full House vote to hold him in contempt of Congress.

Executive privilege cannot and should not be allowed to shield the executive branch from regular, valuable Congressional oversight. There was no reason the House committee and the Justice Department could not work out a deal to produce the documents requested, or some form of them. Instead, they show again that every issue, large or small, can be turned into ammunition for political combat.
Gee, I wonder what could've changed.