A True Baseball Fan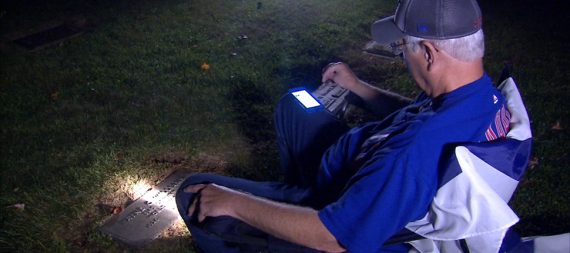 Baseball fans never die, they just rest between seasons:
GREENWOOD, Ind. (WTHR) – A North Carolina man drove back home to Indiana to keep a decades-old promise to his father.

Wayne Williams drove in for the Game 7 of the World Series.

"The gate was open," he says as he drives in.

He's not at the ballpark. He's watching it with his dad.

"Got a W flag. Not supposed to fly until after the actual win," Williams said, going over his supplies.

His dad, also named Wayne Williams, was waiting for him.

"I talked it out with my boys forever. I let them know that I told my dad – we had a pact. When the Cubs – not if, when – the Cubs got into the World Series, we would make sure we listen to the games together," Williams said.

Look, dad, here's your son, keeping his part of the bargain.

Williams set up camp in the military section of Greenwood Forest Lawn Cemetery after an all-day drive from North Carolina.

His dad died at age 53 in 1980. A Navy veteran.

"World War II, he was a signalman," Williams said. "He was at Normandy, D-Day +8. He had not turned 18 yet."

It may have been the Navy that made his dad a Cubs fan.

"I think it was because when he was at boot camp at Great Lakes. He probably went to some games, because Wrigley's brought the guys out there for these things and it was the closest thing to big-time baseball he'd ever seen," Williams said.

His dad was a loyal Cubs fan.

"'69 broke his heart," he said. "If he hadn't been dead in (1984), that would've done it for him.
Pardon me, I think there's some dust in my eyes. Yea, that's what it is.