About that 4.1% GDP Growth….
The recent report of 4.1% GDP growth over the previous quarter is indeed welcome news. However, taking a look at the data both recent and in the past and there are some reasons to be concerned about GDP growth in general.
Yes, it is pretty good growth. Definitely above average. And well above average for the post 2000 period. And yes, it is quite likely that Trump's tax cuts are a big part of the reason. After all, that legislation changed the withholding tables so that more money is showing up in each person's paychecks. More money implying more consumption spending. Sure, let's give Trump credit where credit is due.
However, this is one quarter of above average growth. Maintaining such growth in the post 2000 period has been quite challenging. See the following chart. Growth past 2000 has been markedly lower. And post the Great Recession it has been noticeably lower. Growth during the 1990's averaged 3.4% whereas post 2000 growth has averaged 2.0%. Even if we remove the Great Recession years it is not all that much better with growth clocking in at an average of 2.4%. This is not good. This is not a partisan issue. This is something that should be of concern to everyone. After all these percentages tell us about the doubling time for GDP. With an average growth rate of 2.4% GDP doubles every 30 years. With 3.4% GDP will double about every 21.2 years. So if you are 20 now and GDP is say, $17 trillion dollars by the time you are 80 GDP with 2.4% growth will be $68 trillion. But with 3.4% growth you'd see that $68 trillion by the time you were 65. Given that GDP is distributed (if unevenly) across the population where would you rather be? I'd rather be in the second scenario.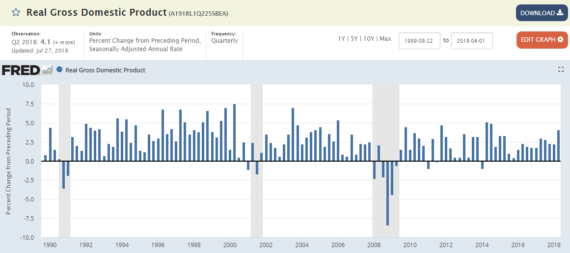 What is causing this? Good question, in fact it is the question. Nobody really knows. They have been looking for an explanation but there really isn't much to go on. There has been a drop in the growth rate of productivity, but that drop is also a mystery.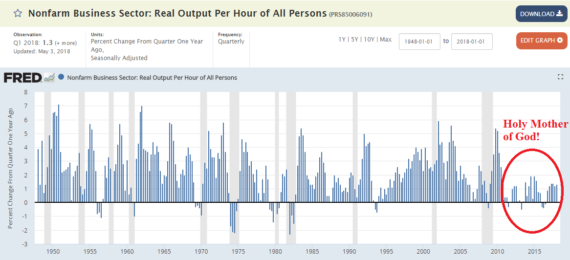 A recent paper by Nathan Goldschlag and Alex Tabarrok looked at federal regulation to see if that was the culprit and shocking the answer was, "No!" Here is the summary,
Mounting evidence suggests that economic dynamism and entrepreneurial activity are declining in the United States. Over the past 30 years, the annual number of new business startups and the pace of job reallocation have declined significantly. We ask whether this decline in dynamism can be explained by federal regulation. We combine measures of dynamism with RegData, a novel dataset leveraging the text of the Code of Federal Regulations to create annual measures of the total quantity of regulation by industry. We find that rising federal regulation cannot explain secular trends in economic dynamism.
And the data set they are using, RegData, is quite interesting.
Our primary source of information on regulation is RegData, a database built upon the CFR.6 The CFR captures the stock of all federal regulations in effect in a given year. RegData builds on prior studies of regulation that use page counts or other size measures from the CFR or the FR. RegData improves upon earlier measures in two ways. First, not every page in the CFR is equally impactful so rather than a simple page count RegData counts the number of restrictive words or phrases such as 'shall', 'must', 'may not', 'prohibited', and 'required' in each section of text. Restrictive word counts are likely to better measure the regulations that influence choice, binding regulations, than will simple page counts.

The second way that RegData improves upon previous measures is by disaggregating the measure of regulation to the industry level. The CFR is divided into sections, including titles, chapters, subchapters, parts, and subparts. Although the titles of the CFR often have suggestive names such as 'Energy', 'Banks and Banking', and 'Agriculture', a single regulation in any CFR section can affect many industries so there is no simple way to connect the number of regulatory restrictions by section to an industry. To solve this problem, Al-Ubaydli and McLaughlin (2015) draw on developments in machine learning and natural language processing techniques.
The CFR acronym refers to the Code of Federal Regulations. Basically, this is a more comprehensive and disaggregated to the industry level. Further, the machine learning aspect of the algorithm does try to account for "stringency" of the regulations.
But the shocking finding is that federal regulation appear to have little impact on dynamism in the economy. And they tried really hard. They tried all sorts of different models with their data and found…pretty much nothing.
Both the authors expected to find a large role for federal regulation in reducing dynamism. After working with the data, however, our view is that if the effect of federal regulation on dynamism was strong then it would show up more consistently and clearly. As noted earlier, the question we examine is not whether regulation influences dynamism, it surely does in both positive and negative directions. The question is whether regulation on net has been an important cause of the large, secular, and widespread decline in dynamism in the United States. While other measures of industry-level regulation and other techniques are to be encouraged we suspect that the main message of our paper – we should be looking elsewhere than Federal regulation for the cause of declining dynamism – is robust. Thus, it is appropriate to briefly consider other possible causes of declining dynamism.
So what could it be? Goldschlager and Tabarrok suggest the following places/things to consider for future research:
State level regulations (note one could even look at interaction effects here with federal regulations).
A decline in the rate of technological growth.
Improvements in information technology may allow firms to internalize "creative destruction" that is large firms are better able to adapt to shocks and thus there are less bankruptcies, unemployment and periods of worker reallocation.
The authors also note that it is possible that dynamism is being mis-measured.
Another possibility is a cultural shift. Perhaps Americans are becoming less entrepreneurial than in the past. If so, then this could explain the decline we are seeing in productivity and thus growth. One potential solution to this is greater immigration. Immigrants tend to start businesses at a higher rate that natives.
In the end this is a great big mystery.
So, yes the recent GDP numbers are good. They could have been better without Trump's blinkered trade antics. But it is just one quarter's worth of higher than average growth and we saw similar growth under Obama and Bush. To act like this is something unprecedented is just downright ridiculous. Gloat if you want too but you'll just look stupid.