Absolut Redraws USA – Mexico Border
Absolut Vodka has got some 'splainin' to do: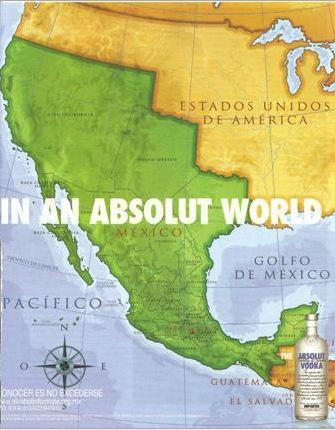 Laura Marti­nez found the ad in the print edition of Quién magazine in Mexico City and it's going viral. Jim Hoft has picked it up, calling it an "Absolut-ly Outrageous Ad," Pierre Legrand profanely calls for a boycott, and Brian Ledbetter goes with "Absolut-ly Insulting." Michelle Malkin cranks it up a notch, with "Absolut Reconquista."
Patrick Ishmael fights fire with fire: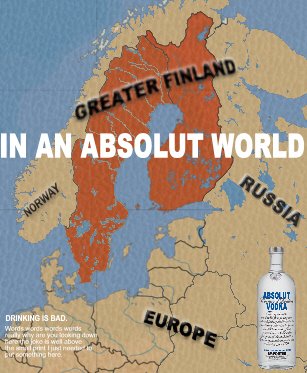 What I haven't been able to determine is the context. Is this a joke? Does Absolut have similar campaigns around the world playing up other nationalist sympathies?
UPDATE: Cernig points out in the comments that Absolut is known for its highly targeted niche advertising. As the linked page notes:
The Absolut campaign effectively addresses a range of niche markets by adjusting the referents to suit its particular audiences. Many times one can be looking through a specialty magazine and an Absolut ad that was obviously, specifically created for this magazine, even though the ad never deviates from its original format.

[…]

Absolut, along with many other advertisements, has been able to turn their campaign from mainstream images, such as Marilyn Monroe (left), Houdini, L.A. and the meaning associated with every other major city in the world, to niche market images, such as homosexual icons, obscure artists, etc. As they appropriate these images, the success of the niche images becomes comparable to the mainstream images, however, they maintain the aura of a niche image. For example, "Absolut Spada"(left) represents an artist popular in the gay world. His art is all encompassing of homosexual images. There are freedom rings flying above him. His feet are "flaming." He is "coming out" of the Absolut bottle. The ad is directly hailing the gay niche market. Here the have taken signs -gay signs- and turned them into commodity signs which sell their product in the same way as the mainstream images which Absolut audiences understand.
Presumably, they're figuring that straights aren't reading gay magazines and that gringos aren't reading Quién. That's generally a pretty safe assumption. In the Internet age, though, it's increasingly difficult to keep targeted messages from spreading beyond their intended audience. Indeed, there's a whole website dedicated to nothing but cataloging Absolut ads. Which, incidentally, featured the Mexico ad almost a month ago. The comments section didn't catch fire until this morning, however.