ACORN Behind Occupy Movement, Right Wing Media Charges
Unnamed "sources" claim that ACORN is somehow behind Occupy Wall Street and its offshoots.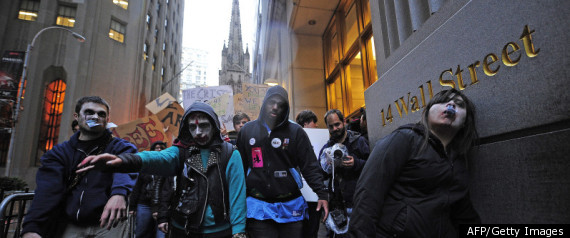 A commenter has passed along a meme that's going around: The discredited community organizer group formerly known as ACORN is secretly funding the Occupy Wall Street movement. Thus far, there's next to no evidence for this assertion.
It turns out that the meme has actually been circulating in slightly less savory circles almost as long as Occupy has been in the news. Something called The Right Scoop offered "video proof that big labor has had it's [sic] hands in these occupy whatever street protests from the beginning, despite what you may hear on the news" back on October 10th. FrontPageMag's Matthew Vadum ("Occupy Wall Street's ACORN Rent-A-Mobs") was on it October 13th. Richard Johnson of something called The Patriot's Trumpet claimed on October 8 to have called it on August 23!
It took off in a serious way earlier today with a report ("EXCLUSIVE: ACORN Playing Behind Scenes Role in 'Occupy' Movement") on the Fox News website.
The former New York office for ACORN, the disbanded community activist group, is playing a key role in the self-proclaimed "leaderless" Occupy Wall Street movement, organizing "guerrilla" protest events and hiring door-to-door canvassers to collect money under the banner of various causes while spending it on protest-related activities, sources tell FoxNews.com.

The former director of New York ACORN, Jon Kest, and his top aides are now busy working at protest events for New York Communities for Change (NYCC). That organization was created in late 2009 when some ACORN offices disbanded and reorganized under new names after undercover video exposes prompted Congress to cut off federal funds.

NYCC's connection to ACORN isn't a tenuous one: It works from the former ACORN offices in Brooklyn, uses old ACORN office stationery, employs much of the old ACORN staff and, according to several sources, engages in some of the old organization's controversial techniques to raise money, interest and awareness for the protests.

Sources said NYCC has hired about 100 former ACORN-affiliated staff members from other cities – paying some of them $100 a day – to attend and support Occupy Wall Street. Dozens of New York homeless people recruited from shelters are also being paid to support the protests, at the rate of $10 an hour, the sources said.

At least some of those hired are being used as door-to-door canvassers to collect money that's used to support the protests.

Sources said cash donations collected by NYCC on behalf of some unions and various causes are being pooled and spent on Occupy Wall Street. The money is used to buy supplies, pay staff and cover travel expenses for the ex-ACORN members brought to New York for the protests.

In one such case, sources said, NYCC staff members collected cash donations for what they were told was a United Federation of Teachers fundraising drive, but the money was diverted to the protests.

Sources who participated in the teachers union campaign said NYCC supervisors gave them the addresses of union members and told them to go knock on their doors and ask for contributions—and did not mention that the money would go toward Occupy Wall Street expenses. One source said the campaign raked in about $5,000.
The New York Post, a tabloid also known to be sympathetic to conservative causes, is passing the reports along in a story ("Ex-ACORN operatives playing role in 'Occupy Wall Street' movement") that's a warmed over re-write of the Fox story.
So, we have unnamed "sources" telling an outfit known to be hostile to the movement that some people who once held high positions at ACORN are "now busying working at" the Occupy protests. In some cases, they're allegedly getting the equivalent of lunch money and cab fare to do somethingoranother. And some homeless people are allegedly being given some walking around money. Additionally, some fundraising drive allegedly pulled in a whopping $5000!
None of this is implausible. It's the kind of thing ACORN did and ACORN types would certainly be sympathetic to Occupy. For that matter, there would be nothing illegal or even particularly untoward about any of this. But it's simply assertion without evidence from some "sources" whose identity we're not privy to. Color me unimpressed.
The left tried to discredit the Tea Party in its early days, too, with charges that what presented itself as a grass roots organization was funded by the Koch Brothers and other organized libertarian outfits with Washington ties. While the insinuations were insidious–few of the protestors likely had any clue who the Koch brothers were–there was at least a basis in fact: the brothers Koch and those sympathetic to the movement very quickly got involved as organizers and helping to spread the message. Here, though, it just looks like a vague smear.
UPDATE: TO be clear, what's in dispute here is the extent to which NYCC is ACORN by a new name and whether it is merely glomming on to a movement that it would naturally support or is "behind" it as a major organizer. NYCC's Jon West posted this on the front page of their website on September 30 under the title Why We're Joining #OccupyWallStreet:
It has been amazing watching #OccupyWallStreet grow over the past two weeks. As someone who has been involved in the social justice movement in New York for more than 30 years, it's a rare occasion that I get to watch a movement like this develop from the outside.

Over the past several years, while the big banks have destroyed our economy and working people have fought to make do with less and less, the richest one percent of Americans continue to take of more of the pie.

That's why I'm excited to announce that New York Communities for Change and many of our allies in community organizing and labor will be showing our support for #OccupyWallStreet next week.

No place is more symbolic of that gross inequity than Wall Street and there is no better symbol for what all of us are working to achieve than seeing Zuccotti Park full of people who are ready to say that the American people are not going to take it anymore.
So, they're hardly trying to hide their support. The question is whether ACORN is some sort of behind-the-scenes puppet master. And there's as of yet no evidence of that.