"ACORN Pimp" James O'Keefe Attempts Bizarre CNN Stunt
The man best known for staging the "Acorn Pimp" videos is back in the news with an even more bizarre story.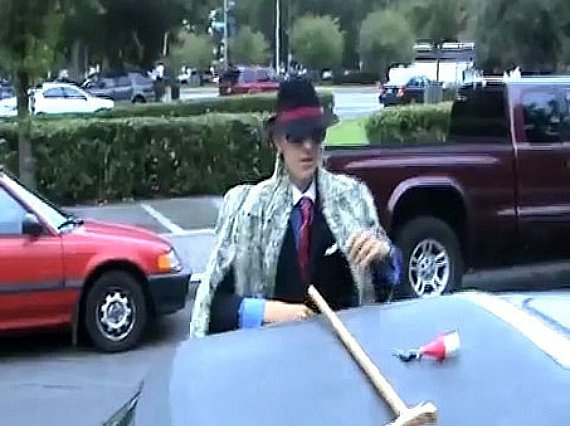 When we last heard from James O'Keefe, the former college student who made his name by attempting to ensnare ACORN workers by posing as a pimp, he had pled guilty to a misdomeanor related charges resulting from another stunt he was apparently attempting pull off at the New Orleans office of Senator Mary Landrieu. Now, it seems, he's involved in another odd encounter, but this time it didn't quite go the way he planned:
Lusby, Maryland (CNN) — A conservative activist known for making undercover videos plotted to embarrass a CNN correspondent by recording a meeting on hidden cameras aboard a floating "palace of pleasure" and making sexually suggestive comments, e-mails and a planning document show.

James O'Keefe, best known for hitting the community organizing group ACORN with an undercover video sting, hoped to get CNN Investigative Correspondent Abbie Boudreau onto a boat filled with sexually explicit props and then record the session, those documents show.

The plan apparently was thwarted after Boudreau was warned minutes before it was supposed to happen.

"I never intended to become part of the story," Boudreau said. "But things suddenly took a very strange turn."
And O"Keefe's plan itself was bizarre, and a quite honestly a little creepy:
For months, CNN had been following a group of young conservative activists, including Christian Hartsock, the director of the music video. The activists will be featured in a documentary, "Right On The Edge," that will air October 2 and 3.

Hartsock said O'Keefe did not want CNN to shoot on the set of the music video, but said he would encourage O'Keefe to call CNN to discuss the request.

O'Keefe called Boudreau on August 10. During the conversation, he said he preferred that Boudreau meet him in person in Maryland and asked that she come alone.

"I just want to talk," O'Keefe told Boudreau on the phone. "I just want to have a, you know, meeting with you, and talk to you face to face about this. Because, I don't, I feel sort of, let's just say reserved about, about letting people into my sort of inner sanctum, about letting, letting people sort of take a glimpse into, into, behind the scenes, so that's why you know, I just feel more comfortable if it was just me and you and we just had a face-to-face meeting before I agree to, to let you guys come out and shoot the video shoot out there."

(…)

When Boudreau arrived at the address, a house located on a tributary of the Patuxent River, Santa approached her with a tape recorder in her hand and said she wanted to talk in the car, Boudreau said.

"I noticed she had a little bit of dirt on her face, her lip was shaking, she seemed really uncomfortable and I asked her if she was OK," Boudreau said. "The first thing she basically said to me was, 'I'm not recording you, I'm not recording you. Are you recording me?' I said, 'No, I'm not recording you,' and she showed me her digital recorder and it was not recording."

Santa told Boudreau that O'Keefe planned to "punk" her by getting on a boat where hidden cameras were set up. Boudreau said she would not get on the boat and asked Santa why O'Keefe wanted her there.

"Izzy told me that James was going to be dressed up and have strawberries and champagne on the boat, and he was going to hit on me the whole time," Boudreau said.
And, it gets even weirder as Boudreau discovered when Santa gave her an internal document describing what O'Keefe had planned:
According to the document, O'Keefe was to record a video of the following script before Boudreau arrived: "My name is James. I work in video activism and journalism. I've been approached by CNN for an interview where I know what their angle is: they want to portray me and my friends as crazies, as non-journalists, as unprofessional and likely as homophobes, racists or bigots of some sort….

"Instead, I've decided to have a little fun. Instead of giving her a serious interview, I'm going to punk CNN. Abbie has been trying to seduce me to use me, in order to spin a lie about me. So, I'm going to seduce her, on camera, to use her for a video. This bubble-headed-bleach-blonde who comes on at five will get a taste of her own medicine, she'll get seduced on camera and you'll get to see the awkwardness and the aftermath.

"Please sit back and enjoy the show."

(…)

The document discusses the potential fallout from the operation.

"If they pursue this as you are a creep, you should play it up with them initially only to reveal that the tape was made beforehand confirming this was a gag," the document states. "If they [CNN] admit it was a gag, you should release the footage and focus on the fact they got punked, and make sure to emphasize Abbie's name and overall status to help burden her career with this video, incident and her bad judgment in pursuing you so aggressively."
There are many on the right for whom O'Keefe has become some kind of bizarre folk hero thanks to the ACORN videos — which, incidentally, did not result in a single arrest or indictment — but his actions since then have been, to put it nicely, odd. The Landrieu stunt was apparently intended to address claims by some that her Senate office was not answering phone calls from opponents of health care reform, but it ended up resulting in actions that violated the law. A few months ago, he came out with a video that essentially provided the rather obvious conclusion that government workers cheat on their time cards every now and then. And now there's this.
As always there are two sides to every story, but I can't for the life of me figure out what the point of pulling a Borat-like stunt on a CNN reporter actually is. Unless it's to get your name on CNN, that is.