Air Force Can't Find Drone Pilot Volunteers
The Air Force can't find enough people to volunteer to fly remote controlled planes.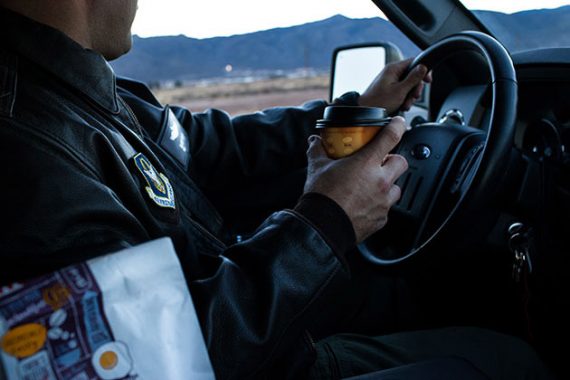 The Air Force can't find enough people to volunteer to fly remote controlled planes.
AFP ("US Air Force Lacks Volunteers To Operate Drones"):
The US Air Force is unable to keep up with a growing demand for pilots capable of operating drones, partly due to a shortage of volunteers, according to a new study.

Despite the importance placed on the burgeoning robotic fleet, drone operators face a lack of opportunities for promotion to higher ranks and the military has failed to identify and cultivate this new category of aviators, Air Force Colonel Bradley Hoagland wrote in the report published for the Brookings Institution think tank.

In 2012, the Air Force had a goal to train 1,129 "traditional" pilots and 150 drone pilots to operate Predator, Reaper and Global Hawk robotic aircraft.

But the Air Force "was not able to meet its RPA (remotely piloted aircraft) training requirements since there were not enough volunteers," the report said.

As of last year, the Air Force has 1,300 drone pilots, making up about 8.5 percent of the force's aviators, compared to 3.3 percent four years later.

The fleet of unmanned aircraft includes 152 Predators, 96 Reapers and 23 Global Hawks, which is large enough to fly 61 combat air patrols.

The military measures air power in terms of combat air patrols, or CAPs, which are supposed to provide 24-hour air coverage over a designated area. It typically takes three or four drones to make up a combat air patrol.

But goals for expanding the patrols are increasing "at a faster pace than the AF (Air Force) can train personnel to operate these systems," the study said.

One of the factors behind the shortfall is a high rate of attrition among the drone operators, which is three times higher than for traditional pilots, it said.

Another factor is the intense tempo of operations for drone missions over the past decade.

The constant drone flights mean operators, unlike their counterparts in other specialities, lack the time for additional education and training to attain a higher rank, undercutting their career prospects, the author wrote.

The problem is reflected in a 13 percent lower promotion rate to the rank of major over the past five years, compared to other military fields.

The fewer number of promotions is also fed by a military culture that still does not fully appreciate the skills of drone pilots, Hoagland said.
I'd argue that Hoagland has it exactly reversed: the problem is that we appreciate the skills too much. It's simply absurd to require people flying remote controlled airplanes to be qualified pilots, much less eligible for promotion to major. We don't need field grade officers to do a job that a kid out of high school could do.  Millions of people pay good money to play flight simulator games. You're telling me we can't find a couple thousand to do it for money, getting to blow up real bad guys?
As I noted a few months back after a report that drone pilots are bored,
The Army has its very lowest level enlisted personnel drive tanks, rocket artillery launchers, and the like. Once promoted to junior NCO rank, they stop driving and start supervising those who do. Similarly, Army helicopters—which are much harder to learn to fly than a fixed wing aircraft—are piloted by warrant officers and very junior commissioned officers. Once you make major, you move on to supervising aviation operations, doing less and less flying as your career progresses. Indeed, those who want to spend their careers flying are better off as warrants rather than commissioned officers.

Yet, the Air Force is paying field grade officers a very handsome salary—and flight pay!—to do something a kid right out of high school could not only do just as well but is likely much more psychologically suited to do. Indeed, I can scarcely conjure someone it makes less sense to assign this banal duty to than a 30-something who has spent a decade learning to fly jets.

To be clear, I'm not denigrating the work RPA pilots do. It takes skill and judgment and saves lives. But it makes no sense to spend hundreds of thousands of dollars to train someone to do an almost completely unrelated task and then make him do something comparatively boring.
Of course, acknowledging that you don't need to be a pilot or an officer to do this would require a rather stark cultural change in the Air Force.