Alabama Chief Justice Roy Moore Suspended From Office Again
Alabama Chief Justice Roy Moore has been removed from office again.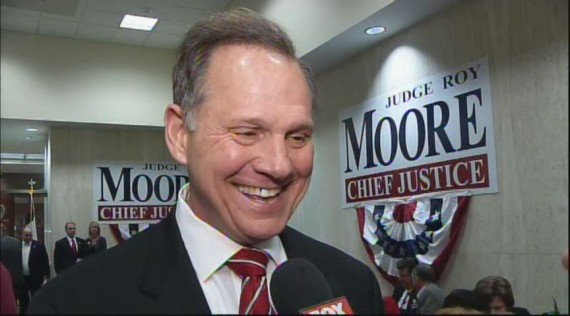 Alabama Chief Justice Roy Moore, who has been a lightning rod of controversy for more than a decade for his use of his judicial office to advance a political agenda, has once again been suspended from office, this time over his refusal t0 abide by Federal Court decisions legalizing same-sex marriage:
An Alabama judicial oversight body on Friday filed a formal complaint against Roy S. Moore, the chief justice of the state's Supreme Court, charging that he had "flagrantly disregarded and abused his authority" in ordering the state's probate judges to refuse applications for marriage licenses by same-sex couples.

As a result of the charges, Chief Justice Moore, 69, has been immediately suspended from the bench and is facing a potential hearing before the state's Court of the Judiciary, a panel of judges, lawyers and other appointees. Among possible outcomes at such a hearing would be his removal from office.

"We intend to fight this agenda vigorously and expect to prevail," Chief Justice Moore said in a statement, saying that the Judicial Inquiry Commission, which filed the complaint, had no authority over the charges at issue.

Referring to a transgender activist in Alabama, Chief Justice Moore said the commission had "chosen to listen to people like Ambrosia Starling, a professed transvestite, and other gay, lesbian and bisexual individuals, as well as organizations which support their agenda."

It is the second complaint lodged by the state's Judicial Inquiry Commission against the judge. In 2003, he was ousted by the same body from his position as chief justice after disobeying a federal court order to remove a two-ton monument of the Ten Commandments that he had installed in the rotunda of the state judicial building.

He was elected to that office again nine years later.

The current complaint concerns Chief Justice Moore's actions after federal court decisions regarding same-sex marriage. Last spring, he directed probate judges in Alabama not to abide by a Federal District Court's order striking down the state's ban on same-sex marriage, holding that issuing licenses to same-sex couples would violate the Alabama Constitution.

In January, six months after the United States Supreme Court's ruling that same-sex marriage was a constitutional right, Chief Justice Moore, in an administrative order, instructed the state's probate judges that they had a "ministerial duty" to enforce the state's ban on same-sex marriage. Nearly all of the probate judges in the state have been issuing licenses to same-sex couples, though a few have stopped issuing marriage licenses altogether.

In his order, he argued that the Supreme Court's decision applied only to the four states involved in the case that was before the court, and not to Alabama. That view runs counter to that of the federal district and appellate courts with jurisdiction over Alabama, and, according to the formal complaint, is "contrary to clear and determined law about which there is no confusion or unsettled question."

The complaint lists six charges against Chief Justice Moore, and lays out several violations of the state's canons of judicial ethics.

Richard Cohen, the president of the Southern Poverty Law Center, which had filed a series of complaints to the commission, said Chief Justice Moore "has disgraced his office for far too long."

"For the good of the state he should be kicked out of office," he added.
In the end, of course, Moore's fate is the inevitable result of his refusal to follow the law in the name of his own radical view of politics and the law mixed with religion, but in both this instance and the one that led to his ouster thirteen years ago the issue is far simpler. Notwithstanding the fact that he sits at the top of the highest Court in Alabama, Moore is as bound by the decisions of superior courts as anyone else. Thirteen years ago, Moore chose to ignore the orders of a Federal District Court Judge who had ruled that the display of the Ten Commandments on state property was unconstitutional and ordered that it be taken down. This time, Moore's defiance was if anything even more sinister in that he was both defying the clear ruling of the Supreme Court of the United States and ordering the Probate Judges who issue marriage licenses in Alabama to do the same. As a result, he was effectively making it impossible for gay and lesbian couples to get legally married anywhere in Alabama. In this respect, he was no different than the segregationist politicians who were standing in sch0olhouse doors sixty years ago in an effort to defy the Supreme Court's ruling in Brown v. Board of Education. The difference is that Moore is not supposed to be acting like a politician, he is supposed to be acting like an officer of the court and there are few things worse than an officer of the court who is showing open contempt for the law in the manner that Moore has been doing since the Court issued it's opinion in Obergefell v. Hodges nearly a year ago.
Among other things, Moore's case stands as an argument against the idea of electing judges, especially at the appellate level. Rather than basing their actions and rulings on the law and the case before them, elected Judges like Moore can be strongly tempted to use their judicial office to advance a political agenda that has little to do with the law. In Moore's case, of course, that is an extreme conservative point of view that puts Christianity ahead of other religions and justifies any action that advances that position, even if it violates the Constitution. Judging him by his own actions, it's clear that Moore cares little about the rule of law and cares mostly about advancing his political agenda. When he was removed from office the first time, Moore flirted with the idea of running for President before mounting an unsuccessful bid for the Republican nomination for Alabama Governor. When that failed, Moore threw his hat in the ring for Chief Justice again and, despite the fact that he had been removed from that same office less than a decade earlier, won election easily. Assuming that this removal stands on appeal, there would be nothing stopping Moore from running for the same office again, and he'd probably win too. There's got to be a better way to do things.
Note: Post title changed to reflect the fact that Moore has been suspended, but not yet formally removed, from office at this time.