Alabama-Ohio State National Championship
The best two teams in college football play for it all amid some controversy.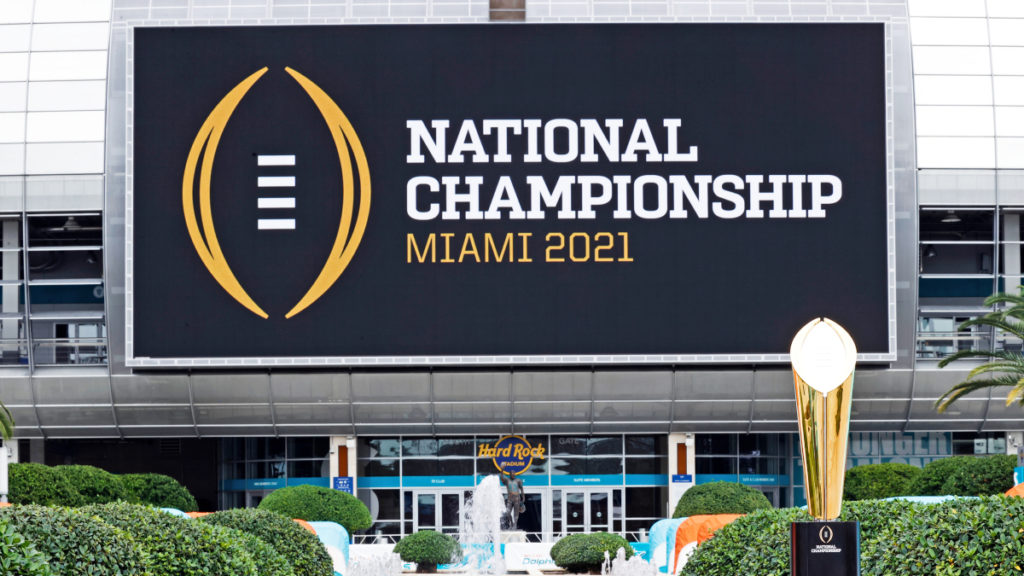 The top-ranked Alabama Crimson Tide defeated the Notre Dame Fighting Irish 31-14 to win the "Rose Bowl" and a trip to the College Football Championship game in Miami on January 11. They'll face off against the Ohio State Buckeyes, who walloped the 2-seed Clemson Tigers 49-28 in the Sugar Bowl.
The matchup, like the whole 2020 season, is controversial. Ohio State represents the Big Ten conference, which initially canceled their fall sports calendar until reversing course and devising a shortened, conference-only schedule after it was clear that the Southeastern Conference (won by Alabama) and the Atlantic Coast Conference (won by Clemson) would go on without them.
The combination of a late start, inept management of COVID-19, and bizarre decisions by conference athletic directors meant that Ohio State would play only five regular season games to Alabama and Clemson's ten. Further, it took a last-minute rule change to allow Ohio State to even play in their conference championship game.
Clemson head coach Dabo Sweeney infamously ranked the Buckeye's 11th on his end-of-season poll, arguing that a team that played so few games shouldn't be rewarded for it. He had a point: they got a playoff appearance over teams that had played twice as many games and therefore twice as many opportunities to lose.
My boss, Colonel Tom Gordon, likes to distinguish justice from fairness. Life isn't fair but we should strive to act justly. And this is a classic case of that.
Is it fair that the 7-0 Buckeyes face the 13-0 Crimson Tide as equals in a winner-take-all contest? No.
By playing almost twice as many games, Alabama not only had six more opportunities to lose, they are much more beat up as a result. Tuesday night, Alabama wide receiver DeVonta Smith is expected to add a Heisman Trophy to his AP Player of the Year award and unanimous All American selections. Yet he started the year as the number two wideout on his own team, behind Jalen Waddle—who was lost on the opening kickoff of the Tennessee game. In the SEC Championship, the 11th game of Alabama's season, they lost consensus All America center Landon Dickerson in the closing minutes. Ohio State won't have played that many games all year. And several other starters with lesser injuries missed yesterday's semifinal.
Is it just that Ohio State gets their shot at Alabama? Probably.
It's not their fault that the Big Ten couldn't manage the schedule better and that their opponents kept canceling games. They benefitted from home cooking from a league desperate to keep its best team competitive for a playoff bid but, in fairness, they would have qualified for the conference championship game over Indiana even if they had played and lost a sixth regular-season game. And the Big Ten was almost certainly the second-best conference in the land.
The playoff committee certainly got the seeding right by ranking Ohio State ahead of Notre Dame. Indeed, I strongly feared that they would punish the Buckeyes for playing a short schedule by keeping them in the 4-seed, thus giving Alabama the tougher semifinal opponent.
While it was obvious to most observers that Notre Dame was the weakest team in the playoff, it wasn't clear until last night whether Ohio State or Clemson would be the tougher opponent for Alabama in the finals. Now we know.
Alabama and Clemson have faced off an incredible four times in the Playoff era, splitting the contests and earning two national championships apiece. Alabama and Ohio State faced off in the semifinals of the very first Playoff in 2015, with the Buckeyes prevailing in a 42-35 shootout fueled by a 230-yard, 2-touchdown effort by Ezekial Elliot. I'm hoping for a better result this time.
If Bama prevails, it would be a season for the ages. Eleven SEC wins in a single season is a record unlikely to be broken. Adding wins against Notre Dame and Ohio State, two of the most storied teams in college football, would make it pretty special. It would give Nick Saban a seventh championship, breaking his tie with Bear Bryant and putting him alone at the top of the leader board. Six of those would be at Alabama and this would only be the second (along with the 2009 squad) to go undefeated.