Alabama's New Immigration Law
AL takes AZ's approach and goes a few steps beyond.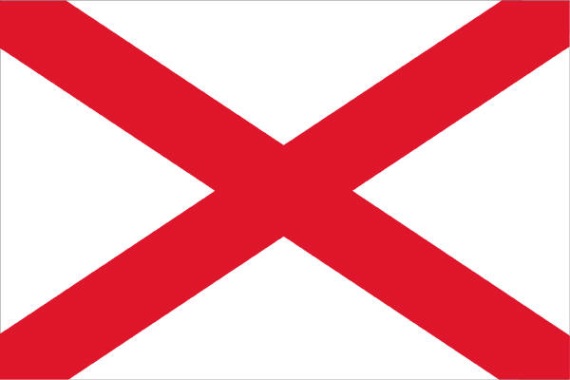 This week the state of Alabama passed, and Governor Bentley signed, a new immigration law modeled on the controversial SB1070 from Arizona, although the AL legislation is actually tougher (indeed, the Governor called it the nation's toughest).
Via the AP:  Tough illegal immigration law signed by Alabama Gov. Robert Bentley
Alabama's governor today signed a tough new illegal immigration law that requires public schools to determine students' immigration status and makes it a crime to knowingly give an illegal immigrant a ride.

The bill also allows police to arrest anyone suspected of being an illegal immigrant if they're stopped for any other reason. Alabama employers also are now required to use a federal system called E-Verify to determine if new workers are in the country legally.
The latter is the most problematic portion of the bill, as it gives Alabama law enforcement the right to detain any person if there is a "reasonable suspicion" that they are undocumented.  Of course, what does one think are the likely criteria for such suspicions?  I am guessing it is some combination of being brownish of hue, speaking Spanish/speaking accented English, and/or appearing to be on the lower end of the socioeconomic spectrum.  I would note that one does not have to produce proof of citizenship when applying for a driver's license.  As such, just having a driver's license will not be sufficient to ward off the aforementioned "suspicions."  There is also the fact that there is no legal requirement for US citizens to carry identification, and the fact that not everyone (especially poorer people) has a license.
Any law that can result in the harassment of citizens and legal residents simply because of their ethno-linguistic background should be anathema in the United States.  And let's face facts:  the persons who tend to be in favor of these laws are highly, highly unlikely to ever be considered to be "suspicious" and therefore downplay these types of problems.
Further, the bill makes it illegal to knowingly transport an undocumented individual or to rent apartment/house to such a person.  Granted, the word "knowingly" has a lot of weight (and a difficult burden of proof for prosecutors) but what this provision likely will do is lead to discrimination in housing, as one can easily see a landlord simply not wanting to take any chances on Hispanic renters.*
Other provisions of the bill target employers and require the use of e-verify.
In regard to the claim that this is a "jobs-creation bill" (which numerous politicos have claimed) I concur with Greg Weeks:
Instead, it will be a "jobs-creation bill for American lawyers."
Indeed.   The likelihood is quite high that this bill will spin off a great number of law suits.  Further, I suspect that there will not be a massive queue outside the chicken processing plants which have been major employers of migrant labor.  We shall see.
Indeed, as an editorial in The Daily Home rightly notes:
If the law holds up to the legal challenges already being prepared, the test will be not so much whether crime rates drop or availability of public services rises, but whether Alabamians move into the jobs once held by illegals.

Nothing in the final bill that Gov. Robert Bentley signed Thursday will have any positive effect on the state's economy, but it could spur chicken-processing plants and hand-harvested agriculture to follow their labor force to other states.
This is on point.  Past experience has demonstrated that working in chicken processing plants, a rather unpleasant job by all accounts, has been both a key example of "jobs Americans won't do" and, as noted above, an attraction of migrant worker to the state.  If the law stands, we will get to see an experiment in action:  either Americans will take those jobs at the same rate of pay or we will see those plants moving elsewhere.
If the plants move, then that would be an indication that, yes, there is a labor demand being served by immigrants not being served by the native population.  As such, that should suggest, as most experts do already, that what we need is significant reform to our immigration laws in a fashion that would allow demand and supply to better coincide than is the caser under current practices.
Also, on the job's front, I can't disagree with the editorial's conclusion:
It does, however, reinforce Alabama's reputation for racism and xenophobia, which could hurt business prospects in the long run.
Since the real way to produce good jobs for Alabamians is to attract more industry to the state, this is a valid and telling point.  The notion that what Alabama needs to free up jobs in chicken processing, seasonal agriculture, house framing, cleaning fast food restaurants and the like sets the bar for job creation rather on the low side, yes?
I am, in general, not a fan of the states inserting themselves into this area of policy, as it is fundamentally a federal issue.  Ultimately, this is part of two, related, factors.  One is that immigration has become an ideological issue within the GOP (and hence the proliferation of these laws across the country.  The other is the inability of the federal government to come to a comprehensive immigration reform.  The two are linked for two reasons.  The first is that the lack of the latter leads to the former.  The second is that both are driven by utterly unrealistic understandings of the immigration issue.
—–
*And as a resident of Alabama I can guarantee you that prejudice in housing is alive and well.  Even amongst my own neighbors in a middle class, and multi-race neighborhood I still hear people express concern over the race of people who might buy vacant homes.  Stereotypes and racism die hard.