Alan Simpson Calls Bullshit on Social Security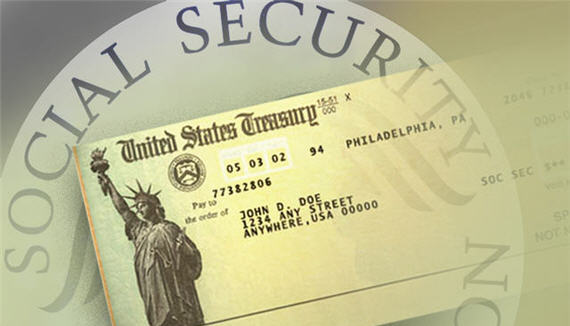 Alex Lawson of Social Security Works has apparently been stalking the White House Debt Commission with a video camera.  He got an earful from co-chairman Alan Simpson.
The more interesting parts of a long exchange:
ALAN SIMPSON:  We're really working on solvency… the key is solvency

ALEX LAWSON: What about adequacy? Are you focusing on adequacy as well?

SIMPSON: Where do you come up with all the crap you come up with?

SIMPSON:  We're trying to take care of the lesser people in society and do that in a way without getting into all the flash words you love dig up, like cutting Social Security, which is bullshit. We're not cutting anything, we're trying to make it solvent.

SIMPSON:  It'll go broke in the year 2037.

LAWSON:  What do you mean by 'broke'? Do you mean the surplus will go out and then it will only be able to pay 75% of its benefits?

SIMPSON:  Just listen, will you listen to me instead of babbling?   In the year 2037, instead of getting 100% of your check, you are going to get about 75% of your check. That's if you touch nothing. If you like that, fine. You'll be picking with the chickens yourself when you're 65.

So we want to take care, we're not cutting, we're not balancing the budget on the backs of senior citizens. That's bullshit. So you've got that one down. So as long as you've got those two things down, you can't play with anymore, that we're not balancing the budget of the United States on the backs of poor old seniors and we're not cutting anything, we're stabilizing the system.
It goes on like this for quite some time, with Simpson doing an excellent job of explaining the intricacies of the problem and Lawson seemingly not understanding any of it.
FDL's Jane Hamsher, who has the full transcript, is with Lawson:
Simpson is apparently a graduate of the Bobby Etheridge school of charm. Alex Lawson was incredibly respectful and polite as the crankly Simpson berated, interrupted and cussed him. Simpson has been a long-time supporter of rolling back the New Deal, and when asked about cuts he would recommend to the President and Congress on CNBC, Simpson said  "We are going to stick to the big three," meaning Social Security, Medicare and Medicaid.  His sentiments haven't changed.

CJR's Trudy Lieberman recently ran down Simpson's history of delicate statements on the subject of Social Security.   He is equally decorous on camera with Alex, who clearly knows a great deal more about the subject than he does.  Simpson starts from the premise that the Treasury will default on the bonds issued to the Social Security trust fund, because all the best people apparently know that it's better to default on America's senior citizens and plunge them into poverty than it is to default on, say, the Chinese.

Despite Simpson's assertions, raising the retirement age to 70 IS a benefit cut.  It would put an estimated 1.5 million  senior citizens into poverty. After two years of watching billions of dollars in taxpayer money being paid out to Wall Street CEOs in lavish bonuses while the White House breaks every promise they've made to rein them in, that takes a fat load of nerve.
Ditto HuffPo's Jason Linkins, who terms it a "profanity-laced confrontation."
Over at BreitbartTV, though, they describe it as "a full and frank engagement with an activist questioning him on the proposed reforms of the Social Security system. He doesn't duck. He doesn't hide. He doesn't grab the guy around the wrist or neck."
I'm frankly amazed that Simpson spent 8 minutes, 20 seconds talking to some yahoo with a video camera.   Regardless, the problems he describes are real.    Social Security and Medicare are massive structural burdens, even compared to the spectacular cost of the wars in Afghanistan and Iraq.   Those will soon go away whereas the entitlement demands will continue to skyrocket.
Now, Hamsher and Lawson are right:  Simply raising the retirement ago to 70 won't work, either.   There are many occupations that are too physically demanding to work that long.  And many people's health declines much sooner than that.   The ultimate solution is going to have to be some combination of means testing and raising the ceiling on the FICA tax.   But that's going to require an admission that Social Security and Medicare are subsidies for the less fortunate elderly rather than "insurance" programs wherein we fund our our retirement during our working years.
But that was always the intent!  They were poverty relief programs, designed to provide a safety net for people who couldn't support themselves one they were no longer able to earn a steady paycheck.   Most jobs didn't provide retirement annuities and many people don't earn enough to save for retirement, much less for fifteen years of retirement.    I'm willing to kick in some money to help those people get by.
Instead, though, we've created a bizarre system where I'm paying a pretty nice chunk of change every month and being told that I'm paying for my own retirement.  Yet, even if we were able to sustain the current setup, my return from Social Security will be so modest that, barring unforeseen circumstances, it'll be a tiny portion of my income.   And we're bankrupting the system to keep up the illusion.