Amazon as Non-Profit
Does it matter if companies make a profit?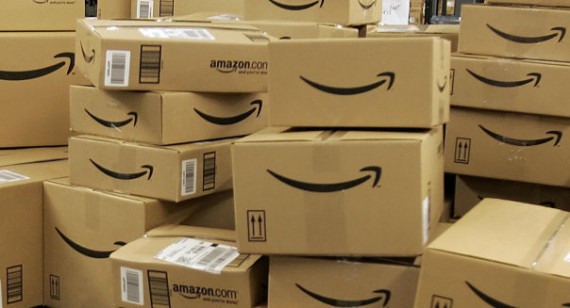 Matt Yglesias is fascinated by Amazon, which he once described as "a charitable organization being run by elements of the investment community for the benefit of consumer." He notes that, after almost two decades as a company, during which it has grown from an online bookstore to a goliath that sells just about everything, it manages to be simultaneously lionized by Wall Street and yet make almost no profit.
E-commerce was king this past holiday season, with Christmas surge orders overwhelming UPS's systems and forcing $100 million in upgrades to prevent future fiascos. So it was no surprise on Jan. 30 when Amazon reported it had become even more enormous than ever before. According to its latest earnings report, the online shopping giant's net sales increased 20 percent compared with the previous holiday season—a number that would seem staggeringly high if it weren't so routine for a company that's been growing rapidly for years. Yet the company's net income of $274 million for all of last year was tiny relative to its sales of $74.45 billion. Amazon's profit margin was virtually nonexistent.
Meager as last year's profits were, they represented a small improvement from 2012, when Amazon actually lost money. Even with the slight uptick in 2013, Amazon earned substantially less profit than it did back in 2008, when it posted a net income of $645 million on relatively modest sales of $19.17 billion. Over the past five years, in other words, the retailer of the future managed to more than triple its sales while slicing profits by more than half. It's a business success story like no other in the world.
The piece is, by Slate standards, a long read, taking up three pages. And it's really a fascinating take on the company and its unique position in the marketplace. And, no, I don't think it's motivated by the fact that Bezos is, for the time being, Yglesias' boss, having bought the Washington Post Company, which owns Slate, last August.
But, aside from the things which interest Yglesias, the piece brings to mind something he doesn't mention that has long fascinated me: the odd way in which we define "profit."
Jeff Bezos is, after all, the man who just bought the Washington Post Company out of petty cash. Bloomberg ranks him as the 15th richest man on the planet, worth some $32.5 billion. Even after two decades of hard work building Amazon into the world's largest retailer, that's not a bad living.
Many successful companies that are organized as non-profits, including those we think of as charities, pay their senior executives princely sums. Organizations you've never heard of pay the guys at the top more than the $400,000 annual salary of the president of the United States.
At the end of the day, then, does it really matter if a company makes a "profit" if its founder has gotten rich, its senior executives are making lavish salaries, and its work force are all making comfortable wages?