American Ideals?
Some thoughts about why the president's remarks on immigration are so problematic.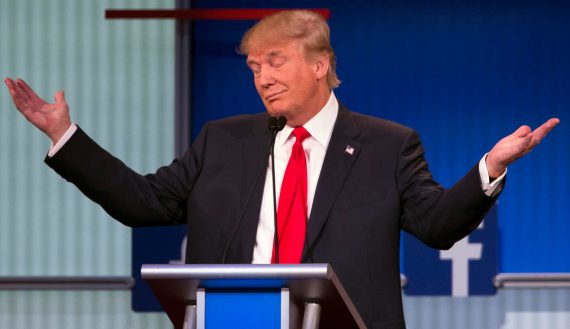 As I try and process not only Donald Trump's "shithole" comment, as well as many attempts to defend it, my mind goes to the following:
We hold these truths to be self-evident, that all men are created equal, that they are endowed by their Creator with certain unalienable Rights, that among these are Life, Liberty, and the Pursuit of Happiness.
Now, before I proceed, I will acknowledge the following:
These words were penned by a slave-owner, to found a country that would legally allow slavery for almost a century.
That the words were penned by a person who would not have accepted the equality of males and females
Those two facts could lead us to dismiss the words as having a meaning that was bound to their time and place (as Justice Taney did in the Dred Scott decision, and hence use them as proof that slaves could not be citizens).  If, of course, that is the way we wish to understand these words, they do not deserve veneration.
Rather, I prefer (and is apropos, given that tomorrow is MLK Day) to take the words the way King did in his "I Have  Dream" speech:
In a sense we have come to our nation's capital to cash a check. When the architects of our republic wrote the magnificent words of the Constitution and the Declaration of Independence, they were signing a promissory note to which every American was to fall heir. This note was a promise that all men, yes, black men as well as white men, would be guaranteed the unalienable rights of life, liberty, and the pursuit of happiness.
If we take these words to have aspirational meaning as a founding credo (as a "promissory note"), then we have to take them into account as we address racism in our politics and society and yes, when we set immigration policy.
If we take those words seriously, then they behoove us to think about individual human beings as having inherent value and in a way that should influence how we talk and think about them, and the decisions that are made which will affect real lives.  I am not suggesting open borders, as I understand not only the practically of controlling international boundaries as well as the complexities associated with flows of persons across those borders.
However, I am suggesting that disparaging language, which reflects disparaging attitudes towards millions of people, is inappropriate, but more importantly is the wrong way (both practically and morally) to try and determine policy.  Of the many problems with the "shithole" comment is the fact that it poorly reflects on Trump's inner thoughts on the subject.  To acknowledge that Haiti (to pick one of the targets of his statement) is poor and underdeveloped is one thing, as it a discussion of empirical reality.  To use derogatory language, however, is to make a judgement that is cruel and unfair, especially in a policy discussion.
To digress along these lines:  I have been an educator for roughly a quarter of a century.  I have had many students make poor grades, if not fail, my classes.  To state that X students failed a class in one thing, to call them all shitheads, however, would very much be another–especially if I did in a meeting to discuss what can be done to help those students in the future.  Students fail classes fail for a variety of reasons, some of which that can be rectified in the future; a bunch of shithead, however, are probably irredeemable.  In other words, when a person make blanket derogatory statements, especially in a professional context linked to policy, they are not just being vulgar, they are exposing inner attitudes and thoughts to the wider world.  Perhaps because so much of Trump's support comes from the Evangelical community, a Bible verse comes to mind:  "A good man out of the good treasure of his heart brings forth good; and an evil man out of the evil treasure of his heart brings forth evil. For out of the abundance of the heart his mouth speaks" (Luke 6:45).  (And before someone tries again:  the point is not the vulgarity itself, it is about what the word reflects in terms of inner attitude).
The inherent value of people should matter, for example, in regards to a long-term policy decisions, such as DACA and on TPS (Temporary Protected Status).
In regards to TPS, for example, Trump Administration Says That Nearly 200,000 Salvadorans Must Leave:
Nearly 200,000 people from El Salvador who have been allowed to live in the United States for more than a decade must leave the country, government officials announced Monday. It is the Trump administration's latest reversal of years of immigration policies and one of the most consequential to date.

Homeland security officials said that they were ending a humanitarian program, known as Temporary Protected Status, for Salvadorans who have been allowed to live and work legally in the United States since a pair of devastating earthquakes struck their country in 2001.

Salvadorans were by far the largest group of foreigners benefiting from temporary protected status, which shielded them from deportation if they had arrived in the United States illegally. The decision came just weeks after more than 45,000 Haitians lost protections granted after Haiti's 2010 earthquake, and it suggested that others in the program, namely Hondurans, may soon lose them as well. Nicaraguans lost their protections last year.
Notice the ~245,000 person from the "shithole" category being affected here, if one does not think that the attitudes of the president don't matter. Indeed, consider the 10 (all non-Norwegian) countries covered by the TPS program:
The program covers 10 countries: El Salvador, Haiti, Honduras, Nepal, Nicaragua, Somalia, Sudan, South Sudan, Syria and Yemen (Source).
Some of the persons under this program have been in the US for close to 30 years.  The ~200,000 Salvadorans have been here for about 17 years.  Now, one can rightly point out, that "temporary means temporary" but the reality is, these are human beings who have been allowed to build lives here and that should be taken into account into decisions over what to do next.  The only policy option available isn't deportation.  And, I would stress, these are people who are here legally and who have limited options vis-a-vis permanent status due to the way TPS works.  Indeed, as with most things related to immigration, congressional failure to act is a major problem here.
Knowing that Trump thinks El Salvador is a place worthy of derision, populated by people who don't deserve to come to the US certainly helps understand how he can make cavalier decisions about these people. So, the move on TPS is clearly far more driven by anti-immigrant sentiment than any concern over legality.  This interpretation is bolstered by the "shithole countries" assessment and the stated preference for immigrants of a lighter hue.  I am also reminded of this from Stephen Miller from his Jake Tapper interview last weekend:
Not a lot of hours of coverage on this TV talking about the working- class construction workers who have lost their jobs to foreign labor. There's not a lot of coverage on this TV about the people getting slaughtered in sanctuary cities.
This is anti-immigrant fear-mongering, plain and simple.  And this from a person who advises the president on immigration and was a key actor in the design of the Muslim ban.
It is inhumane to simply tell someone that their lives are now to be upended in the way this administration is more than happy to do.  And it is worse when the decision is clearly influenced by a way of thinking that denies the basic humanity of the persons in question because of where they come from.  Indeed, in the case of the Salvadorans under TPS, the president and his coterie of sycophants, are essentially blaming the Salvadorans in the US for the conditions in El Salvador.  And to add insult to injury, there is no acknowledgement of the way in which the US War on Drugs, and the US's appetite for drugs as a market, is what is fueling much of the crime in places like San Salvador (not to mention US policy towards Central America for decades).
Even the origins of one of the administration's great boogeymen, the MS-13, has been aided by US policies (e.g., the drug war, as well as the deportation of arrested gang members back to El Salvadors in the 1990s and 2000s, which helped facilitate the transnational nature of the organization).  Note the following from Insight Crime's profile of the group:
By the end of the 1990s, the United States tried to tackle what they were starting to recognize was a significant criminal threat. Partly as a way to deal with the MS13, and partly as a product of the get-tough immigration push toward the end of the Clinton presidency, the government began a program of deportation of foreign-born residents convicted of a wide range of crimes. This enhanced deportation policy, in turn, vastly increased the number of gang members being sent home to El Salvador, Honduras, Guatemala, and elsewhere. According to one estimate, 20,000 criminals returned to Central American between 2000 and 2004. That trend continues. One US law enforcement official told InSight that the United States sends 100 ex-convicts back per week just to El Salvador.

Central American governments, some of the poorest and most ineffective in the Western Hemisphere, were not capable of dealing with the criminal influx, nor were they properly forewarned by US authorities. The convicts, who often had only the scarcest connection to their countries of birth, had little chance of integrating into legitimate society. They often turned to what they knew best: gang life. In this way, the decision to use immigration policy as an anti-gang tool spawned the virulent growth of the gang in Honduras, El Salvador and Guatemala.
So, on the one hand, yes, MS-13 was a gang that grew out of Salvadoran refugee communities in Los Angeles in the 1980s (which fits the administration's narrative about immigrants).  But, why were they refugees in the first place?  Partly because the US was helping fund a civil war in El Salvador (and it was also funding a counter-insurgency in Nicaragua and a drug war in the region, among other actions).  From there, the drug market helped gang activity, and then the massive deportation of MS-13 members to the region helped further destabilize that region.  Am I saying that the US is solely responsible?  No.  But, what I am saying is that uninformed, simple-minded dismissal of complicated circumstances as just the product of a place being a "shithole" is wrong and leads to terrible policy decisions, and ones that directly impact real human beings.  There is also the inconvenient truth that not all Salvadoran migrants became part of MS-13 (see, e.g., the ~200,000 under TPS).
Oh, and then there are those founding ideals that we supposedly take seriously about ourselves.  Do we really take them seriously?  Setting aside the debate over specific policies regarding immigration, what do our alleged ideals dictate should be our attitude toward a clearly racist president making policy based on racist attitudes?
Or, do we really not take these ideals seriously (or worse, do we really take the Taney interpretation after all?).
And yes, by the way, I understand and acknowledge (before it is brought up in the comments) that US history is replete with racism and denial of the aspirational interpretation of Jefferson's words.  Regardless, we are very much at a moment in which we need to assess how seriously we take that aspiration.