Americans Shut Out Of Intrade
Thanks to the CFTC, Americans will no longer be able to participate in Intrade's predictions markets.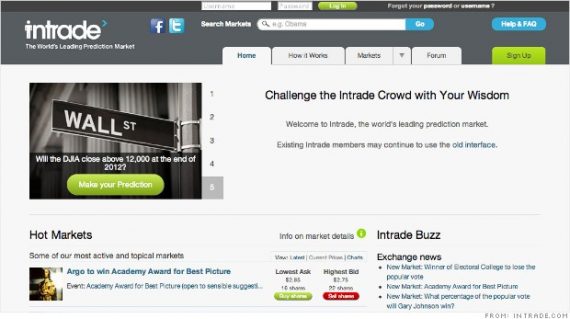 Thanks to Federal regulatory authorities, Americans will no longer be able to participate at the political "betting" site Intrade:
Online prediction market Intrade, hugely popular among political bloggers and pundits, will no longer allow U.S. residents to participate after running into regulatory and legal trouble Monday.

The company alerted American customers on its website that they must close their accounts by Dec. 23, or else the company will do so itself, after determining a fair market value. Funds must be withdrawn by Dec. 31.

Intrade, which is operated by the Irish firm Trade Exchange Network Ltd. was a favorite reference point for political prognosticators, who pointed to futures being traded on the outcome of the presidential election as a reflection of the odds facing each campaign.

The Commodities Futures Trading Commission sued Intrade and TEN on Monday for offering commodity options contracts between September 2007 and June 2012 in violation of the agency's ban on off-exchange trading.

According to the suit, the CFTC claimed the firm filed false certification forms stating that Intrade limited its offerings to eligible market participants. The agency also claimed that TEN violated a cease-and-desist order, signed in 2005, covering similar conduct.

"It is against the law to solicit U.S. persons to buy and sell commodity options, even if they are called 'prediction' contracts, unless they are listed for trading and traded on a CFTC-registered exchange or unless legally exempt," said David Meister, director of the CFTC's Division of Enforcement.
The CFTC's complaint isn't based so much in the fact that Intrade allows people to place wagers on the outcome political contests, the Academy Awards, or the likelihood of military conflict with Iran, but also on the future price of oil, gasoline, gold and other commodities commonly traded on exchanges regulated by the agency. Given this, it's possible that the CFTC and Intrade could resolve their dispute by, say forbidding American citizens from participating in contracts related to those commodities. At the same time, though, it's unclear whether the CFTC would be satisfied with this result. Not too long ago, after all, the agency shot down an attempt by a company in Chicago to create a more formal "political futures" market. So, it's possible that there may be no possible resolution.
Economist Bryan Caplan thinks this lawsuit is an apt demonstration of the CFTC's real motives here.
The CFTC's real complaint is that consumers eagerly bet on Intrade because the company exemplifies market integrity: "I trust Intrade with my money because of their reputation, not government regulation."  Reputation: That's the same mechanism, of course, that underlies eBay, Amazon Marketplace, and the whole cornucopia of internet commerce that the mainstream information economist of 1990 would have dismissed as free-market Fantasy Island.

If the CFTC really wants to protect market integrity, it should start by publicly admitting that if the CFTC ever served a useful function, that time has long since passed.  Americans send money to Intrade because Intrade delivers the goods (and produces the positive externality of accurate forecasts in the process!).

In the information age, firms' reputations are just a click away.  That's all the protection any consumer needs.  The only people the CFTC is "protecting" are their own obsolete employees.
As Brad Plummer points out, this isn't likely to do great harm to Intrade itself. The company is located in Ireland, and the vast majority of its users appear to be based overseas. Indeed, the site is already fairly inconvenient for Americans to use because Intrade will not accept American credit cards, meaning that the only way that an American Intrade user can fund or withdraw from their account is to use bank transfers, which tend to be rather costly even for small transactions. The only people who will be inconvenienced  here are the Americans who voluntarily chose to participate in Intrade. And it's all being done in the name of "consumer protection." If people want to participate in something like Intrade and they go into it with their eyes open, and there's every reason to believe that they do, then I fail to see what the CFTC is accomplishing by making it illegal.