Americans Spend 41% More On Mother's Day Than On Father's Day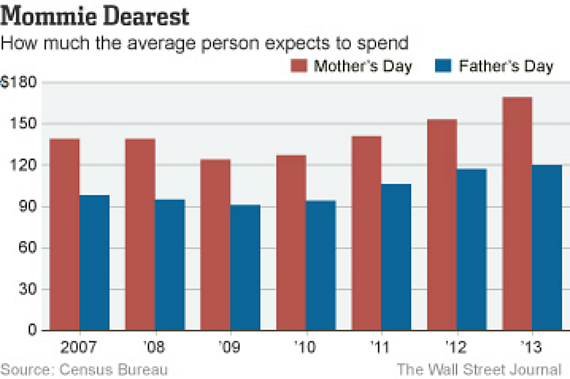 Mother's Day and Father's Day are just about a month about on the calendar, but they're a mile apart when it comes to what Americans spend in connection with the two holidays:
41%: How much more on average Americans planned to spend on Mother's Day compared to Father's Day.

It must have been a bad year for Dads. For the first time in four years, the gap between what Americans plan to spend on Father's Day and what they plan to spend on Mother's Day widened.

People always spend more on Mom than they do on Dad. This year on average Americans said they planned to spend about $169 on Mother's Day compared to about $120 for Father's Day, according to the National Retail Federation. But this year the disparity is the biggest it has been since the depths of the recession in 2008. While people boosted spending plans for Mom by 11%, the money expected to be shelled out for Dad rose a measly 2.3%.

Granted more people celebrate Mother's Day than Father's Day. Some 92% of survey respondents planned to buy for a special lady, compared to about 87% who were spending money for a father. But those averages for planned spending are only among those expecting to take part in the holiday.
It's time for holiday spending parity!