America's Gerontocracy Has Consequences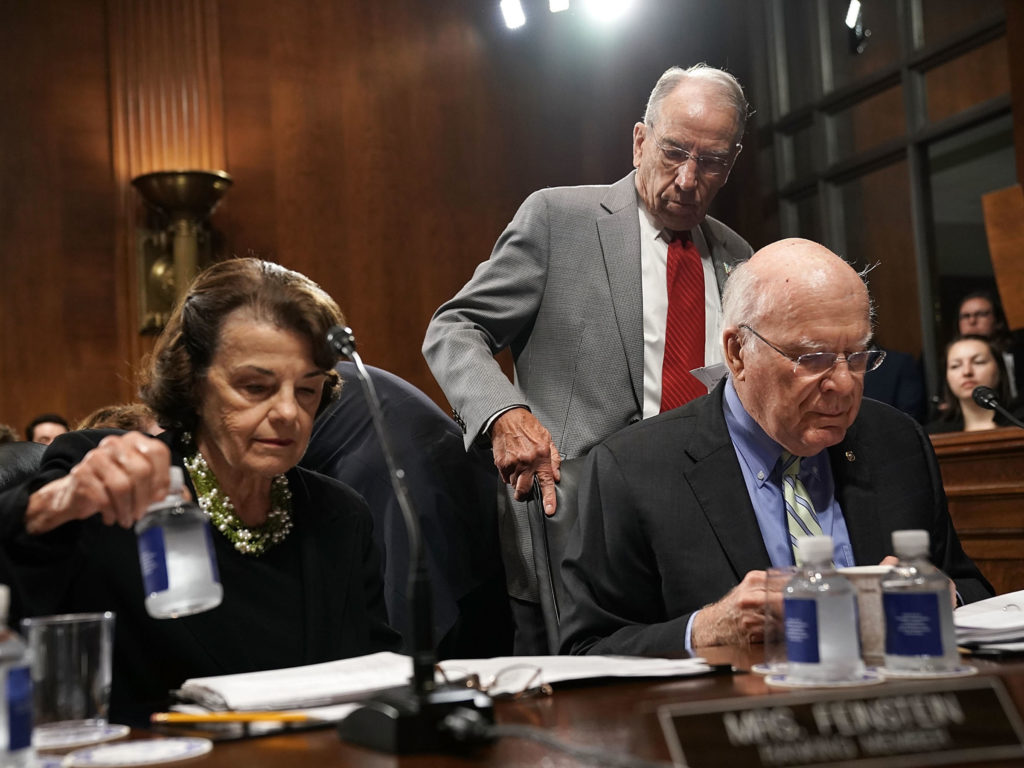 The juxtaposition of two stories today reinforces my longstanding concern that our political leadership is just too damn old for our good.
YahooNews/NYT ("'We May Not Have a Full Two Years': Democrats' Plans Hinge on Good Health"):
"You look back in history, nearly 1 in 10 members of Congress have [died in office]," said Jane L. Campbell, president of the U.S. Capitol Historical Society.

That history has some Democrats worried that deaths or illnesses could derail President Joe Biden's efforts to pass ambitious bills through Congress, which his party controls by the narrowest margins in decades.

"Our ability to make good on Biden's agenda is pretty much dangling by a thread," said Brian Fallon, a former aide to Sen. Chuck Schumer, D-N.Y., the majority leader. "I don't think it's uncouth to talk about it. I think it's a reality that has to inform the urgency with which we approach those issues."

More than 1,160 sitting members and members-elect have died from accidents, disease and violence since the first Congress met in 1789, according to a New York Times analysis of House and Senate records. They include multiple House speakers, famed senators and two former presidents: John Quincy Adams and Andrew Johnson, who both returned to Congress after leaving the White House.

The pandemic and the Jan. 6 Capitol uprising fueled fears that this Congress was particularly vulnerable to such deaths. But with most members vaccinated and security tightened, old age may be a bigger threat. The average age of a sitting senator is 64, and for a representative it is 58, making this Congress one of the oldest.
The average isn't really the problem, although it's high. Neither 64 nor 58 are all that old; hell, I'm closing in on the latter myself. Of the 100 US Senators, five are over 80, 21 are between 70 and 80, and half are 65 years old or older. And this matters:
In the most extreme case, deaths could end Democrats' ability to pass legislation without Republican support — or even flip control of either chamber. That is more likely in the evenly divided Senate, where a single Democratic vacancy could hand Republicans committee gavels and the power to schedule votes until a Democratic successor was appointed or elected.

A serious illness could also upset the party's delicate legislative arithmetic.

"Schumer needs all 50 votes," said Fallon, now the executive director of Demand Justice, a progressive advocacy group focused on the federal judiciary. "If somebody is laid up or is hospitalized for a long period of time and their vote's not there, then having the majority is somewhat meaningless."
And, of course, that doesn't even account for President Joe Biden himself, who at 78 is easily the oldest man to be sworn in for a first term. Granted that he would be replaced by a hand-picked successor, Vice President Kamala Harris, it's bizarre, indeed, that the will of the voters expressed in an election barely half a year ago could be placed in jeopardy by a poorly-timed death or incapacitating illness.
On the flip side of things, though, are stories like this one:
POLITICO ("Chuck Grassley is the 80-something everyone's waiting on"):
Chuck Grassley still gets up at 4 a.m. every day and often goes for a 2-mile run. The 87-year-old does push-ups, too.

"You want me to do 35 for you?" he responded when asked about his regimen as he waited for a burger at Bambino's, a haunt in this town of about 800 people.

The challenge sounds like something out of the classic "Seinfeld" episode in which the elderly Mandelbaum family taunts Jerry to prove his physical prowess. But Grassley's longevity is no joke. It could be the ticket to an eighth term in the Senate — and change the midterm landscape.

If Grassley does seek reelection, Republicans and many Democrats concede the seat is essentially safe. If he doesn't, the GOP's road to the majority gets that much harder.

The most senior GOP senator says he'll deliberate until the fall. He's a conservative who can work with Democrats on a handful of issues, like criminal justice reform and drug prices, while executing brutal partisan power plays to fill the federal bench with conservatives. He's held public office since 1959 and served in the Senate since 1981, including two years in the presidential line of succession.

Any Republican could retire and be proud of that kind of career. But Grassley might not be ready to call it quits.

"Listen, there's nothing I see that's going to keep me from serving another six years if I decide to do it," he says during a swing through northeast Iowa as part of his annual 99 County Tour. "I just work from day to day. God will take care of tomorrow."

And after five GOP retirements this cycle, Grassley is under pressure to save his party from defending yet another open seat as it labors to retake the majority.

"He's getting a lot of encouragement," said Senate Minority Whip John Thune. "He is the best path we have to keep the seat in Republican hands and take it off the map."
It's just nuts to me that Grassley and Dianne Feinstein, both aged 87, are not only still making public policy for this country but strongly considering running for additional six-year terms.
One understands the party's desire to keep control of a seat and powerful incumbents help do that. But yeesh.