Amy Coney Barrett Nomination Coming Today
Multiple reports have the Notre Dame graduate replacing Ruth Bader Ginsburg.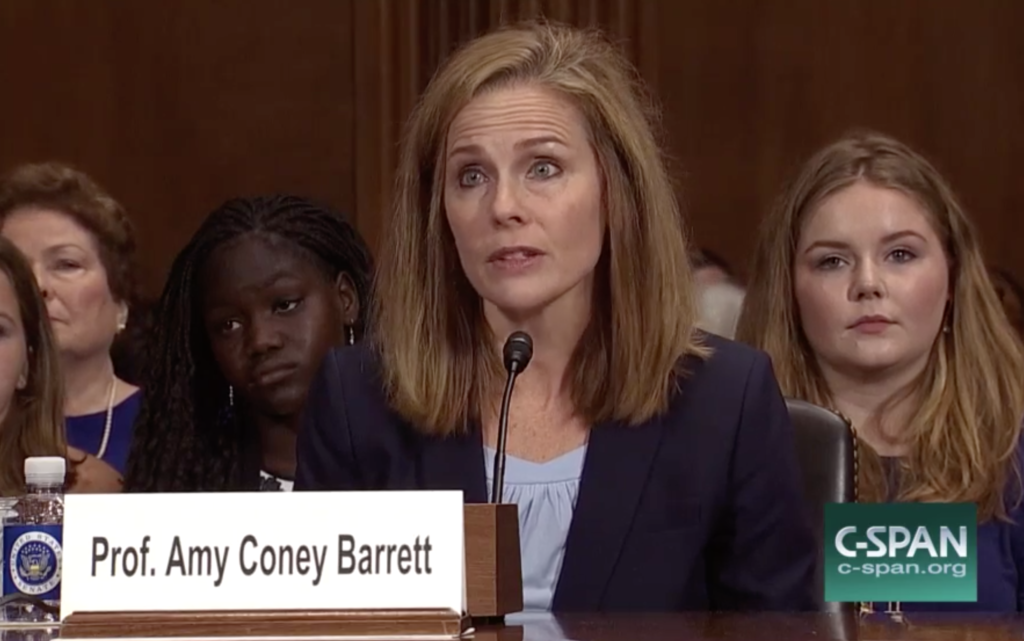 Barring a major surprise, President Trump is going to nominate the woman everyone expected him to nominate to fill the vacancy created by the death of the Supreme Court's liberal icon.
CNN ("Trump intends to nominate Amy Coney Barrett for Supreme Court"):
President Donald Trump intends to choose Amy Coney Barrett to be the new Supreme Court justice, according to multiple senior Republican sources with knowledge of the process.

In conversations with some senior Republican allies on the Hill, the White House is indicating that Barrett, a federal appellate judge and Notre Dame law professor, is the intended nominee, multiple sources said.

All sources cautioned that until it is announced by the President, there is always the possibility that Trump makes a last-minute change but the expectation is Barrett is the choice. He is scheduled to make the announcement on Saturday afternoon.

A former law clerk to the late right-wing beacon Justice Antonin Scalia, Barrett would tilt the balance of power on the court further to the right, possibly ahead of a consequential case on health care to be argued the week after Election Day. If her Senate confirmation is successful before the November election, the appointment would mark Trump's third Supreme Court pick in one presidential term, cementing a conservative stronghold in the court for a generation.

She has been the leading choice throughout the week, since Justice Ruth Bader Ginsburg died. She is the only potential nominee known to have met with the President in person, according to two of the sources. One source said Trump was familiar with Barrett already and he met with her since she was a top contender the last time there was a Supreme Court vacancy, when the President chose Justice Brett Kavanaugh instead.

Barrett was seen at her South Bend, Indiana, home on Friday. It was not clear if Barrett had been told she is the choice. Often that is done as late as possible to maintain secrecy around the announcement.

"The machinery is in motion," one of the sources said. In previous nomination announcements, the White House had multiple rollouts planned in case the President made a last-minute decision to switch to another candidate. But one source said it would be surprising if there were a change since allies are already being told.

The White House declined to comment.

"She was the plan all along. She's the most distinguished and qualified by traditional measures. She has the strongest support among the legal conservatives who have dedicated their lives to the court. She will contribute most to the court's jurisprudence in the years and decades to come," according to a former senior administration official familiar with the process.
NYT ("Trump Selects Amy Coney Barrett to Fill Ginsburg's Seat on the Supreme Court") adds:
Mr. Trump plans to announce on Saturday that she is his choice, according to six people close to the process who asked not to be identified disclosing the decision in advance. As they often do, aides cautioned that Mr. Trump sometimes upends his own plans.

But he is not known to have interviewed any other candidates and came away from two days of meetings with Judge Barrett this week impressed with a jurist he was told would be a female Antonin Scalia, referring to the justice she once clerked for. On Friday night, Judge Barrett was photographed getting out of her car outside her home in South Bend, Ind.

"I haven't said it was her, but she is outstanding," Mr. Trump told reporters who asked about Judge Barrett's imminent nomination at Joint Base Andrews outside Washington after CNN and other news outlets reported on his choice.

The president's political advisers hope the selection will energize his conservative political base in the thick of an election campaign in which he has for months been trailing former Vice President Joseph R. Biden Jr., his Democratic challenger. But it could also rouse liberal voters afraid that her confirmation could spell the end of Roe v. Wade, the decision legalizing abortion, as well as other rulings popular with the political left and center.

The nomination will kick off an extraordinary scramble by Senate Republicans to confirm her for the court in the 38 days before the election on Nov. 3, a scenario unlike any in American history. While other justices have been approved in presidential election years, none has been voted on after July. Four years ago, Senate Republicans refused to even consider President Barack Obama's nomination to replace Justice Scalia with Judge Merrick B. Garland, announced 237 days before Election Day, on the grounds that it should be left to whoever was chosen as the next president.

In picking Judge Barrett, a conservative and a hero to the anti-abortion movement, Mr. Trump could hardly have found a more polar opposite to Justice Ginsburg, a pioneering champion of women's rights and leader of the liberal wing of the court. The appointment would shift the center of gravity on the bench considerably to the right, giving conservatives six of the nine seats and potentially insulating them even against defections by Chief Justice John G. Roberts Jr., who on a handful of occasions has sided with liberal justices.
That this is "a scenario unlike any in American history" is almost certainly true, given the sheer polarization of our political system at the moment and the whole Merrick Garland mess. Still, "While other justices have been approved in presidential election years, none has been voted on after July" is a meaningless statistic.
This is only the tenth vacancy during an election year since the Supreme Court stabilized at nine Justices and only one of those vacancies were created late in the year—with Justice Sherman Minton's retirement for health reasons on October 15, 1956. President Eisenhower replaced him with William Brennan that very day via recess appointment.
Even aside from the Garland precedent, Barrett's choice will naturally be controversial. Not only is she extremely ideological but she represents a massive swing, replacing the most liberal Justice on the Court with potentially its most conservative.
The Nation's Elie Mystal contends that those who point to her religious faith (she's a member of a sect called the People of Praise) are missing the boat. While she has been refreshingly open about the degree to which her faith guides her rulings, rather than pretending otherwise, Mystal argues that she's ultimately just a conservative ideologue.
He points to a law review article* in which she argues that faithful Catholic judges should recuse themselves from death penalty cases, since the teachings of the Church make it clear that imposing it is immoral. He finds it inconsistent that she won't also recuse himself from abortion cases, given the Church's strong teachings there. But I see no inconsistency: in one case, the faith is in conflict with her duty to the law; in the other, she has the power to put her faith into practice.
Further, while I would prefer someone less dogmatic, she is by all accounts brilliant and respected by those who have worked with her. Indeed,
When she was nominated to be a judge on the 7th Circuit, every law clerk who had served with her at the Supreme Court, including Justice Ruth Bader Ginsburg's clerks, supported her nomination. "This view is unanimous," they said: She "is a woman of remarkable intellect and character."
Given a Republican majority in the Senate and the removal of the filibuster, there's no reason to think her views will hamper her confirmation. And, given that she was confirmed 55-43 with three Democrats (Joe Donnelly, Tim Kaine, and Joe Manchin) voting yes to the Court of Appeals just three years ago—in a Senate with two more Democrats**—there's no reason she shouldn't sail through before Election Day.
UPDATE: See her colleague O. Carter Snead's WaPo op-ed "I've known Amy Coney Barrett for 15 years. Liberals have nothing to fear.," published just this morning, for further testimony to her decency and an argument she's not nearly as ideological as most think.
_____________
*Albeit, one written with one of her professors while a law student.
**Granted, one of the Democrats who lost their seat in 2018 was Joe Donnelly, so that's likely a wash.