An Entry for "Dictatorship for Dummies"
Trump will maintain some level of private security once in office.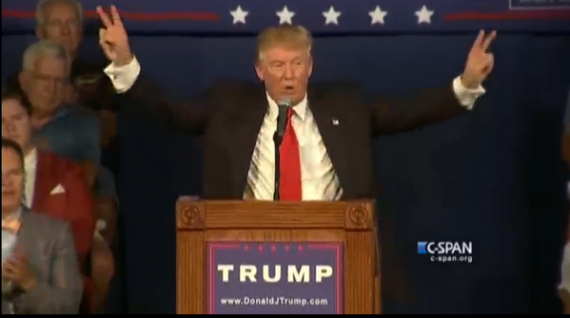 I have a running joke in some of my classes that I should write a book called Dictatorship for Dummies where I could catalog key advice for aspiring authoritarians.  For example:  the best way to protect and defend the constitution is to put it into a desk drawer for safekeeping (using it just risks more damage!) and, of course, always put your brother in charge of the military.  Another typical move is to have your own security forces–after all, who can trust an institutional force?
Cue the following Politico:  Trump private security force 'playing with fire'
President-elect Donald Trump has continued employing a private security and intelligence team at his victory rallies, and he is expected to keep at least some members of the team after he becomes president, according to people familiar with the plans.

[…]

Trump — who puts a premium on loyalty and has demonstrated great interest in having forceful security at his events — has opted to maintain an aggressive and unprecedented private security force, led by Keith Schiller, a retired New York City cop and Navy veteran who started working for Trump in 1999 as a part-time bodyguard, eventually rising to become his head of security.

[…]

In interviews with about a dozen people who interact with Trump, they said even as the president-elect's Secret Service detail has expanded significantly since the election, he remains most comfortable with Schiller and his team. A native of New Paltz, New York, and father of two, Schiller has been director of security for The Trump Organization since 2004.

The Trump associates say Schiller is expected to become a personal White House aide who would serve as the incoming president's full-time physical gatekeeper…
I am trying not to engage in hyperbole when describing the Trump administration, but actions like this are yet another in an endless stream of behaviors that make Trump look more like an aspiring tin-pot dictator instead of a President-elect of the United States.  He is creating, at least to some degree, private parallels to state institutions.  This is problematic because as president, he is in the public sector as deeply as one can be. This is evidence of even more unraveling of norms and undercutting institutions.  And, of course, nothing screams "democracy" like the phrase "private…intelligence team."
Further, things like this is more thug-like than statesman-like behavior:
The private security team has been present at each of the seven rallies on Trump's post-election "Thank You Tour" and has removed protesters — sometimes roughly — at many stops.

That included about a dozen protesters during a rally here on Dec. 9 in a minor-league arena called the Deltaplex, where Trump mostly shrugged off the interruptions until he became impatient with a particularly disruptive protester. "Get 'em out!" the president-elect instructed his private security. That appeared to spur Trump's security director, Schiller, to venture away from the stage, where he arrived with Trump, and wade deep into the crowd to assist other private security personnel with the removal.
I recommend the entire piece.