Trump Victory Spawns National Freak-Out
Americans are rioting in the streets because they don't like the outcome of a democratic election.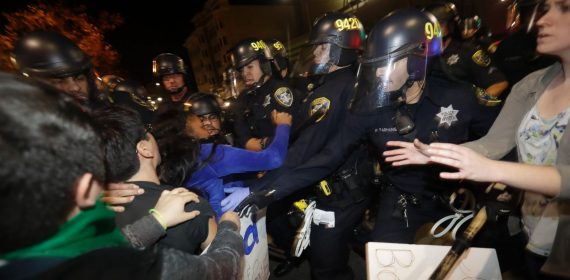 To the surprise and chagrin of many of us, Donald Trump confounded the polls and won the presidency. Protestors are taking to the street all across the land and a movement has started to have California secede from the Union.  It's not a fitting reaction for a Republic.
NYT ("'Not Our President': Protests Spread After Donald Trump's Election"):
Thousands of people across the country marched, shut down highways, burned effigies and shouted angry slogans on Wednesday night to protest the election of Donald J. Trump as president.

The demonstrations, fueled by social media, continued into the early hours of Thursday. The crowds swelled as the night went on but remained mostly peaceful.

Protests were reported in cities as diverse as Dallas and Oakland and included marches in Boston; Chicago; Portland, Ore.; Seattle and Washington and at college campuses in California, Massachusetts and Pennsylvania.

In Oakland alone, the Police Department said, the crowd grew from about 3,000 people at 7 p.m. to 6,000 an hour later. The situation grew tense late Wednesday, with SFGate.com reporting that a group of protesters had started small fires in the street and broken windows. Police officers in riot gear were called in, and at least one officer was injured, according to other local news reports.

It was the second night of protests there, following unruly demonstrations that led to property damage and left at least one person injured shortly after Mr. Trump's election was announced.

The protests on Wednesday came just hours after Hillary Clinton, in her concession speech, asked supporters to give Mr. Trump a "chance to lead."

One of the biggest demonstrations was in Los Angeles, where protesters burned a Trump effigy at City Hall and shut down a section of Highway 101. Law enforcement officials were called out to disperse the hundreds of people who swarmed across the multilane freeway.

In New York, crowds converged at Trump Tower, on Fifth Avenue at 56th Street in Midtown Manhattan, where the president-elect lives.

They chanted "Not our president" and "New York hates Trump" and carried signs that said, among other things, "Dump Trump." Restaurant workers in their uniforms briefly left their posts to cheer on the demonstrators.

The demonstrations forced streets to be closed, snarled traffic and drew a large police presence. They started in separate waves from Union Square and Columbus Circle and snaked their way through Midtown.
USA Today ("Thousands across the USA protest Trump victory")
Protesters took to the streets Wednesday in at least 10 cities to march against president-elect Donald Trump – and numerous college students and faculty leaders took to social media to announce support groups and even postponed exams.

Protests were underway in Chicago, New York, Los Angeles, Philadelphia, Boston, Washington, D.C., Portland, Ore., St. Paul, Minn. and several other cities. An estimated 2,000 protesters shouted angrily in downtown Seattle, expressing their frustration at the Trump victory over Democrat and former Secretary of State Hillary Rodham Clinton, who won 228 electoral votes to Trump's 279.

Police in riot gear struggled to hold back scores of protesters in some of the cities as protesters chanted "Not My President" and "No Racist USA." The protests were mostly peaceful. Seattle police said they were investigating a report of a shooting near the site of the protest in that city, but it may not have involved protesters.

In Los Angeles, protesters poured into the streets near City Hall and torched a giant Trump effigy, the Los Angeles Times reported. Later in the night, hundreds marched onto the busy 101 Freeway which brought the highway to a complete standstill. The California Highway Patrol and the Los Angeles Police Department —who urged protesters to remain lawful and peaceful — responded and were seen leading demonstrators away from the busy highway. At least 13 people were later arrested, LAPD Officer Tony Im told the Los Angeles Times.

In Washington, D.C., hundreds took to the streets carrying signs saying "Nasty Women Fight Back" and "White Males for Equality for All."

The unrest culminated when two separate anti-Trump demonstrations converged in front of the Trump International Hotel. They chanted and yelled "Impeach Donald Trump" and toward the end yelled at police officers who stood guard at the hotel entrance.
WaPo ("Vigils and protests swell across U.S. in wake of Trump victory"):
Vigils and protests against Donald Trump spread from coast to coast early Thursday as crowds burned effigies of the president-elect, blocked highways and warned of wider backlash — underscoring the difficult task Trump faces in uniting a fractured country.

Despite Hillary Clinton and President Obama urging their backers to accept Trump's victory and support his transition into power, thousands of demonstrators marched through the streets decrying his crude comments about women and attacks on immigrants.

Protests were reported in cities across the nation, from major metropolitan centers like New York, Chicago and Los Angeles, to smaller cities, such as Richmond and Portland, Ore. Dozens of demonstrators were arrested.

Even cities in red states, such as Atlanta, Dallas and Kansas City, Mo., saw demonstrations.

In Oakland, Calif., two police officers were injured and two patrol cars burned as thousands of protesters took to the streets and chanted slogans against Trump, a police spokeswoman said. A few protesters threw objects at police dressed in riot gear, smashed windows and started small fires in the downtown area.
Business Insider ("People in California are calling for a 'Calexit' from the US in the wake of Trump's win"):
Calexit" is swiftly taking over social media.

After Donald Trump won the race to the White House, people across California took to social media Tuesday night to call for "Calexit" (or California exit), recalling Brexit, Britain's push to leave the European Union.

As the topic continues to trend on Twitter, Californians in favor of seceding from the US will gather November 9th on the steps of the capitol in Sacramento.

The group leading the charge, Yes California Independence Campaign, assembled long before Trump's surprising victory. Its aim is to hold a referendum in 2018 that, if passed, would make California an independent country.
Leaving aside that some of these demonstrations have crossed the line into criminality, the First Amendment guarantees these people the right to protest peacefully. But, at this point, they're protesting the democratic choices of their fellow citizen, not a prospective candidate for president. That's not only unseemly, it's weirdly ironic given the real fears that Trump and has supporters would not accept the legitimate outcome of the vote, whether by rioting at the outcome or by threatening to impeach Clinton for unspecified crimes committed before she even took office.
Yes, Trump was an especially awful candidate, running on a populist message that played to nativist fears.  He has made statements that are hard to characterize as anything but racist. He's a serial misogynist and has been accused of sexual assault by enough women as to make the charges credible. He's so offensive that many of longtime Republicans, myself included, declared early on that we could not vote for him and many of us even voted for his Democratic opponent despite our own serious misgivings about her character.  I'm not happy about the outcome and have serious trepidations as to whether he's up to the job.
Yet, he won a rather decisive victory in the Electoral College, the only mechanism that matters in our system.   So it's time to effect a peaceful transition of power.  President Obama and Mrs. Clinton gave eloquent speeches urging just that.
The president:
Now, it is no secret that the president-elect and I have some pretty significant differences. But remember, eight years ago President Bush and I had some pretty significant differences. But President Bush's team could not have been more professional or more gracious in making sure we had a smooth transition so that we could hit the ground running.

And one thing you realize quickly in this job is that the presidency and the vice presidency is bigger than any of us. So I have instructed my team to follow the example that President Bush's team set eight years ago, and work as hard as we can to make sure that this is a successful transition for the president-elect.

Because we are now all rooting for his success in uniting and leading the country. The peaceful transition of power is one of the hallmarks of our democracy. And over the next few months, we are going to show that to the world.

[…]

Now, everybody is sad when their side loses an election, but the day after we have to remember that we're actually all on one team. This is an intramural scrimmage. We're not Democrats first. We're not Republicans first. We are Americans first. We're patriots first.

We all want what's best for this country. That's what I heard in Mr. Trump's remarks last night. That's what I heard when I spoke to him directly. And I was heartened by that. That's what the country needs — a sense of unity, a sense of inclusion, a respect for our institutions, our way of life, rule of law, and respect for each other.

[…]

That's the way politics works sometimes. We try really hard to persuade people that we're right and then people vote. And then if we lose, we learn from our mistakes, we do some reflection, we lick our wounds, we brush ourselves off, we get back in the arena, we go at it. We try even harder the next time.

The point though is is that we all go forward with a presumption of good faith in our fellow citizens, because that presumption of good faith is essential to a vibrant and functioning democracy. That's how this country has moved forward for 240 years. It's how we've pushed boundaries and promoted freedom around the world. That's how we've expanded the rights of our founding to reach all of our citizens. It's how we have come this far.
Last night, I congratulated Donald Trump and offered to work with him on behalf of our country. I hope that he will be a successful president for all Americans. This is not the outcome we wanted or we worked so hard for and I'm sorry that we did not win this election for the values we share and the vision we hold for our country.

[…]

I know how disappointed you feel because I feel it too, and so do tens of millions of Americans who invested their hopes and dreams in this effort. This is painful and it will be for a long time, but I want you to remember this. Our campaign was never about one person or even one election, it was about the country we love and about building an America that's hopeful, inclusive and big-hearted.

We have seen that our nation is more deeply divided than we thought. But I still believe in America and I always will. And if you do, then we must accept this result and then look to the future. Donald Trump is going to be our president. We owe him an open mind and the chance to lead.

Our constitutional democracy enshrines the peaceful transfer of power and we don't just respect that, we cherish it. It also enshrines other things; the rule of law, the principle that we are all equal in rights and dignity, freedom of worship and expression. We respect and cherish these values too and we must defend them.

Now — and let me add, our constitutional democracy demands our participation, not just every four years but all the time. So let's do all we can to keep advancing the causes and values we all hold dear; making our economy work for everyone not just those at the top, protecting our country and protecting our planet and breaking down all the barriers that hold any American back from achieving their dreams.
Protesting the fact of Trump's election is un-American. But, as Obama hints and Clinton says more directly, losing an election doesn't mean giving up trying to persuade your fellow Americans on policy choices or trying to win the next election.
Roughly a quarter of eligible voters cast their ballot for Trump this cycle, as did a similar number for her. The rest voted for a third party candidate or sat the election out altogether. Trump has by no means won a mandate to enact some of the more outrageous policies he seemed to champion on the campaign trail.  Senate Democrats, in particular, have every right to force compromises should he try to implement a ban on Muslim immigration, for example.
Further, like Occupy Wall Street and the Tea Party before them, it's perfectly legitimate for crowds to propose policies or conditions that they find objectionable. But Trump hasn't even been taken the oath yet. At this point, you're protesting democracy.