Another White House Fence Jumper, This Time Caught On Camera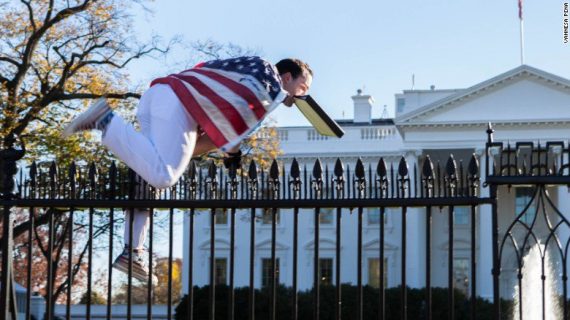 The additional security measures that the Secret Service has put in place didn't stop a man from making a jump over the White House fence yesterday:
A man draped in an American flag was taken into custody Thursday afternoon after he jumped the fence of the White House while the first family was inside celebrating Thanksgiving.

Joseph Caputo faces criminal charges after he scaled over the north fence line of the grounds and was immediately apprehended about 2:45 p.m., said Robert Hoback, a spokesman for the Secret Service. Officials did not provide details on Caputo's age, home town or any reason for the jumper's actions.

The Secret Service did not immediately provide further details of the incident, and officials were working to determine how the man made it past new "pencil-point" spikes added to the White House perimeter this year to deter intruders.

Virginia resident Vanessa Peña was visiting the White House with her sister Thursday afternoon when she saw a man behind them take off his sweatshirt and wrap an American flag around himself.

Peña then heard him take a deep breath before saying, " 'All right, let's do this.' "

"Then he just ran through us, jumped over the first barricade and went over the fence," said Peña, who captured photos of the incident. "Right when he landed, he threw his arms in the air and went to his knees."

Officers and security dogs quickly swarmed the man, who carried a binder in his mouth as he sailed over the fence, and took him into custody, Peña said. The incident lasted no more than five minutes.

(…)

The Secret Service and security at the White House have been under intense scrutiny since last year, after Omar Jose Gonzalez was able to make it to the president's front door and into the first floor.

Gonzalez, who was convicted in connection with the incident, jumped the fence and bolted past several layers of security before a Secret Service agent detained him, prompting a review of the agency's practices and the resignation of Director Julia Pierson.

Several others have since attempted to jump the fence.

Peña, who is an intern on Capitol Hill, said she never expected to witness what has become an increasingly common event.
A man is in custody after jumping over a White House fence while the first family was inside celebrating Thanksgiving, officials said.

Joseph Caputo scaled a fence on the North Lawn at 2:45 p.m., according to Secret Service spokesperson Robert Hoback. The jumper was immediately apprehended and taken into custody.

According to two CNN photojournalists who witnessed the incident, the men was carrying an envelope, had on a blue shirt and white pants and was cloaked in an American flag. They said the officers who detained him had their guns drawn and were accompanied by K-9 units.

(…)

The stunt was hardly original.

Caputo allegedly was at least the third person in 2015 to scale a fence and make it on to White House property. While most are quickly captured, a 42-year-old Iraq war veteran in September 2014 ran through the main floor past a stairway that leads up to the first family's residence before he was subdued by Secret Service agents in the East Room.

The fence scaled Thursday had recently been outfitted with 7-inch steel spikes to deter such occurrences.
No word on what have motivated Caputo, although one assumes it wasn't exactly rational. In any case, while this case does prove that there may be little that can be done to prevent from someone from trying to jump the fence at the White House, this incident did go better than past incidents in which jumpers got much further than Caputo did before being caught. Perhaps this means that the Secret Service has at least got its protocols figured out to a better degree than they were in the past.