Truly Disturbing
Statements by an HHS official underscore the rot of this administration.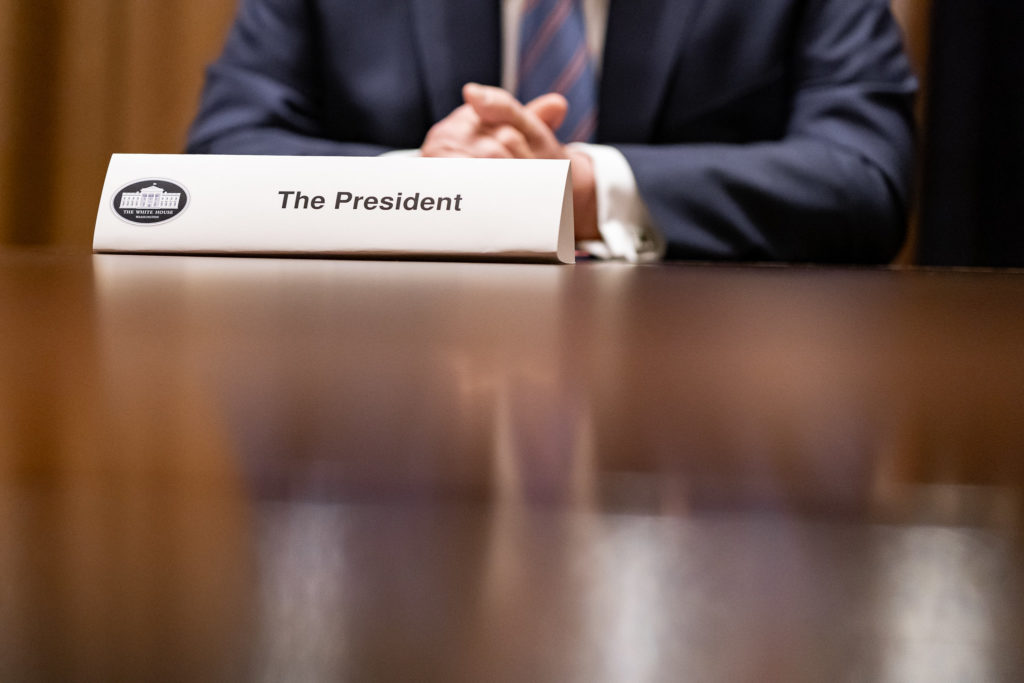 The NYT reported yesterday: Trump Health Aide Pushes Bizarre Conspiracies and Warns of Armed Revolt.
The top communications official at the powerful cabinet department in charge of combating the coronavirus made outlandish and false accusations on Sunday that career government scientists were engaging in "sedition" in their handling of the pandemic and that left-wing hit squads were preparing for armed insurrection after the election.

Michael R. Caputo, the assistant secretary of public affairs at the Department of Health and Human Services, accused the Centers for Disease Control and Prevention of harboring a "resistance unit" determined to undermine President Trump, even if that opposition bolsters the Covid-19 death toll.

Mr. Caputo, who has faced intense criticism for leading efforts to warp C.D.C. weekly bulletins to fit Mr. Trump's pandemic narrative, suggested that he personally could be in danger from opponents of the administration. "If you carry guns, buy ammunition, ladies and gentlemen, because it's going to be hard to get," he urged his followers.
When I first read this yesterday, I didn't have time to comment, and later I still wasn't sure what to say, given the ultimately surreal nature of the report. This is Crazy Facebook Person territory, not something a fairly significant member of the federal government should be saying.
I think there are three possibilities:
These are sincere views, meaning a conspiracy theorist type was given an important job (made very important by the pandemic).
This is a cynical attempt to manipulate the public.
We are witnessing a nervous breakdown unfold in public.
(These are not, of course, mutually exclusive).
On that last count, the story notes:
He went further, saying his physical health was in question, and his "mental health has definitely failed."

"I don't like being alone in Washington," Mr. Caputo said, describing "shadows on the ceiling in my apartment, there alone, shadows are so long." He also said the mounting number of Covid-19 deaths was taking a toll on him, telling his viewers, "You are not waking up every morning and talking about dead Americans."
That he might just be a person predisposed to this kind of thinking (#1) is hard to know, save that the Trump administration has not been known for hiring well.
The piece notes:
A longtime Trump loyalist with no background in health care, Mr. Caputo, 58, was appointed by the White House to his post in April, at a time when the president's aides suspected the health secretary, Alex M. Azar II, of protecting his public image instead of Mr. Trump's. Mr. Caputo coordinates the messaging of an 80,000-employee department that is at the center of the pandemic response, overseeing the Food and Drug Administration, the C.D.C. and the National Institutes of Health.

[…]
A public relations specialist, Mr. Caputo has repeatedly claimed that his family and his business suffered hugely because of the investigation by the special counsel, Robert S. Mueller III, into Russian interference in the 2016 presidential election. Mr. Caputo was a minor figure in that inquiry, but he was of interest partly because he had once lived in Russia, had worked for Russian politicians and was contacted in 2016 by a Russian who claimed to have damaging information about Hillary Clinton.

Mr. Caputo referred that person to Mr. Stone and was never charged with any wrongdoing. Mr. Caputo later wrote a book and produced a documentary, both entitled "The Ukraine Hoax," to undermine the case for Mr. Trump's impeachment.

Mr. Caputo worked on Mr. Trump's 2016 presidential campaign for a time but was passed over for a job early in the administration. He remained friendly with Dan Scavino, the former campaign aide who is now the deputy chief of staff for White House communications and played a role in reconnecting Mr. Trump and Mr. Caputo.
As usual, we have someone appointed to a position because of loyalty and ties to Trump, not because of expertise. At a minimum, he clearly does not appear to see his job as getting the truth out, but rather protecting Trump's political position (shades of #1 and #2):
This weekend, first Politico, then The New York Times and other news media organizations published accounts of how Mr. Caputo and a top aide had routinely worked to revise, delay or even scuttle the core health bulletins of the C.D.C. to paint the administration's pandemic response in a more positive light. The C.D.C.'s Morbidity and Mortality Weekly Reports had previously been so thoroughly shielded from political interference that political appointees only saw them just before they were published.

Mr. Caputo's 26-minute broadside on Facebook against scientists, the news media and Democrats was also another example of a senior administration official stoking public anxiety about the election and conspiracy theories about the "deep state" — the label Mr. Trump often attaches to the federal Civil Service bureaucracy.
One thing is for certain, Caputo is being extremely irresponsible:
C.D.C. scientists "haven't gotten out of their sweatpants except for meetings at coffee shops" to plot "how they're going to attack Donald Trump next," Mr. Caputo said. "There are scientists who work for this government who do not want America to get well, not until after Joe Biden is president."

[…]

Mr. Caputo predicted that the president would win re-election in November, but that his Democratic opponent, Joseph R. Biden Jr., would refuse to concede, leading to violence. "And when Donald Trump refuses to stand down at the inauguration, the shooting will begin," he said. "The drills that you've seen are nothing."
And whether or not Caputo is sincere, cynical, or having a nervous breakdown, the administration is clearly willing to cynically let his statements remain unrebuked:
There were no obvious signs from administration officials on Monday that Mr. Caputo's job was in danger.

[…]

Mr. Caputo's remarks also dovetailed in part with those of Roger J. Stone Jr., a longtime confidant of both Mr. Caputo and Mr. Trump. Mr. Stone, whose 40-month prison sentence for lying to Congress was commuted by the president in July, told the conspiracy website Infowars on Friday that Mr. Trump should consider declaring martial law if he lost re-election.
Of the many things I find disturbing about this (and there is so much that is disturbing here) is that it feeds the narrative that it is the Trump opposition that is not respecting the electoral process, rather than Trump himself. It fits into the overall narrative I noted a week or so ago (Electoral Integrity Concerns, Real and Imagined) and that I have seen multiple times since: the idea that it is the Democrats who aren't respecting norms (or, worse, that they are planning a coup).
The bottom line remains that it has been Trump, going back to the 2016 campaign, who has repeatedly talked about "rigged" elections and who has never adhered to basic democratic norms about what to do about electoral results. It was Trump whose ego couldn't take the fact that he lost the popular vote, so outright lied about millions of illegal votes. It is Trump who has sewn unending doubt about mail-by-mail.
And on and on and on.
It is exhausting.
And then to have a man who is supposed to be a spokesperson about public health policy in the middle of pandemic acting as a propagandist in a way that directly erodes public confidence in the electoral process is both beyond exhausting and shows the true rot of this administration.
All of this to go along with Trump refusing to make clear statements about what he would do if he lost and making "jokes" like this over the weekend:
This isn't normal and is not acceptable.
Side note about that Nevada event: it was held indoors without social distancing in defiance of state orders. And while the people behind Trump had masks on for the camera, the rest of the crowd largely did not. This matters for a number of reasons, but a key one here is that it shows that Trump's campaign knows it has to at least try to capitulate to the visuals for propaganda purposes but doesn't really give a flip about the policy nor the people in the audience.