Mueller Investigation Hits First Anniversary With Little Sign It Will Be Ending
The Mueller investigation turns one year old today and, despite the arguments of Trump and his supporters, there's no sign that it will be coming to an end in the near future.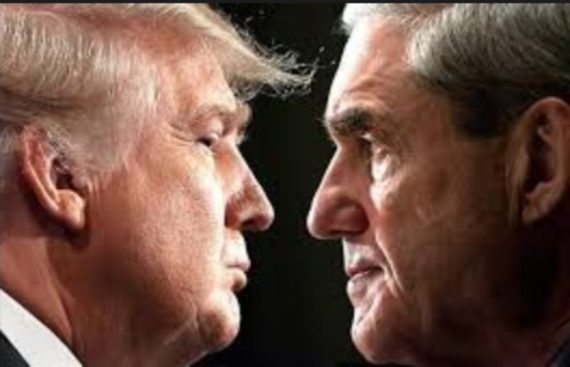 It was one year ago today that Robert Mueller was appointed as a Department of Justice Special Counsel to head the investigation into Russian interference in the 2016 Presidential election and the allegations of possible collusion between Trump campaign officials and people connected to the Russian government during the campaign. That appointment, of course, came in the wake of both the decision of Attorney General Jeff Sessions to recuse himself from that investigation and the President's decision to fire James Comey as Director of the F.B.I., an action which Trump later acknowledged to be due primarily with his frustration over the ongoing Russia investigation.
Over the course of the year that has passed, Mueller has proceeded largely behind the scenes, without talking to the press, and with remarkably little leaking of what is going on behind the scenes. In the process, he has managed to procure the indictment of a number of people connected with the Trump campaign and/or the Russian interference campaign. This includes people such as former Trump Campaign Manager Paul Manafort and his close associate Rick Gates, a long list of Russian citizens and companies who were connected to efforts to influence public opinion during the campaign, and a number of lower-level people who played more limited roles in either the interference campaign or other aspects of the campaign. Additionally, he has obtained guilty pleas and cooperation agreements from several top people who were close to the top levels of the Trump campaign, including former National Security Adviser Michael Flynn, Rick Gates, who worked alongside Manafort when he was Campaign Director, and George Papdapolous, a former national security adviser to the Trump campaign who apparently had contact with Russian officials during the campaign. By all accounts, Mueller is by no means even close to being finished with his investigation, and it's likely we'll see more indictments and plea agreements coming in the future.
As we reach the one year anniversary of Mueller's appointment, though, President Trump and his supporters are suggesting its time to wrap things up:
Russia Special Counsel Robert Mueller marks one year on the job Thursday, but no one at the White House is celebrating — especially President Trump.

"Congratulations America, we are now into the second year of the greatest Witch Hunt in American History … and there is still No Collusion and No Obstruction," the president tweeted early in the day.

Echoing the claim that the probe is interfering with his presidential duties, Trump later tweeted: "Despite the disgusting, illegal and unwarranted Witch Hunt, we have had the most successful first 17 month Administration in U.S. history – by far! Sorry to the Fake News Media and 'Haters,' but that's the way it is!"

The tweets were another part of an ongoing effort to pressure Mueller's office into ending its super-secret investigation into Russian meddling during the 2016 election, at least as it pertains to the president.

"We are going to demand an answer," said Trump attorney Rudy Giuliani, speaking on Fox News' The Ingraham Angle.

Indications are, however, that Trump and his supporters face a second year of uncertainty as they and their critics try to figure out what Mueller plans to do.

While Trump has repeatedly denounced the investigation as a "witch hunt;" his critics say Mueller and his prosecutors are building a major case against the president and his aides — but the fact is no one beyond Mueller's office knows for sure.

The Mueller team has leaked few if any details of the investigation, leaving observers to guess at what is happening, based on leaks from defense attorneys, grand jury witnesses, and the charges that have already been filed.

Reports that Trump's personal finances are under scrutiny or that the FBI had a "mole" inside the GOP campaign — a theory that Trump himself tweeted about after attacking the investigation Thursday — are unverified.
Additionally, as Politico notes, Trump utilized the one-year anniversary to rail against the investigation and hype a conspiracy theory being spread on Fox News and elsewhere in conservative media:
President Donald Trump on Thursday marked the one-year anniversary of special counsel Robert Mueller's appointment by labeling the probe the "greatest witch hunt in American history," declaring his innocence and recycling his claim that Democrats are the party guilty of wrongdoing.

"Congratulations America, we are now into the second year of the greatest Witch Hunt in American History…and there is still No Collusion and No Obstruction," the president wrote online. "The only Collusion was that done by Democrats who were unable to win an Election despite the spending of far more money!"

Trump's characterization of the Mueller probe, charged with investigating allegations of collusion between the Trump campaign and the Russian government, is one he has made loudly and often. His administration has called often for the investigation to be brought to an end and argued that it has proven fruitless thus far.

But despite claims from the White House that Mueller's team has yet to find anything, the special counsel's team handed out multiple indictments through its first year, including to Trump campaign officials Paul Manafort, Rick Gates and George Papadopoulos, as well as to 13 Russian nationals accused of involvement in Kremlin efforts to interfere in the 2016 election.

Mueller's team also secured a guilty plea late last year from former Trump national security adviser Michael Flynn, who is now cooperating with the investigation, as are Gates and Papadopoulos. The team also secured the first sentence of a person connected to the Mueller probe with former Skadden Arps lawyer Alex van der Zwaan, who pleaded guilty in February to lying to FBI agents about his contacts Gates and suspected Russian intelligence operative Konstantin Kilimnik. He was sentenced to 30 days in jail.
Finally, Politico notes that the Trump team is using the one-year anniversary as an opportunity to up their attacks on the investigation:
President Donald Trump and his allies ramped up their pressure campaign against special counsel Robert Mueller on Thursday — the one-year anniversary of his sprawling investigation — as they seek to discredit the probe that shows no signs of wrapping up soon.

Rudy Giuliani, the former New York mayor who joined Trump's legal team last month, did multiple TV interviews in which he claimed Mueller's team had informed Trump's lawyers that it has concluded the special counsel cannot indict a sitting president.

There was no independent verification that such an assurance was given, and it comes as Giuliani has repeatedly tried to box in Mueller and to publicly negotiate the terms of a potential sit-down interview between the special counsel and Trump.

"I asked him specifically if they realized or acknowledged they didn't have the power to indict. Both under the Justice Department memo, which gives them their power, in essence confines their power, and under the Constitution," Giuliani told "Fox & Friends." "One of his assistants said they acknowledged they had to be bound by Justice Department policies. Then the next day or the day after, they clarified it for [Trump attorney] Jay Sekulow who was with me at the meeting that they didn't have the power to indict."

(…)

Beyond Giuliani's appearance on Fox News, other Trump surrogates made the TV news rounds Thursday morning to mark the occasion of the Mueller probe's one-year anniversary by bashing it. Michael Caputo, a former senior adviser to the Trump campaign, predicted on CNN that Mueller's team would next try to "jam" Roger Stone, a longtime Trump adviser and confidant known for incendiary and sometimes conspiratorial claims. Probes into Trump's campaign date back much further than just one year, he suggested to "New Day" host Chris Cuomo.

"This isn't the one-year anniversary of the Mueller investigation. This is two-, or three-, or six-year anniversary. Paul Manafort was under investigation for years before he went to work for Trump," Caputo said.

Counselor to the president Kellyanne Conway, too, appeared on "Fox & Friends" Thursday morning, reiterating her usual praise for the president's use of social media to communicate his feelings on the Mueller probe while also pushing the idea that the FBI spied on the Trump campaign.

"It looks like the Trump campaign may in fact have been surveiled. It looks like there was an informant there. We'll see, as the president likes to say, we'll see what happens," she said. "But I think those who have been digging and conjecturing for over a year, should be careful what they wish for."
Here are the President's tweets on the matter:
Congratulations America, we are now into the second year of the greatest Witch Hunt in American History…and there is still No Collusion and No Obstruction. The only Collusion was that done by Democrats who were unable to win an Election despite the spending of far more money!

— Donald J. Trump (@realDonaldTrump) May 17, 2018
Wow, word seems to be coming out that the Obama FBI "SPIED ON THE TRUMP CAMPAIGN WITH AN EMBEDDED INFORMANT." Andrew McCarthy says, "There's probably no doubt that they had at least one confidential informant in the campaign." If so, this is bigger than Watergate!

— Donald J. Trump (@realDonaldTrump) May 17, 2018
Despite the disgusting, illegal and unwarranted Witch Hunt, we have had the most successful first 17 month Administration in U.S. history – by far! Sorry to the Fake News Media and "Haters," but that's the way it is!

— Donald J. Trump (@realDonaldTrump) May 17, 2018
None of this is new, of course.
For months now, Trump has been railing against the Russia investigation via his Twitter account, his appearances on Fox News Channel (the only news network he has appeared on in recent months), and during his campaign rally speeches that are seemingly never going to end. Even before then, we know that Trump has been bothered by the investigation. According to reports, Trump was considering moving to fire Mueller, and possibly Deputy Attorney General Rod Rosenstein, as early as last summer just months after Mueller was appointed. Additionally, he has made a number of false claims about the investigation, such as the claim that Mueller and those under him are Democrats (in fact, Mueller is a Republican), that the investigation has somehow become corrupted, and that he has been "vindicated" by things such as the horribly one-sided report released by the Republicans on the House Intelligence Committee. On Twitter, he has repeatedly labeled the investigation as a "witch hunt," that it is part of some alleged "Deep State" conspiracy against him, his campaign, and his Administration, and that it is, in the end, an effort by Democrats to undermine him because of Hillary Clinton's loss in the 2016 Presidential election.
Leaving aside the substance of the Trump and Republican attacks on the Mueller investigation, it's worth noting, as Amelia Thomson-Deveaux does at FiveThirtyEight, that the Mueller investigation has not been nearly as long as other investigations, many of which were championed by Republicans as conservatives. In her analysis, Thomson-Deveaux catalogs basically every major investigation going back to Watergate and finds, as this chart makes clear, that Mueller's investigation is but a babe in the woods: (click image to enlarge)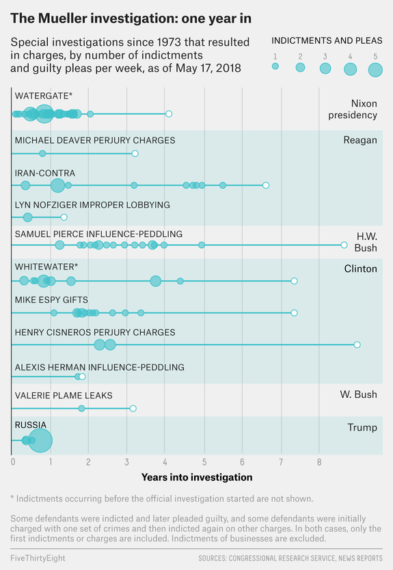 Not included in this chart are several investigations that took place at the Congressional level during the Obama Administration. One such investigation concerned the so-called "Fast and Furious" program run by the Bureau of Alcohol, Tobacco, and Firearms to track gun-running by Mexican drug gangs which resulted in weapons falling into the hands of gang members that were later used in crimes in both the United States and Mexico. This investigation lasted for several years on Capitol Hill and led to no tangible evidence of either a crime or a criminal cover-up by Justice Department officials. Another such investigation, which also took several years was the investigation of the IRS targeting of conservative organization in its processing of applications for tax-exempt status. While an investigation by the I.R.S.'s Inspector General did find that employees at the office responsible for handling the applications had apparently inappropriately "slow-walked" the applications of conservative investigations, at least two years of investigation failed to find any evidence that any of the actions resulted in the breaking of any laws and it's worth noting that the people responsible for these actions were dismissed and all the impacted organizations ultimately received the tax-exempt status they sought. The investigation into Hillary Clinton's use of a private email server and handling of classified information while Secretary of State lasted nearly two years, and similarly resulted in no indictments and no finding of wrongdoing. Topping it all off, of course, is the investigation into the 2012 attack on the U.S. diplomatic outpost in Benghazi that resulted in the death of an American Ambassador and three others. That investigation, which included investigations by at least five Congressional committees, lasted more than four years, found no wrongdoing by Clinton or anyone else in the Obama Administration, and resulted in no indictments or recommendations for further criminal investigation.
Compared to past investigations, the Mueller investigation has barely begun notwithstanding the fact that it has resulted in a series of indictments and guilty pleas that have already made it more productive than some of the more drawn out investigations over the past forty years. Compared to the Obama Era investigations, the Mueller investigation has been far more productive, and uncovered far more evidence of wrongdoing, notwithstanding the fact that it is relatively young. The idea that it needs to be brought to the end is laughably absurd, particularly when it comes from conservatives who were pushing for investigations during the Obama Administration, and most certainly not supported by the results we've seen so far.