Donald Trump's Persecution Complex
After news of the appointment of a special counsel in the Russia investigation, Donald Trump's persecution complex was on full display.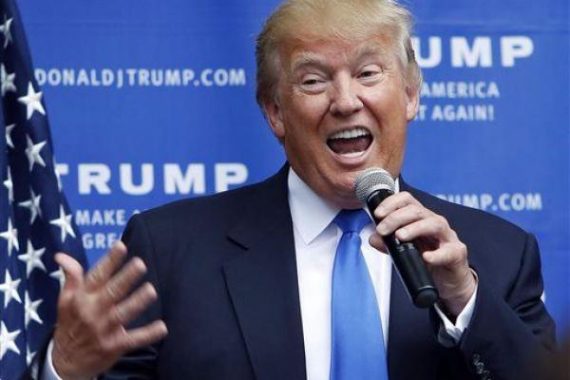 Donald Trump responded to the appointment of former F.B.I. Director Robert Mueller as a special counsel to take over the investigation into Russian interference in the 2016 election and contacts between the Trump campaign and Russian officials is about what you'd expect from him:
WASHINGTON — President Trump lashed out on Thursday, saying he was the target of an unprecedented witch hunt, a day after the Justice Department appointed a special counsel to investigate ties between his presidential campaign and Russian officials.

In a pair of early morning Twitter posts, Mr. Trump cited, without evidence, what he called the "illegal acts" committed by the administration of his predecessor, Barack Obama, and the campaign of his former opponent, Hillary Clinton — and said they never led to the appointment of a special counsel.

"With all of the illegal acts that took place in the Clinton campaign & Obama Administration, there was never a special councel appointed!" Mr. Trump wrote, misspelling counsel.

Moments later, Mr. Trump added, "This is the single greatest witch hunt of a politician in American history!"

The posts, shortly before 8 a.m., were a stark contrast to his muted reaction to the announcement on Wednesday evening that Robert S. Mueller III, a former F.B.I. director, had been named to investigate ties between the Trump campaign and Russian officials.

(…)The president is correct in his observation about the rarity of a special counsel, though his references to the Clinton campaign and the Obama administration may not bolster his case. There were multiple congressional investigations of the attacks in Benghazi, Libya, and the role played by Mrs. Clinton, then the secretary of state, and Mr. Obama.

It is not the first time Mr. Trump has likened the questions about his campaign and Russia to a witch hunt. In January, while still president-elect, he said in an interview with The New York Times that the persistent focus on Russia's hacking of the American presidential campaign was a witch hunt carried out by people bitter at his victory over Mrs. Clinton.
This stands in stark contrast to the rather muted statement that the White House released under his name last evening after the announcement:
As I have stated many times, a thorough investigation will confirm what we already know – there was no collusion between my campaign and any foreign entity. I look forward to this matter concluding quickly. In the meantime, I will never stop fighting for the people and the issues that matter most to the future of our country.
Here are the tweets in question:
This is the single greatest witch hunt of a politician in American history!

— Donald J. Trump (@realDonaldTrump) May 18, 2017
With all of the illegal acts that took place in the Clinton campaign & Obama Administration, there was never a special counsel appointed!

— Donald J. Trump (@realDonaldTrump) May 18, 2017
As it so happens, Trump was delivering the commencement address at the United States Coast Guard Academy just hours before the announcement about Mueller's appointment yesterday, and that speech also turned into a rant about how he was being persecuted rather than, well, a normal commencement address:
NEW LONDON, Conn. — An embattled President Trump used a commencement address to the Coast Guard Academy to defend himself on Wednesday, telling graduating cadets that no leader in history had been treated more "unfairly" by the news media and Washington elites.

Mr. Trump began his speech with a tribute to the service's efforts to stop drug dealers on domestic waterways and the open seas. But he quickly changed the subject to himself, signaling that he was gearing up for a fight after a week of damaging disclosures, capped by the revelation that he had asked James B. Comey, the former F.B.I. director, to drop the bureau's investigation into the president's first national security adviser, according to a memo Mr. Comey wrote.

"You will find that things are not always fair," Mr. Trump said, blurring the lines between an inspirational, forward-looking commencement speech and talk about himself, much as he did at a commencement address to students at Liberty University in Virginia on Saturday.

"You have to put your head down and fight, fight, fight," Mr. Trump said, offering his personal credo, before switching to an explicit theme of self-defense. "Look at the way I've been treated lately, especially by the media. No politician in history — and I say this with great surety — has been treated worse or more unfairly."

When the audience applauded, Mr. Trump — whom aides have described as frustrated and defiant as controversy has engulfed the White House in recent days — smiled and told people to stand by their beliefs.

"You have to put your head down and fight, fight, fight," Mr. Trump said, offering his personal credo, before switching to an explicit theme of self-defense. "Look at the way I've been treated lately, especially by the media. No politician in history — and I say this with great surety — has been treated worse or more unfairly."

When the audience applauded, Mr. Trump — whom aides have described as frustrated and defiant as controversy has engulfed the White House in recent days — smiled and told people to stand by their beliefs.

(emphasis mine)
The Washington Post also reports that behind the scenes at the White House, Trump is upset with his staff for not mitigating the mistakes that he is making:
As Donald Trump has grown increasingly angry and frustrated with his White House staff, the beleaguered targets of his ire have a quietly roiling gripe of their own — their boss, the president himself.

Since he fired FBI Director James B. Comey, Trump has lurched through crises of his own making — from the explosive report Monday that he had revealed highly classified intelligence to Russian officials to the bombshell Tuesday that he had urged Comey to end the federal investigation into Michael Flynn, his former national security adviser.

In his wake remain his exhausted aides and deputies, the frequent targets of Trump's wrath as they struggle to control an uncontrollable chief executive and labor to explain away his stumbles.

Wednesday evening brought yet another challenging development for the White House, as the Justice Department announced a special counsel to investigate possible collusion between the Trump campaign and the Russian government to interfere with the 2016 presidential election.

Some White House staffers have turned to impeachment gallows humor. Other mid-level aides have started contacting consultants, shopping their résumés. And at least one senior staffer has begun privately talking to friends about what a post-White House job would look like, according to two people close the staffer.

Trump largely thinks that his recent mishaps are not substantive but simply errors of branding and public relations, according to people close to him and the White House. Indeed, as he faced a wave of criticism following the disclosure that he had leaked "code word" intelligence material to Russian officials during an Oval Office meeting last week, the president took to Twitter to say that he had "the absolute right" to do so.
As an initial point, it is just plain odd that someone giving a commencement address would spend seemingly more time talking about themselves and how badly they were allegedly being treated than they do about the graduates and their future. Judging from the coverage I saw of the address Trump only barely addressed the mission of the Coast Guard and the commitment that these young men and women were making to the defense of their nation. With Trump, though, it's hardly surprising given the fact that his own victimization is a common theme of his speeches. It was just one day into his Administration, after all, that Trump was giving a speech in front of the Central Intelligence Agency's Memorial Wall, which is dedicated to the men and women who have died while working for the Agency and which included memorials to people whose missions remain so secret that they can't even be acknowledged by name, and used the occasion to brag about the size of his Inauguration Day crowd. Additionally, Trump's Twitter account has long been a means by which he has torn into his critics in the media and elsewhere.
These two incidents taken together, then, are just another example of something have seen from Donald Trump throughout his campaign for President, as well as long before that when he was the bombastic, controversial celebrity that we knew him to be. I'm speaking, of course, about Trump's tendency to see himself as an eternal victim of his critics, whether those critics happen to be the New York tabloids that followed him around as far back as thirty years ago, the national news media, or the numerous politicians and political pundits who have spoken out against him. What I suppose makes it odd is that he's President of the United States and really ought to be above all of this. Add into this the fact that Trump apparently blames his staff for not defending him from his frequent missteps, and it's becoming very clear what kind of President Donald Trump is going to be over the coming years.
Greg Sargent notes that Trump's reaction to the Mueller appointment shows that he's totally delusional about what's happening to him:
Let's trace the basic arc of this whole story. The special counsel might not be happening if Trump had not abruptly fired former FBI director James B. Comey. The reporting indicates that Trump was driven to do this out of grievance-laden rage at Comey for failing to make the Russia probe disappear (Comey isn't supposed to do that at Trump's behest, and firing him isn't going to do it either). So this was rooted in crazy, and didn't have to happen.

More to the point, the manner in which Trump fired Comey led directly to the special counsel. Trump had made the decision and then instructed Rosenstein to produce the bogus rationale for it (Comey's botched handling of the Hillary Clinton email probe). Trump then blithely conceded on national television that the real reason was Comey's handling of the Russia probe. He was either unaware that this might be a problem, or didn't care, because, well, you can take the rule of law and shove it. All this unleashed a tirade of criticism arguing that Rosenstein, having helped provide a cover story for Trump (which Trump himself then blew up), is too compromised to oversee the continuing FBI probe. This surely helped bring about the special counsel's appointment — and Trump authored it.

After that, Comey associates retaliated by leaking word that Trump had demanded Comey pledge his loyalty at a private dinner in January. And after that, Comey associates leaked word of a memo in which Comey asserted that Trump had tried to persuade him to quash the probe into former national security adviser Michael Flynn's Russia ties. To be fair, we don't know if either of these things happened. But if they did, which is perfectly plausible, these things, too, appear rooted in Trump's autocratic contempt for basic institutional processes. And we will soon hear from Comey himself on these matters when he testifies before the Senate Intelligence Committee.

Trump has created a problem for himself in yet another way, too: He denied asking Comey for a loyalty pledge by vaguely threatening to release alleged tapes of their conversation. Now, if Comey publicly attests to that pledge, the White House will be forced to produce these tapes or admit they don't exist, and it's very likely that neither of those outcomes would turn out well for Trump.

The point is not just that Trump's actions are entirely to blame for the appointment of the special counsel. It's also that there are no indications that Trump even understands this. And on top of that, these actions themselves — which simply did not have to happen — will now likely be probed by the special counsel, too.
Sargent's Washington Post colleague Philip Bump, meanwhile, notes that Trump's claim to be the victim of a bigger 'witch hunt' than any previous politician simply doesn't add up:
So what politicians might similarly have been subjected to Trump-style witch hunts?

The immediate and obvious example is President Bill Clinton. As his time in office was wrapping up, Government Accountability Office estimates figured that some $90 million had been spent on independent investigations over the course of his presidency, culminating in the impeachment trial in the Senate that left him in office. That's the equivalent of $132 million today. Clinton and his administration were investigated for a broad range of things: the Clinton's Whitewater real estate deal, terminating employees in the White House Travel Office, the death of Vincent Foster and an investigation into FBI files on political opponents. Oh, and that whole thing with Clinton's infidelity.

The reader can be the judge of how those allegations compare to the charges at the heart of the investigation in which Trump is involved — an investigation, mind you, that focuses on his campaign, and not him specifically. Any number of other politicians with lower profiles or further back in history have been subjected to unfair and relentless criticism, including as a function of race. Dozens of black public officials were murdered during the Reconstruction period in the South.

(…)

A question central to Trump's comment: If something is actually amiss, is it still a witch hunt? We don't say that Nixon was the focus of a witch hunt, though if we apply the Clinton standard, perhaps it was. There is an implication built into the term that there's no merit to the accusations being leveled, which, of course, is why Trump uses it. In his previous uses of the term, though, that association is softened. For example, Trump himself settled a fraud lawsuit against Trump University despite claiming that he would easily win in cour

But if Clinton's investigations weren't a witch hunt and Trump's are, that Clinton was found to have perjured himself appears to be the difference.

Setting rather high stakes for Trump's defense of his complaint about how unfairly he's being treated.
This part of Trump's modus operendi plays well into his supporters, of course. For years, conservatives have stoked the fires of a persecution complex on the right that includes such notions as the idea that the entire "mainstream media" is out to paint them in the worst possible light, that Democrats are engaged in some kind of conspiracy to silence them and in particular the idea that religious freedom for Christians has come under special attack, something that can be seen in the rather ridiculous "War On Christmas" theme that repeats itself year after year. When Trump came on the scene, he seems to have simply adapted his own long-standing assertions that he too is a victim of an unfair media into a political context, and the crowds that have come to hear him speak have loudly applauded any time he encourages them to turn their hatred toward the media, the left, or anyone else they believe is "attacking" them. Now that he's in the White House, he's using that persecution complex as a means to shift attention away from his own mistakes, incompetence, and blatant flaunting of the rules that have governed Presidential behavior generations. He is, in other words, the perfect President for the paranoid right.
The truth, of course, is that Trump is not being persecuted at all. He's being criticized for his irresponsible rhetoric, and for the rather obvious incompetence being demonstrated by his Administration, his rhetoric, and his own decisions and actions. This has been true of every recent President, and for other politicians as well. The fact that Trump apparently can't handle it is yet another sign that he doesn't belong in the White House to begin with. Of course, that's something that many of us have been pointing out for the better part of the past two years, and which was obvious at least as far as six years ago when he was making outlandish and unsupportable claims about the birthplace of the President of the United States. As the Nixon Presidency showed us, there are obvious dangers in the idea of someone with this kind of persecution complex sitting in the Oval Office, and Trump seems to be repeating many of the same mistakes that the 37th President of the United States did that led to his downfall. In fact, some of Nixon's final words to his staff on his last day in office seem to encapsulate quite nicely what Trump is potentially doing to himself:
We want you to be proud of what you have done. We want you to continue to serve in government, if that is your wish. Always give your best, never get discouraged, never be petty; always remember, others may hate you, but those who hate you don't win unless you hate them, and then you destroy yourself.
With those words, it seemed as though Nixon had finally realized what it was the led to his undoing. The question is whether Trump will learn that lesson, and what will happen to the country if he doesn't.