Trump's Been Indicted. What Now?
We're in uncharted waters.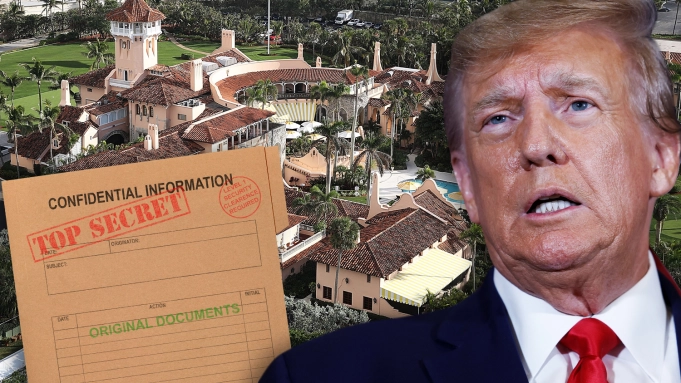 As Steven noted last evening, former President Donald Trump has been indicted by the Justice Department, making history yet again. This morning, while the indictment remains under seal, we have a better idea of what the charges are.
WaPo ("Trump indicted in Mar-a-Lago classified documents investigation"):
Former president Donald Trump said Thursday night that he's been charged by the Justice Department in connection with the discovery that hundreds of classified documents were taken to his Mar-a-Lago home after he left the White House — a seismic event in the nation's political and legal history.

A seven-count indictment has been filed in federal court naming the former president as a criminal defendant, according to people familiar with the matter who spoke on the condition of anonymity to describe a case that has yet to be unsealed. The charges include willful retention of national defense secrets, obstruction of justice and conspiracy, which carry the potential of years in prison if Trump is found guilty.

[…]

The willful retention charge is a violation of a section of the broad Espionage Act, though spying is not among the charges against the former president. It is the second time he has been criminally charged since March, when he was indicted in state court in New York on 34 counts of falsifying business records related to hush money payments from 2016. Trump, who has denied wrongdoing in both cases, is the only former president ever charged with a crime.

[…]

Trump lawyer Jim Trusty took to CNN on Thursday night to defend his client as innocent, while also confirming the charges against the former president. In addition to willful retention, obstruction and conspiracy, he said Trump was charged with false statements. Trusty said he was not sure when Trump's legal team would receive the indictment, andwas not aware of whether any other individuals connected with the case had also been charged.

The charges cap a high-stakes investigation that began in early 2022 and slowly built steam over the summer, until FBI agents conducted a court-ordered search of Trump's home and private club in early August that turned up more than 100 classified documents. Trump's advisers had told the Justice Department in June that they had conducted a diligent search for such papers in response to a subpoena and had handed over all they could find.

In the months since that search, investigators have been gathering evidence to determine whether the former president set out to obstruct law-enforcement efforts to recover the top-secret material that was stashed at Mar-a-Lago.

While a president has never been charged with such crimes, prosecutions related to the mishandling of classified materials are not rare, said Steven Aftergood, a classified information expert. "This reflects the Justice Department applying the law to a former president, and that is really encouraging," Aftergood said. "It really underscores the fact that no one is above the law."

While the charges will likely test Trump's staying power as the leader of an increasingly crowded Republican field, the case will also put new strains on the Justice Department and FBI, which must bring to trial a tycoon-turned-politician who has publicly demonized federal law enforcement for years. In preempting any official announcement of the charges, Trump sought to gain the upper hand and blame the Biden administration.
While I fully agree with Aftergood and Steven that the rule of law demands Trump be held accountable for action that are truly criminal, I've long been skeptical that this particular case was going to be the one where it happened. Aside from the political calculus of the Justice Department indicting the sitting President's main political opponent, the law here is very murky. While I personally believe Trump wantonly violated national security law in not only taking troves of classified materials home with him but then refusing to turn them over when asked nicely to do so, his status as the ultimate classification authority makes proving it challenging, indeed.
NYT columnist Charlie Savage ("Trump has claimed he can declassify documents. Here's what he can and can't do."):
Former President Donald J. Trump's repeated claim that he had declassified all the documents that the F.B.I. seized in the search of his Florida home last summer — including those marked as top secret — has heightened interest in the scope of a president's power to declassify information.

In an interview on Fox News last year, Mr. Trump insisted that he "declassified everything." There does not have to be a formal process to do so, he added, because "if you're the president of the United States, you can declassify just by saying 'it's declassified' — even by thinking about it."

It is also worth noting that none of the three criminal laws cited in the warrant used to execute the search of his Florida home and estate depend on whether documents technically contain classified information. Mr. Trump's lawyers have not repeated his claim in court, where there are professional consequences for lying. They have also resisted a judge's proposal that they submit a sworn declaration or affidavit about any declassification action.

[…]

In the normal course of business, certain officials who have been designated as "original classification authorities" in federal departments and agencies can classify or declassify information. They are considered to be exercising the president's power over such matters, which has been delegated to them.

There are formal procedures for doing so. A 2009 executive order directs the head of the department or agency that originally deemed information classified to oversee declassification reviews, and it sets some standards for them.

Presidents can declassify information directly, because it is ultimately their constitutional authority, but do so only rarely. Normally, presidents who want something declassified direct subordinates overseeing the department or agency with primary responsibility for the information to review the matter with an eye to making more of it public.

Even if it is true that Mr. Trump had pronounced the documents declassified while he was in office, he clearly did not follow the regular procedures. But there is no Supreme Court precedent that definitively answers whether that would make any difference.

Notably, a federal appeals court said in 2020 that "declassification, even by the president, must follow established procedures." But the context was different: That line was part of an opinion rejecting a Freedom of Information Act lawsuit involving whether Mr. Trump had declassified a covert program by discussing its existence in a tweet.
Now, contrary to many commenters here, I actually think the Roberts court has little interest in protecting Trump here. But—precisely because it's almost impossible to imagine any previous President doing something like this*—there's essentially zero precedent to go on.
The 2020 case cited by Savage doesn't shed much light on this one. There, NYT reporters filed a FOIA request with CIA about details of a classified program and the 2nd Circuit ruled, quite correctly, that POTUS carelessly referencing it didn't automatically declassify it. But (in a universe where the Justice Department were truly independent) had DOJ tried to file charges against Trump for disclosing highly classified information to millions of people via his Tweet, it would likely have been dismissed on summary judgment. As President, he can disclose pretty much whatever he wants to.**
Beyond the legalities, the practicalities at work here are daunting.
POLITICO ("Trump indictment cheat sheet: What to know about the classified documents case") rehashes the charges and how we got here before getting down to:
How long will it take for Trump to go on trial?

A state judge in New York set Trump's trial in his Manhattan criminal case for March 25, 2024 — nearly a year from the date on which he was charged. A federal case might operate on a similar timeline. The lengthy pretrial process allows time for Trump's lawyers and prosecutors to exchange evidence, file motions and even discuss the unlikely prospect of a plea deal.

It's always hard to predict how long pretrial matters will take, even in run-of-the-mill criminal trials. Dozens of cases stemming from the Jan. 6 attack on Congress have reached the trial stage in recent months, some of them more than a year after charges were filed.

Trump, historically, has sought to drag out litigation, and he'd have many tools in his arsenal to do so here — from seeking to change venue to fighting to dismiss the case altogether.

How will the judge be selected?

Federal district courts all have slightly different procedures for judge assignments, but they all ostensibly feature a degree of randomness to prevent judge shopping.

At the U.S. District Court for the District of Columbia, cases are assigned by chance to one of about 20 full-time judges, as well as a handful of judges who are on "senior status" and handle a lighter case load. The court's bench primarily consists of Democratic appointees, but four of the judges were picked by Trump himself: Trevor McFadden, Tim Kelly, Carl Nichols and Dabney Friedrich. None of the four have been particularly deferential to Trump in cases that have come before them in recent years, though it would create a notable dynamic if any criminal case landed before one of his own appointees.

In Florida, the situation is more complex because the Southern District of Florida — the venue where Trump says he has been ordered to report to — is split into five geographic divisions, and the division where a case is filed affects the eligible judges. Trump would stand a strong chance of drawing one of his own appointees, but it'd be far from a sure thing.
Again, the mere fact that a judge was appointed by Trump is no guarantee that they'll rule in his favor. We've seen plenty of examples the other way. But, again, this is all new ground. We've never had a President facing federal criminal charges so, quite naturally, never had the prospect of one of his own appointees hearing the case. (And, no, I don't think recusal would be required.)
Further, it will be bizarre to have a trial, quite probably of the Republican Party's 2024 nominee for President, five months before the election. And we can be quite certain Trump will do his best to paint it as a political prosecution by his opponent.
Alan Feuer and Maggie Haberman, NYT ("Trump Turns to a Familiar Playbook in Effort to Undermine Documents Inquiry"):
As prosecutors entered what seemed to be the final stages of their investigation into former President Donald J. Trump's handling of classified documents, Mr. Trump launched a pre-emptive strike against a possible indictment, posting a pair of messages on his social media platform early Thursday morning that sought to delegitimize the inquiry.

Mr. Trump accused a top federal prosecutor in the documents investigation of seeking to "bribe & intimidate" a lawyer representing one of the witnesses in the case. He claimed that the prosecutor had offered the lawyer an "important 'judgeship' in the Biden administration" if his client "'flips' on President Trump."

The attacks by Mr. Trump on Truth Social were drawn from a playbook that he has used time and again to undermine inquiries into his conduct. His efforts to tar both investigations and investigators started well before he was president and continued throughout his term in office, perhaps most prominently during the inquiry into his campaign's possible collusion with Russian officials in 2016.
Further, argues The Messenger's Marc Caputo, the venue doesn't help matters.
[F]ormer federal prosecutors and seasoned defense attorneys have this blunt advice: consider trying Trump elsewhere. South Florida, they say, is a hard place to get federal convictions against political figures and celebrities.

And Trump is both.

"I would absolutely try this case in Washington D.C.," said Richard Gregorie, a former federal prosecutor in Miami who noted that Trump has far more support in South Florida than in the nation's liberal capital city.

"People who operate in D.C. have no idea what it's like down here. Prosecuting politicians is hard here," he added. "The people are just suspicious of government all over South Florida."

Gregorie had one of the most storied careers in the Southern District of Florida as a prosecutor, winning convictions against suspected terrorists, Panamanian President Manuel Noriega and major Colombian cocaine traffickers with the Medellin Cartel. But in thinking about Trump's case, he can't help but recall how he couldn't secure convictions against two separate former Miami-area mayors in the city of Hialeah, Julio Robaina and Raul Martinez, in unrelated public corruption cases in 2014 and the 1990s, respectively.

More recently, in 2019, other federal prosecutors lost a public corruption case against a former Miami Lakes mayor. And long before that, in the 1980s, federal prosecutors lost a bribery case against a politically active federal judge, Alcee Hastings, who beat the rap, was removed from office by the U.S. Senate and then won a congressional seat in 1992. He held office until his death in 2021.

Those big defeats happened in Miami-Dade County, at the south end of the peninsula and the Southern District of Florida. The district's federal prosecutors, however, have had great success convicting politicians to the north of Miami, in Palm Beach County, home of Donald Trump's Mar-a-Lago club. It became ground zero for the federal records investigation in 2022 when the Department of Justice learned Trump had been keeping highly classified documents there, ultimately resulting in federal agents executing a search warrant at the club as DOJ opened a related obstruction of justice investigation.

Unlike any politician ever tried in South Florida (or any court), Trump is a former president and current presidential candidate – and he's one of the most-polarizing figures in modern history. And that's a factor prosecutors contend with in bringing a case because jurors often come with their own biases about the criminal justice system as well as politicians they like or disfavor. The jury pool, after all, often reflects the voting rolls.

The jury-selection process is designed to weed out bias as prosecutors and defense attorneys still examine potential jurors' beliefs, including their political opinions and how they vote.

That's what makes Washington D.C. such an attractive venue for trying Trump. He received only 5.4 percent of the vote in 2020, compared to 46.8 percent of the vote nationwide. And that was before a pro-Trump mob, whipped up by the former president, sacked the U.S. Capitol on Jan. 6, 2021.

In Palm Beach County, pro-Trump sentiment is far stronger than in Washington. He earned 43 percent of the vote in his home county – meaning about 5 in 12 jurors could conceivably be pro-Trump. And since prosecutors need a unanimous jury verdict, those can be favorable odds for a defendant who, if he can't get an acquittal, can hope that there's at least one holdout juror, often one who nullifies the verdict by refusing to recognize the seriousness of the law or the case.

In Miami-Dade County, 46 percent voted for Trump. His support among Republican-leaning Cuban-Americans – a major bloc of voters who have high turnout rates in the county — is so intense that seasoned defense lawyers say they can't imagine Trump being charged in Miami, even if one of the grand juries hearing the case is seated here.

"Forget documents, if Trump shot someone on Calle Ocho, a Miami jury would find him not guilty," said David Oscar Markus, a top criminal defense attorney who successfully defended former Florida Democratic gubernatorial candidate Andrew Gillum in his corruption trial May 4.
It's going to be a wild ride. Other advanced democracies have managed to prosecute chief executives from crimes committed in relation to their official duties.*** We managed to prosecute a sitting Vice President, Spiro Agnew, for his crimes as Governor of Maryland. And we've certainly prosecuted quite a few sitting governors and mayors. But Presidents, because of their dual role as head of state as well as head of government, are unique in our system.
_____________
*Nixon certainly broke a number of laws. But, for all his flaws, he legitimately cared about American national security. And when the Supreme Court ruled against him in the matter of the tapes, he turned the over and resigned the Presidency rather than throwing them in the fireplace—much less encouraging supporters to storm the Supreme Court building.
**There is at least a question on this front on certain matters of nuclear security which are classified as a matter of statute.
***The Guardian's David Smith notes, "Trump could soon join a notorious club that includes Silvio Berlusconi of Italy, Nicolas Sarkozy and Jacques Chirac of France and Park Geun-hye and Lee Myung-bak of South Korea. All have been prosecuted and convicted of corruption in the past 15 years."