Trump Tipping Point?
As more details emerge about the documents he stole, defenders are falling away.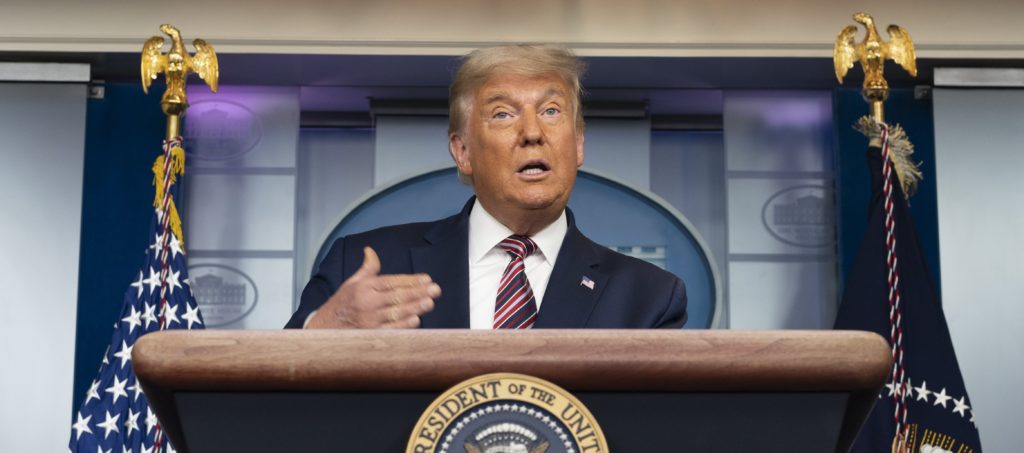 A somewhat-redacted copy of the affidavit used to justify the search of former President Donald Trump's Mar-a-Lago home has been released and analysts think it's quite damaging. More importantly, some unlikely sources seem to be persuaded that it's a big deal.
At the NYT, Luke Broadwater, Katie Benner and Maggie Haberman take us "Inside the 20-Month Fight to Get Trump to Return Presidential Material." It's an interesting enough read but the headline gives away the plot: the US government spent more than a year and a half trying to get documents back from Trump before the search.
Their colleague Charlie Savage reports that the "Possibility of Obstruction Looms Over Trump After Thwarted Efforts to Recover Documents."
When the Justice Department proposed redactions to the affidavit underlying the warrant used to search former President Donald J. Trump's residence, prosecutors made clear that they feared the former president and his allies might take any opportunity to intimidate witnesses or otherwise illegally obstruct their investigation.

"The government has well-founded concerns that steps may be taken to frustrate or otherwise interfere with this investigation if facts in the affidavit were prematurely disclosed," prosecutors said in the brief.

The 38-page affidavit, released on Friday, asserted that there was "probable cause to believe that evidence of obstruction will be found at" Mr. Trump's Mar-a-Lago compound, indicating that prosecutors had evidence suggesting efforts to impede the recovery of government documents.

Since the release of the search warrant, which listed three criminal laws as the foundation of the investigation, one — the Espionage Act — has received the most attention. Discussion has largely focused on the spectacle of the F.B.I. finding documents marked as highly classified and Mr. Trump's questionable claims that he had declassified everything held at his residence.

But by some measures, the crime of obstruction is a threat to Mr. Trump or his close associates that is as much or even more serious. The version investigators are using, known as Section 1519, was part of the Sarbanes-Oxley Act, a broad set of reforms enacted in 2002 after financial scandals at companies like Enron, Arthur Andersen and WorldCom.

The heavily redacted affidavit provides new details of the government's efforts to retrieve and secure the material in Mr. Trump's possession, highlighting how prosecutors may be pursuing a theory that the former president, his aides or both might have illegally obstructed an effort of well over a year to recover sensitive documents that do not belong to him.

To convict someone of obstruction, prosecutors need to prove two things: that a defendant knowingly concealed or destroyed documents, and that he did so to impede the official work of any federal agency or department. Section 1519's maximum penalty is 20 years in prison, which is twice as long as the penalty under the Espionage Act.

Julie O'Sullivan, a Georgetown University law professor who specializes in white-collar crime, said the emerging timeline of the government's repeatedly stymied attempts to retrieve all the documents, coupled with claims by Mr. Trump that he did nothing wrong because he had declassified all the documents in his possession, raised significant legal peril for him.

"He is making a mistake in believing that it matters whether it's top secret or not," she said. "He is essentially conceding that he knew he had them." If so, she added, then not giving them back was "obstructing the return of these documents."
His colleagues Julian E. Barnes and Mark Mazzetti ("Classified Material on Human Intelligence Sources Helped Trigger Alarm") add:
Mr. Trump has a long history of treating classified information with a sloppiness few other presidents have exhibited. And the former president's cavalier treatment of the nation's secrets was on display in the affidavit underlying the warrant for the Mar-a-Lago search. The affidavit, released in redacted form on Friday, described classified documents being found in multiple locations around the Florida residence, a private club where both members and their guests mingle with the former president and his coterie of aides.

Nothing in the documents released on Friday described the precise content of the classified documents or what risk their disclosure might carry for national security, but the court papers did outline the kinds of intelligence found in the secret material, including foreign surveillance collected under court orders, electronic eavesdropping on communications and information from human sources — spies.

Mr. Trump and his defenders have claimed he declassified the material he took to Mar-a-Lago. But documents retrieved from him in January included some marked "HCS," for Human Intelligence Control System. Such documents have material that could possibly identify C.I.A. informants, meaning a general, sweeping declassification of them would have been, at best, misguided.

"HCS information is tightly controlled because disclosure could jeopardize the life of the human source," said John B. Bellinger III, a former legal adviser to the National Security Council in the George W. Bush administration. "It would be reckless to declassify an HCS document without checking with the agency that collected the information to ensure that there would be no damage if the information were disclosed."
National security lawyer Bradley P. Moss takes to the Daily Beast to proclaim "It's Over: Trump Will Be Indicted."
I have finally seen enough. Donald Trump will be indicted by a federal grand jury.

You heard me right: I believe Trump will actually be indicted for a criminal offense. Even with all its redactions, the probable cause affidavit published today by the magistrate judge in Florida makes clear to me three essential points:

(1) Trump was in unauthorized possession of national defense information, namely properly marked classified documents.

(2) He was put on notice by the U.S. Government that he was not permitted to retain those documents at Mar-a-Lago.

(3) He continued to maintain possession of the documents (and allegedly undertook efforts to conceal them in different places throughout the property) up until the FBI finally executed a search warrant earlier this month.

That is the ball game, folks. Absent some unforeseen change in factual or legal circumstances, I believe there is little left for the Justice Department to do but decide whether to wait until after the midterms to formally seek the indictment from the grand jury.

The cruelest irony for Trump is that it never needed to be this way.

Put aside that in the chaos following his election loss Trump's team never undertook the normal procedure for properly sorting through and archiving his presidential records in coordination with the National Archives and Records Administration (NARA). Put aside that properly marked classified records were shipped to Mar-a-Lago and sat there for months until he began turning stuff over to NARA in late 2021.

If he had fully cooperated at that point, and returned all of the records to NARA last year, this likely never would have become a criminal matter. DOJ would have declined to take any action, notwithstanding the existence of the classified records, and it would have been a "no harm, no foul" situation. Just another minor story in the Trump saga of incompetence.
I continue to be skeptical that DOJ will indict a former President, let alone the presumptive challenger to the sitting President in the next election. Not only because doing so would inevitably be seen as partisan but because there's a high likelihood, depending on where the case is tried, that some Trump supporters would be on the jury. Still, we're at the point where not charging him might be worse for the country.
Further, it's beginning to look like even Trumpers are tired of defending the indefensible.
Back at NYT, Jonathan Weisman reports "Republicans, Once Outraged by Mar-a-Lago Search, Become Quieter as Details Emerge."
In the minutes and hours after the F.B.I.'s search of former President Donald J. Trump's residence in Florida this month, his supporters did not hesitate to denounce what they saw as a blatant abuse of power and outrageous politicization of the Justice Department.

But with the release of a redacted affidavit detailing the justification for the search, the former president's allies were largely silent, a potentially telling reaction with ramifications for his political future.

"I would just caution folks not to draw too many conclusions," Gov. Glenn Youngkin of Virginia, a Republican, said on Fox News. It was a starkly different admonition from his earlier condemnations of what he said were "politically motivated actions."

Some Republicans will no doubt rally around Mr. Trump and his claim that he is once again being targeted by a rogue F.B.I. that is still out to get him. His former acting White House chief of staff, Mick Mulvaney, said on Twitter that "this raid was, in fact, just about documents," which he called "simply outrageous." Representative Andy Biggs, Republican of Arizona and an ardent Trump ally, was on the right-wing broadcaster Newsmax denouncing the F.B.I. as politically biased, though he notably did not defend the former president's possession of highly classified documents.

But generally, even the most bombastic Republicans — Representatives Marjorie Taylor Greene of Georgia, Lauren Boebert of Colorado, Jim Jordan of Ohio — were at least initially focused elsewhere. Ms. Greene was posting on Friday about border "invasions." Ms. Boebert noted on Twitter the anniversary of the suicide bombing of U.S. service members at the airport in Kabul, Afghanistan. Mr. Jordan was focused on an interview with Mark Zuckerberg, the Facebook founder. None tweeted about the affidavit.
To be sure, that's thin gruel. But HuffPo reports that even Trump's lying toady Bill Barr has had enough.
Former Attorney General William Barr attacked Donald Trump and his Republican supporters for again "pandering to outrage," this time over the FBI search of Mar-a-Lago.

Barr was pressed Thursday by journalist Bari Weiss on her podcast "Honestly" on why Republicans should trust the legitimacy of the FBI search in the wake of Trump's attacks on the operation to retrieve government documents.

An irritated Barr responded: "Something I'm pretty tired of from the right is the constant pandering to outrage and people's frustrations. And picking and picking and picking at that sore without trying to channel those feelings in a constructive direction."

Barr said it's "premature" to reach a conclusion about the Aug. 8 FBI search of Trump's resort and residence. Agents turned up 27 boxes of material, including 11 packets of classified material, including some top secret information. Under the Presidential Records Act, all of the documents should have been turned over to the National Archives at the end of Trump's term.

Barr conceded it's "hard to explain" why Trump would have held on to the official documents.

He characterized vicious attacks on the FBI by Trump and his supporters as "over the top."

FBI Director Christopher Wray, who was appointed by the former president, is not going to "wake up and say, you know, 'How do I throw the FBI's weight around to interfere in the political process? Just the opposite. I think he's very cautious about that," Barr told Weiss.

Barr said he's particularly "irritated" at the "whole episode" because it "strengthens [President Joe] Biden and hurts the Republican Party going into the midterms because the focus once again returns to President Trump and his persona and his modus operandi rather than the pocketbook issues" of the campaigns.

Barr also attacked Trump's constant drive to divide Americans over every issue.

"The problem with Trump is that it's all about running just the base election, whip up your base, get your base all upset, get them outraged and turn them out at the polls," Barr said.

"That's a prescription for continued hostility within the country, and demoralization of the country and an impasse in the country," he added, which Barr also accused "both sides" of creating.

Barr called Trump his "own worst enemy," who's responsible for provoking much of "venom" directed at him.
That Barr is chiefly worried about how Trump's actions impact the electoral chances of the GOP, rather than actual damage they've done to the country and the rule of law, is very much on brand. Not only for him but for the Republican Party leadership. We're not anywhere close to a mass rejection of Trump by his core supporters. We might be at the point, though, where those who held their nose and voted for him despite his odiousness can't bring themself to do so again.