Are The Ivies Too Small?
America's elite universities have proportionately fewer slots than their English and French counterparts. Does it matter?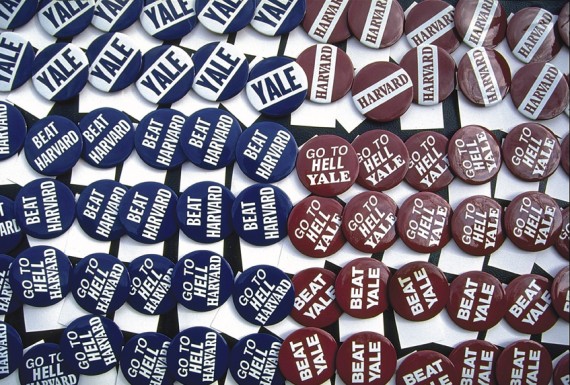 John Quiggin was surprised to learn that "most of the Ivy League universities only have around 5000 undergraduate students" and the combined enrollment of all America's elite institutions is well short of 100,000."   This is startling because:
That compares to a college-age cohort of around 15 million and total enrolments of around 6 million. So, to the extent that a large range of high-prestige jobs (eg Supreme Court justice) are reserved for, or dominated by, graduates of the top colleges, around 99 per cent of the population have missed out by the age of 18.

Relative to population, this is a finer filter than Oxbridge or the Grandes Ecoles (around 25,000 places for countries with total population of about 60 million).
He wonders about how this affects income inequality and social mobility and gets some interesting discussion on these points in the comments, mostly to the extent that exclusion from the top schools isn't nearly the same barrier to success in the United States as it is in the UK and France.    And I think that's right.
Quiggin is doubtless right that there are a handful of spots where an Ivy League or equivalent undergraduate education is a virtual necessity.   He identifies the most obvious:  A Supreme Court clerkship.  And, considering that most sitting Justices were once clerks — and all of them went to Harvard, Yale, or Princeton — it does effectively close out most of our brightest minds at a ridiculously early age.
But an elite education isn't a requirement for getting elected to the White House, Congress, or the governor's mansion.   It's true that our most recent presidents — Bush 41, Clinton, Bush 43, and Obama — are Ivy Leaguers  But their immediate predecessors — Johnson, Nixon, Ford, Carter, and Reagan — weren't.  And Clinton was a Georgetown undergrad.
Quiggin's tangential point, that the number of slots at the elite schools hasn't kept pace with population growth, is interesting.  But,  as some of Quiggin's commenters note, the delineation of American  schools is far less clear-cut than it once was.   Several private schools (Chicago, Stanford, NYU, MIT) and even a few state institutions (Berkeley, UVA) confer as much prestige on their graduates as the lesser Ivies.   Indeed, plenty of people who get admitted to even the Harvards and Yales go elsewhere for a variety of reasons; I'm guessing that happens less with "Oxbridge" (i.e., the colleges of Oxford and Cambridge Universities) and the French Ecoles.
It may nonetheless be the case that, given the intense competition among parents of the upper middle class to get their kids into the "right" schools — which can start as ridiculously early as getting them into the "right" pre-schools — the schools might want to expand their enrollment somewhat.  Presumably, Harvard could confer its credentials on 1500 students a year as easily as 1250 without any noticeable decline in the quality of the bottom students.