Arizona Secretary Of State: Obama Might Not Appear On November Ballot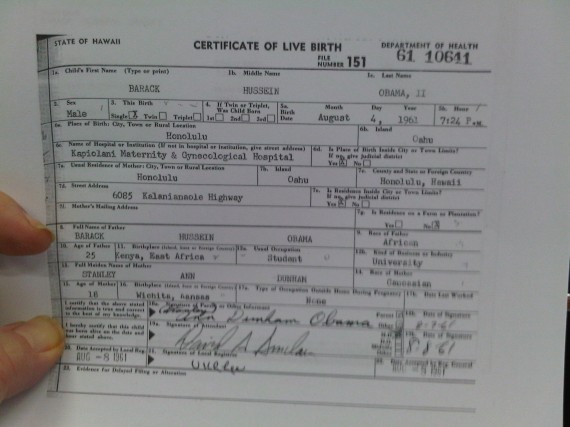 The Arizona Secretary of State is apparently a birther:
Arizona's top election official said in a radio interview Thursday that it's "possible" President Obama may not make the state's November ballot due to unanswered questions about his birth certificate.

Ken Bennett, a Republican who is eyeing a bid to succeed Gov. Jan Brewer (R) in 2014, told conservative radio host Mike Broomhead that he is "not playing to the birthers."

"I'm not a birther," Bennett said in the interview on KFYI. "I believe that the president was born in Hawaii – or at least, I hope he was."

But he added: "My responsibility as secretary of state is to make sure that the ballots in Arizona are correct and that those people whose names are on the ballot have met the qualifications of the office they are seeking."

Obama, saying he was frustrated with "this silliness," publicly released the long form of his birth certificate more than a year ago.

The radio interview followed a Phoenix New Times report that Bennett had corresponded with WorldNetDaily's Jerome Corsi regarding the birth certificate issue.

According to the text of an e-mail from Bennett to Corsi and confirmed by the secretary of state's office to the Phoenix New Times, Bennett had written that "if Hawaii can't or won't provide verification of the president's birth certificate, I will not put his name on the ballot."

Corsi, along with Maricopa County Sheriff Joe Arpaio, has been among the leading voices pushing the conspiracy theory that Obama was not born in the United States.
The insanity of these people quite obviously knows no bounds.