Back to Health Care Reform: Government Takeovers and Free Markets
Did we have a free market in health care prior to the passage of PPACA? No.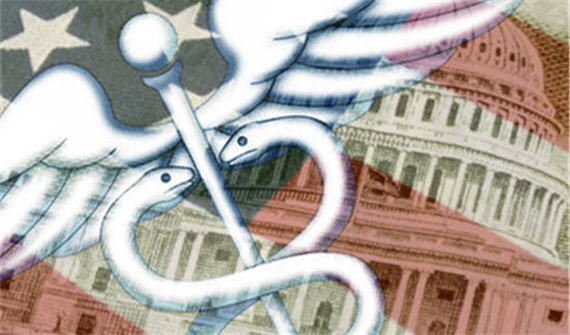 I know that every issue in American politics, especially in the Blogosphere, tends to take the tone of "for it" or "against it" and if one is "for it" then "it" is to be imbued with virtue and perfection and if one is against "it" then "it" must be, well, demonic (or, at a minimum, socialists, communistic, and/or fascistic*).  As such to defend, or even to speak reasonably about something is to choose a side in the minds of many readers (and writers).  I say this because I expect the following to be considered by many in the comment section (and even after this caveat) that I am a whole-hearted supporter of the Patient Protection and Affordable Care Act (PPACA).  I must confess to a general ambivalence on the bill** but often find the discussion of it to be problematic at best.
This is why, for example, I concur with PolitiFact's crowning, as its lie of the year, the notion that the PPACA is a "government takeover of healthcare," which I discussed yesterday.  To me a "government takeover" would be, at its extreme something like the British system where the government actually does employ the doctors and provide the services.  At a less extreme level it would at least require a more thorough removal of the private elements of the system in place, not the least of which being that doctors and insurance companies remain private sectors actors.
In reading the comments to the above linked post and then reading a post by Peter Suderman at Reason's Hit and Run (Politifact's Lie of the Year Is An Exaggeration With Elements of Truth)*** I want to address the following:
Meanwhile, our rigorous team of fact-checkers even introduce a misleading statement of their own when they claim that "the law Congress passed…relies largely on the free market."

The only way this is true is if you utterly fail to distinguish between the concepts of "the free market" and "a highly regulated private sector," which is a far more accurate description of what the health care law relies on to accomplish its goals.
Emphasis mine.  This theme, that we had a free market and then the PPACA came along and wrecked it seemed evident in some of the aforementioned comments and seems to underlie a lot of assumptions about the legislation.
There is one profound problem with that assertion:  we didn't have a free market for health care prior to the passage of the PPACA.  We already had "a highly regulated" health care industry.  Further, a substantial amount of spending on health care was already in government hands:  Medicare, Medicaid, SCHIP, the VA, TRICARE and so forth (as Dave Shuler noted in the comments of my post yesterday).  And, of course, things like HMOs were created by Congressional legislation**** as was the current system (dating back decades and decades) of linking health insurance as an employee benefit rather than as part of taxable compensation.*****  The notion that we have been playing in a free market prior to the PPACA is problematic to put it mildly.
Indeed, the fundament of our system:  one of individually held, privately provided insurance that one uses to go to a privately run doctor's office remains the mainstay of the system.  The PPACA deepens the existing institutional structures, for good or ill.  It is hardly radical change.
Beyond any of that, I have reached the conclusion that a free market in health care may be impossible to have, at least in a pure sense, but I will leave that to a separate post.
In conclusion:  dislike PPACA all you like.  Criticize the whole thing or specifics thereof, but don't pretend that we had a free market in healthcare prior to its passage:  that's utter nonsense.  Does it increase the government's role in health care?  Of course it does, but that remains a far cry from a "takeover."
*To the political scientists in the audience/those well versed in political philosophy, I am aware that some of the terms in question are incompatible, but apparently most people who use the terms don't understand that fact.
**Which does not mean, by way, apathy on the subject, but rather, I have multiple responses to the legislation, its goals and its contents.
***Hat tip to OTBer Chris Lawrence's FB feed.
****In 1973, in fact—which I reckon is before many readers were born.
*****This dates to WWII.