Banks Have Too Much Money!
Banks have more money than they can lend out profitably.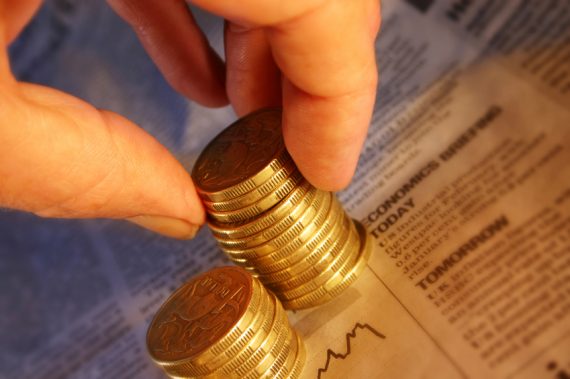 Apropos of complaints that banks have a license to print money, regular commenter John Personna passes along an odd story from NYT ("In Cautious Times, Banks Flooded With Cash"):
Bankers have an odd-sounding problem these days: they are awash in cash. Droves of consumers and businesses unnerved by the lurching markets have been taking their money out of risky investments and socking it away in bank accounts, where it does little to stimulate the economy.

Though financial institutions are not yet turning away customers at the door, they are trying to discourage some depositors from parking that cash with them. With fewer attractive lending and investment options for that money, it is harder for the banks to turn it around for a healthy profit. In August, Bank of New York Mellon warned that it would impose a 0.13 percentage point fee on the deposits of certain clients who were moving huge piles of cash in and out of their accounts. Others are finding more subtle ways to stem the flow. Besides paying next to nothing on consumer checking accounts and certificates of deposit, some giants — like JPMorgan Chase, U.S. Bancorp and Wells Fargo — are passing along part of the cost of federal deposit insurance to some of their small-business customers.

Even some community banks, vaunted for their little-guy orientation, no longer seem to mind if you take your money somewhere else. "We just don't need it anymore," said Don Sturm, the owner of American National Bank and Premier Bank, community lenders with 43 branches in Colorado and three other states. "If you had more money than you knew what to do with, would you want more?"

[…]

Ordinarily, in a more robust environment, an influx of deposits would be used to finance new businesses, expansion plans and home purchases. But in today's fragile economy, the bulk of the new money is doing little to spur growth. Of the $41.8 billion of deposits that Wells Fargo collected in the third quarter, for example, only about $8.2 billion was earmarked to finance new loans.

Normally, banks earn healthy profits by taking in deposits and then investing them or lending them out at substantially higher interest rates than what they pay savers. But that traditional banking model has broken down.

Today, banks are paying savers almost nothing for their deposits. As it turns out, the banks are not minting money on those piles of cash. Lending levels have not bounced back from only a few years ago and the loans going out are not keeping pace with the deposits rushing in.

What's more, the profitability of each new loan has shrunk. Because the Federal Reserve effectively sets the floor off which banks price their lending rates, its decision to lower interest rates to near zero means the banks earn less money on the deposits they lend out. The banks are also earning less on the deposits left over to invest. They typically park that money overnight at the Fed for a pittance, or invest it in ultra-safe securities, like bonds backed by the government. But with interest rates so low, the yields on those investments have been crushed.
This is a bizarre turn of events. One would think that the result would be people with large cash reserves investing their money in stocks or finding other uses for it. Putting it in the bank in the current climate is tantamount to putting it in a mattress: you're losing money every day as inflation eats away at the value of your savings.
The housing crash isn't exactly helping matters, either. Many of us who would otherwise be jumping on the current low rates to refinance our mortgages no longer have the equity to do so.