SVC, Bank Contagion, and Government Action
The Biden administration had little choice but to act.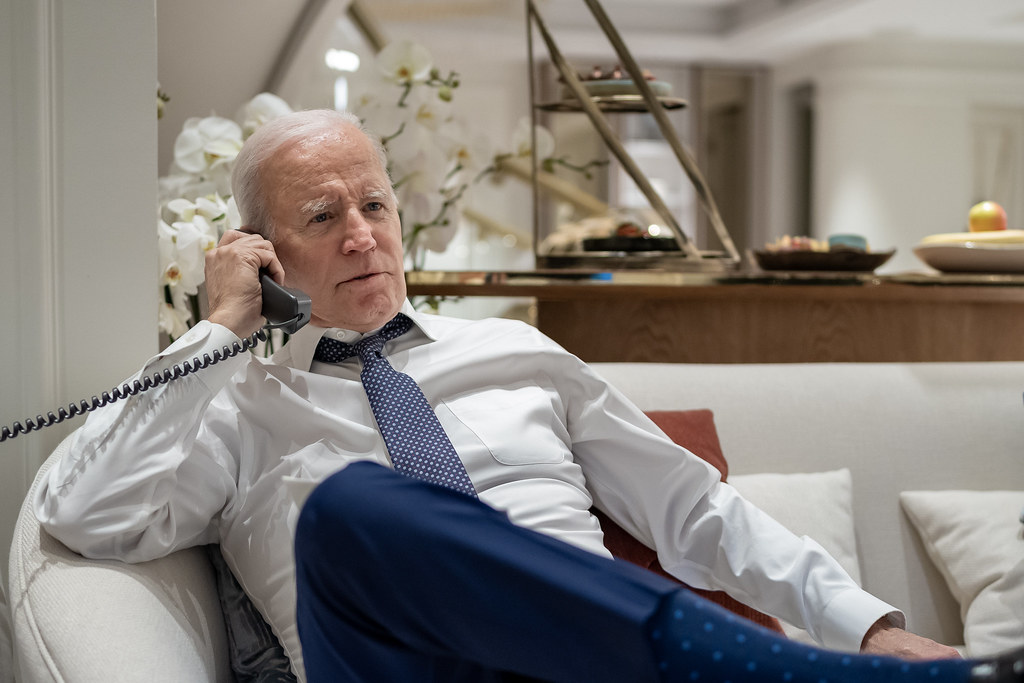 WaPo takes us inside "The 72-hour scramble to save the United States from a banking crisis."
It seemed like a simple question: Did the treasury secretary have any concerns about the economic risks posed by Silicon Valley Bank?

It was Friday morning, and a wave of public panic had started to spread about one of the tech industry's leading financial institutions. Seated for a roughly three-hour grilling on Capitol Hill, Janet L. Yellen replied with a calm nod and a glance at her notes: "There are recent developments that concern a few banks that I'm monitoring very carefully," she said.

"When banks experience financial losses," she added, "it is and should be a matter of concern."

Yellen's comments foreshadowed the start of a scramble behind the scenes at the White House. New fears began to surface about a potential run on Silicon Valley Bank, threatening widespread devastation not just for California, its companies and workers, but perhaps the U.S. economy writ large.

[…]

A frenetic, roughly 72-hour race soon unfolded in Washington to confront the threat of a full-blown financial meltdown. A bank was failing. Billions of dollars — in workers' paychecks, and tech companies' balance sheets — were about to be lost. And the government faced fears of an economy in free fall, rekindling nightmares of the Great Recession in 2008.

Ultimately, the Biden administration decided to complete a major intervention with extraordinary speed, acting to preserve deposits at Silicon Valley Bank while safeguarding the finances of other firms on the precipice of ruin. Their efforts showed the extent to which the president was willing to risk being accused of providing emergency help to bail out the financial sector — a charge the White House adamantly denies — in a bid to keep the system stable and stave off a worsening crisis.

[…]

The administration had until Asian markets opened on Sunday to ensure that SVB customers could withdraw funds and businesses could pay their workers — all without sparking similar runs on other U.S. banks. Top aides at banking regulators over the weekend spotted surges in requests for cash withdrawals at banks that didn't appear to be connected to SVB, three of the sources said.

In the back of their minds, government officials recalled all too well the fallout from the 2008 financial crisis, and the immense political blowback that followed over the government's use of taxpayer funds for what was widely seen as an unfair bailout. Over the weekend, they began to see banks outside of tech-heavy New York and California showing signs of volatility. Bank executives told federal officials that major customers had warned they would withdraw their money and move it to a Wall Street giant for safety first thing on Monday morning.

The Biden administration faced further pressure from Silicon Valley executives, including the co-founder of LinkedIn, as well as a wide array of influential California Democrats such as former House speaker Nancy Pelosi. They amplified the urgent need for action when many financial analysts outside Washington remained unaware of how bad things could get.

"We had to protect the depositors, we had to protect small businesses … [and] make sure this doesn't become systemic," said Pelosi, noting she had heard from another unnamed bank executive who said customers were withdrawing cash at higher rates. "We don't want contagion."

Instead, the administration managed to calm markets, after a day of turbulence that cut deeply into banks' stocks Monday. And it prevented the sort of panic that might have resulted in countless Americans withdrawing money from their banks, which could have created damaging instability in the financial system.
That all seems rather straightforward and more or less matches what I had previously understood about the decision. Still, while I think the action was both necessary and proper, SVC is an unusual case. This much we also knew:
Silicon Valley Bank held an unusually high percentage of its assets in Treasury bonds. When the Federal Reserve raised interest rates, the value of existing bonds — a normally safe asset — went down. So the bank could not sell those bonds easily to make good on customers' deposits as panic set in, and many flooded the bank seeking to withdraw their funds.

Many of the bank's customers, meanwhile, were not the usual fare — they were investors, companies and other large institutions. It had more than $170 billion in deposits by the end of December, but 90 percent of them exceeded $250,000, the amount up to which the federal government insures in the event of a collapse.
But that also means this:
Compounding the deadline, the Biden administration faced calls for urgent action from some of the biggest names in Silicon Valley, who wanted to see all depositors — regardless of their size — made whole.

Sounding alarms were the likes of Reid Hoffman, the founder of LinkedIn and a partner at Greylock, a major venture capital firm. A prolific donor to Democrats, including Biden, he took his concerns to Democratic lawmakers and administration officials. Ron Conway — another of the area's leading investors, with original stakes in Airbnb, Facebook and Google — worked withPelosi and Gov. Gavin Newsom to put pressure on the White House, Treasury Department and elected officials.

More than 600 tech executives, engineers and investors piled onto a hastily arranged, late Friday call with Rep. Ro Khanna (D), whose Bay-area district includes the headquarters for Silicon Valley Bank. Publicly, Khanna soon emerged as a forceful voice calling for the Biden administration to rescuethe bank's depositors, warning about broader financial shocks to come.

The lobbying blitz reflected a broader sea change in the normally libertarian tech industry — one that typically tries to ward off federal intervention. Now, many of those same voices were calling on the Biden administration to act and protect an ecosystem in which they had a large stake.

California lawmakers, meanwhile, mounted their own pressure campaign in Zoom calls and other contacts with Biden administration officials. They immediately began to hear from voters, business owners and political donors, who feared the economic blow that the bank's collapse could bring.

"When I went to do a little grocery shopping, I couldn't help but notice a lot of people at the banks," said Rep. Anna G. Eshoo, whose Golden State district includes a portion of the tech industry, recalling her concerns over the weekend.

Rep. Maxine Waters (Calif.), the top Democrat on the financial services committee, started raising the issue with the FDIC late Friday. Rep. Zoe Lofgren (D), who leads the California delegation, by Saturday evening organized the first of several meetings between a wider array of state lawmakers and federal banking regulators.

Initially, Democrats expressed their broad belief that the government, first and foremost, should try to secure the sale of Silicon Valley Bank. But as the potential dangers became more apparent of letting uninsured bank deposits evaporate, party lawmakers shifted toward trying to persuade the administration to take any action necessary to stave off crisis.

California members told administration officials stories of local businesses that stood to suffer in the event of a financial catastrophe, even beyond tech. In one example, they pointed to a payroll processor that parked its money at SVB and served nearly 1 million workers — people who could miss paychecks if large depositors weren't rescued. Khanna, meanwhile, pointed to a local food bank that had relied on the now-failed firm.
While the decision to make depositors whole was almost certainly prudent public policy, the fact that so many of them are huge donors to the campaigns of decisionmakers certainly factored in. As did the fact that SVC is in California, which has the largest Congressional delegation.
But this all led to a balancing act:
The administration still faced obstacles to sweeping action. Biden had reservations about approving a plan that could be spun as a bailout for bank shareholders. Sen. Bernie Sanders (I-Vt.) was publicly warning against a bailout as well.

[…]

Although administration officials had largely decided by Saturday night that all depositors must be protected, they also worried about how to ward off the perception that they were acting primarily to bail out the rich and well connected who had been pressing for help. The plan does not protect the SVB's shareholders or executives.

"There was a lot of concern about: What is the messaging here?" said one person, who spoke on the condition of anonymity to describe private deliberations. "Are we just saving these rich people, or are we doing something to save the economy? How do we present that, and what do we demand in terms of accountability to make clear this is not favorable treatment for a select few?"

Biden has emphasized that the plan is focused on protecting workers and small businesses.
I'm hardly an expert in the banking system but it seems to me that the plan hit the right wickets in that regard, protecting depositors while firing the management team and letting shareholders take their losses. It also took measures to stave off future runs.
Alas,
The Fed is expected to continue raising interest rates this year in its campaign to thwart inflation, which could subject other banks to the same challenges.

"The weekend intervention dampened the immediate crisis," said Bob Hockett, a Cornell University economist. "But continued rate hikes will simply bring more distress to industries — and thus to their banks — in the weeks and months to come."
Rather clearly, regulations surrounding this need to be rethought.
Does the $250,000 FDIC limit make sense? If a simple payroll processing company needs to keep millions of dollars liquid, maybe not. But it would seem reasonable to ask those needing to do so pay extra for the ability to have huge deposits backstopped by Uncle Sam.
I gather from some commenters that SVC's investment strategy was unusually risky. Most of the reporting I've seen focuses, as the above WaPo piece does, on the big bet on Treasury bonds, which doesn't strike me as particularly reckless. But FDIC-insured banks shouldn't be in such a precarious position that bailouts are necessary outside of general economic collapse.
Beyond that, I just don't have the background on banking regulation to know what additional measures are appropriate. While "too big to fail" was the buzzphrase of the Great Recession, SVC wasn't all that large by US banking standards. But, clearly, the possibility of contagion puts policymakers into a no-win situation in which they have little choice but to react. Which almost certainly means they need to take proactive measures to mitigate against being put into a crisis scenario.