Silicon Valley Bank Too Big to Fail?
Here we go again.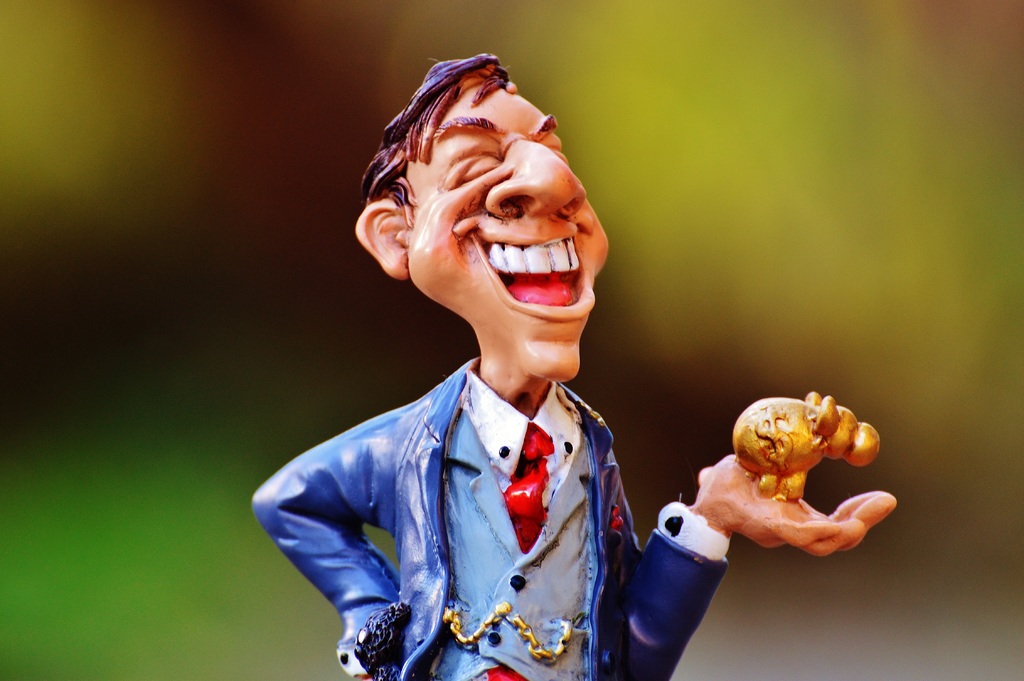 AP ("Can the chaos from Silicon Valley Bank's fall be contained?"):
Can Washington come to the rescue of the depositors of failed Silicon Valley Bank? Is it even politically possible?

That was one of the growing questions in Washington Sunday as policymakers tried to figure out whether the U.S. government — and its taxpayers — should bail out a failed bank that largely served Silicon Valley, with all its wealth and power.

Prominent Silicon Valley personalities and executives have been hitting the giant red "PANIC" button, saying that if Washington does not come to the rescue of Silicon Valley bank's depositors, more bank runs are likely.

"The gov't has about 48 hours to fix a soon-to-be-irreversible mistake," Bill Ackman, a prominent Wall Street investor, wrote on Twitter. Ackman has said he does not have any deposits with Silicon Valley Bank but is invested in companies that do.

Some other Silicon Valley personalities have been even more bombastic.

"On Monday 100,000 Americans will be lined up at their regional bank demanding their money — most will not get it," Jason Calacanis wrote on Twitter. Calacanis, a tech investor, has been close with Elon Musk, who recently took over the social media network.

Silicon Valley Bank failed on Friday, as fearful depositors withdrew billions of dollars from the bank in a matter of hours, forcing U.S. banking regulators to urgently close the bank in the middle of the workday to stop the bank run. It's the second-largest bank failure in history, behind the collapse of Washington Mutual at the height of the 2008 financial crisis.

Silicon Valley Bank was a unique creature in the banking world. The 16th-largest bank in the country largely served technology startup companies, venture capital firms, and well-paid technology workers, as its name implies. Because of this, the vast majority of the deposits at Silicon Valley Bank were in business accounts with balances significantly above the insured $250,000 limit.

Its failure has caused more than $150 billion in deposits to be now locked up in receivership, which means startups and other businesses may not be able to get to their money for a long time.

Staff at the Federal Deposit Insurance Corporation — the agency that insures bank deposits under $250,000 — have worked through the weekend looking for a potential buyer for the assets of the failed bank. There have been multiple bidders for assets, but as of Sunday morning, the bank's corpse remained in the custody of the U.S. government.

Despite the panic from Silicon Valley, there are no signs that the bank's failure could lead to a 2008-like crisis. The nation's banking system is healthy, holds more capital than it has ever held in its history, and has undergone multiple stress tests that shows the overall system could withstand even a substantial economic recession.

Further, it appears that Silicon Valley Bank's failure appears to be a unique situation where the bank's executives made poor business decisions by buying bonds just as the Federal Reserve was about to raise interest rates, and the bank was singularly exposed to one particular industry that has seen a severe contraction in the past year.

[…]

While highly unusual, it was clear that a bank failure this size was causing worries. Treasury Secretary Janet Yellen as well as the White House, has been "watching closely" the developments; the governor of California has spoken to President Biden; and bills have now been proposed in Congress to up the FDIC insurance limit to temporarily protect depositors.

"I've been working all weekend with our banking regulators to design appropriate policies to address this situation," Yellen said on "Face the Nation" on Sunday.

But Yellen made it clear in her interview that if Silicon Valley is expecting Washington to come to its rescue, it is mistaken. Asked whether a bailout was on the table, Yellen said, "We're not going to do that again."

"But we are concerned about depositors, and we're focused on trying to meet their needs," she added.

Sen. Mark Warner, D-Virginia, said on ABC's "This Week" that it would be a "moral hazard" to potentially bail out Silicon Valley's uninsured depositors. Moral hazard was a term used often during the 2008 financial crisis for why Washington shouldn't have bailed out Lehman Brothers.

The growing panic narrative among tech industry insiders is many businesses who stored their operating cash at Silicon Valley Bank will be unable to make payroll or pay office expenses in the coming days or weeks of those uninsured deposits are not released. However, the FDIC has said it plans to pay an unspecified "advanced dividend" — i.e. a portion of the uninsured deposits — to depositors this week and said more advances will be paid as assets are sold.
The "moral hazard" argument doesn't make much sense here. Are individual depositors —or, at least those with large deposits—supposed to closely monitor the investment strategies of other bank's management team? Was SVB giving out returns on investment that were wildly out of whack, signaling that investors were taking a higher risk? If not, then it only makes sense to apply moral hazard to the bank's ownership, not its customers.
Which seems to be how regulators are leaning. A Joint Statement by Treasury, Federal Reserve, and FDIC was released yesterday evening, signed by Secretary of the Treasury Janet L. Yellen, Federal Reserve Board Chair Jerome H. Powell, and FDIC Chairman Martin J. Gruenber.
Today we are taking decisive actions to protect the U.S. economy by strengthening public confidence in our banking system. This step will ensure that the U.S. banking system continues to perform its vital roles of protecting deposits and providing access to credit to households and businesses in a manner that promotes strong and sustainable economic growth.

After receiving a recommendation from the boards of the FDIC and the Federal Reserve, and consulting with the President, Secretary Yellen approved actions enabling the FDIC to complete its resolution of Silicon Valley Bank, Santa Clara, California, in a manner that fully protects all depositors. Depositors will have access to all of their money starting Monday, March 13. No losses associated with the resolution of Silicon Valley Bank will be borne by the taxpayer.

We are also announcing a similar systemic risk exception for Signature Bank, New York, New York, which was closed today by its state chartering authority. All depositors of this institution will be made whole. As with the resolution of Silicon Valley Bank, no losses will be borne by the taxpayer.

Shareholders and certain unsecured debtholders will not be protected. Senior management has also been removed. Any losses to the Deposit Insurance Fund to support uninsured depositors will be recovered by a special assessment on banks, as required by law.

Finally, the Federal Reserve Board on Sunday announced it will make available additional funding to eligible depository institutions to help assure banks have the ability to meet the needs of all their depositors.

The U.S. banking system remains resilient and on a solid foundation, in large part due to reforms that were made after the financial crisis that ensured better safeguards for the banking industry. Those reforms combined with today's actions demonstrate our commitment to take the necessary steps to ensure that depositors' savings remain safe.
NBC News ("Is Silicon Valley Bank getting a government bailout? Not in the 2008 sense."):
Funding for the emergency measures will also come from selling off SVB's assets, said Morgan Ricks, a banking professor at Vanderbilt Law School. As a result, he said, taxpayer dollars will not be directly implicated in the backstop measure.

That is a key difference from the congressionally approved bailout of the U.S. financial system authorities approved in the fall of 2008. That legislation, called the Emergency Economic Stabilization Act, earmarked $700 billion to create the Troubled Asset Relief Program to purchase toxic assets from banks.

By designating their backstop measures as a "systemic risk exception" event, Washington regulators sidestepped a vote that would otherwise be required from Congress on whether to backstop the banks' depositors.

The "exception" designation required the approval of two-thirds of the Federal Reserve Board of Governors, two-thirds of the board of the FDIC and the Treasury Department in consultation with the president, Ricks said.
Offhand, this strikes me as a reasonable approach. The managers responsible for the failure have been fired. Whether they will be subject to other sanctions—or whether they're even appropriate—is beyond my knowledge. Those who invested in the bank hoping to make money will, appropriately, lose money on their bad investment. Depositors will be made whole, with the costs of that possibly being spread out to customers of other banks.
The only thing close to a moral hazard situation here is the protection of assets over the ostensible $250,000 limit. But I really don't see it. That's just not a lot of cash on hand for a big business and it strikes me as absurd to expect even individual customers who have that much in non-investment accounts to spread it along multiple banks just in case one of them goes down.