Obama To Pick Janet Yellen To Head Federal Reserve Board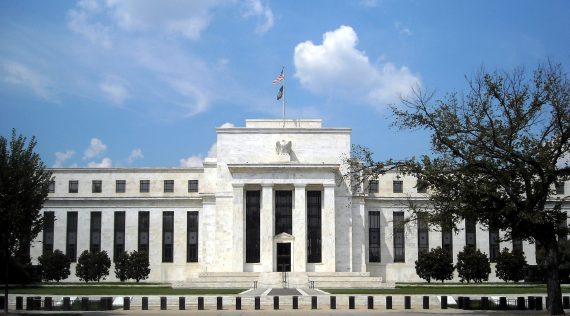 As many expected after Larry Summers withdrew his name from consideration, President Obama will announce today that he has selected Federal Reserve Board Vice Chair Janet Yellen to be the next head of the Federal Reserve Board:
WASHINGTON — President Obama will nominate Janet L. Yellen as chairwoman of the Federal Reserve on Wednesday, White House officials said Tuesday night, ending an unusually prolonged and public search to fill one of the most important economic policy-making jobs in the world.

Ms. Yellen, 67, has been the Fed's vice chairwoman since 2010, when Mr. Obama nominated her to the post and she was easily confirmed on a voice vote by the Senate. She would be the first woman to run the central bank.

She is also expected to win bipartisan support for her new role in the Democratic-controlled Senate, said Senator Charles E. Schumer of New York. But some Republicans could throw up hurdles. Senator Bob Corker of Tennessee voted against her appointment as vice chairman because of what he called "her dovish views on monetary policy," and he was already expressing reservations on Tuesday night about her nomination for the top job.

"We will closely examine her record since that time," said Mr. Corker, who sits on the Banking Committee, which must clear her nomination before it moves to the full Senate. "But I am not aware of anything that demonstrates her views have changed."

Ms. Yellen's nomination was widely expected, but she was not thought to be Mr. Obama's first choice for the job. For months, the speculation was that the president would nominate Lawrence H. Summers, a former adviser of Mr. Obama's. But Mr. Summers dropped out of the running on Sept. 15 in the face of opposition from Democratic senators. Some in the administration blamed Yellen advocates for churning up the opposition to Mr. Summers.

A native of Brooklyn, she was previously president of the Federal Reserve Bank of San Francisco, a White House adviser, a Fed governor during the Clinton administration and a longtime professor at the University of California, Berkeley.

The most important decisions awaiting Ms. Yellen involve how quickly to wind down the expansionary monetary policy engineered by the current chairman, Ben S. Bernanke. Ms. Yellen worked closely with Mr. Bernanke, whose term ends on Jan. 31, in shaping and building support for that approach in an effort to stimulate the economy and bring down unemployment.

If anything, Ms. Yellen has wanted the Fed to take even more aggressive measures to lift growth, believing the risks of inflation are modest. But her views and Mr. Bernanke's appear close enough that markets have considered her potential ascension a sign of continuity at the Fed.
Indeed, as Ezra Klein notes, Yellen is not as much of a "Monetary Dove" as some of the coverage of the Fed has seemed to indicate:
She is not a monetary perma-dove — that is always and at all times more worried about jobs than inflation. During the 1990s, as a Fed governor, she tried to persuade Alan Greenspan toward tighter monetary policy. But in the last six years, as the housing boom went to bust, and amid the global financial panic, and oh-so-slow recovery that followed, she has been consistent in her advocacy of stronger action from the Fed to address it.

Her great challenge as Fed chair, if confirmed, will be to decide when and how the central bank should make the pivot from its current orientation, going all-out to try to fight a weak economy, toward one of worrying more about the after-effects of their six years of interventionism. Yellen will inherit a Federal Reserve System with about a $4 trillion balance sheet, accumulated through bond purchases that have propped up prices of assets ranging from U.S. stocks to Indonesian bonds. She will inherit a central bank that has kept interest rates near zero for five years, with a pledge to keep them very low for some time to come.

Yellen, in other words, will have to grapple with what unpredictible ripples might result from the policies she has long advocated.
Before all of that, of course, Yellen will have to make it through the Senate. There have been some rumblings from Senate Republicans about concern over her advocacy of looser monetary policies, but little signs that there would be strong enough opposition to stop her nomination from being confirmed. If she is confirmed, Yellen would be the first female head of the Federal Reserve Board in its 100 year history, the highest ranking woman ever in an economic policy position in U.S. history, and, as she is now, one of the few women in any position on a major central bank. Annie Lowry notes the disparity this morning:
Among the world's developed nations, there is only a smattering of female central bankers. There are none on the 23-member policy board of the European Central Bank, a fact that has led to widespread consternation and a search for female candidates. There are also none on the policy board of the Bank of England and just one on the policy board of the Bank of Japan.

(Ms. Yellen is one of two women on the six-member Federal Reserve Board; there are also two female presidents among the heads of the 12 regional Federal Reserve Banks.)

(…)

Women are better represented in the developing world's central banks. There is a woman at the helm of Russia's central bank, for instance. Gill Marcus heads South Africa's bank, Zeti Akhtar Aziz runs Malaysia's, and Linah Mohohlo runs Botswana's. All in all, there are about a half-dozen female central bankers in big countries that are not members of the Organization for Economic Cooperation and Development, and more than a dozen around the world.
So, here's to shattering that glass ceiling.