The N.B.A. Continues To Kiss Chinese Ass
The National Basketball Association's kowtowing to China hits American shores.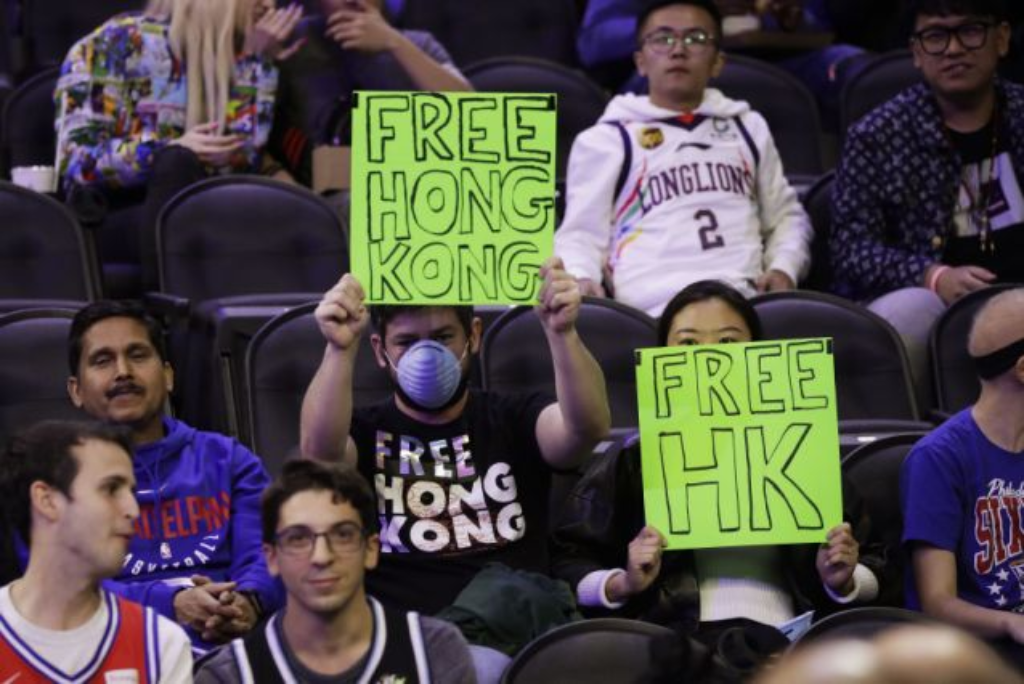 The National Basketball Association's kowtowing to China isn't just impacting events in China, it's impacting Americans at home too:
A married couple said they were kicked out of Tuesday's exhibition game between the 76ers and the Guangzhou Loong-Lions of the Chinese Basketball Association in Philadelphia for displaying signs that read "Free Hong Kong" and "Free HK" and then shouting the former slogan after security officers took their signs away.

Sam Wachs, a Philadelphia resident who said he lived in Hong Kong for two years, told NBC 10 that Wells Fargo Center security officers first confiscated their signs and then kicked him out along with his wife after they yelled "Free Hong Kong" in the second quarter.

"We were just sitting in our seats near the Chinese bench," Wachs said.

"We were saying, 'Free Hong Kong,' " Wachs continued. "What's wrong with that?"

In a statement to The Post, the 76ers said a number of fans had complained about the two fans' "continuing disruption."

"The Wells Fargo Center's event staff is responsible for the security and comfort of all guests at arena events, including 76ers games. At last evening's game, following multiple complaints from guests and verbal confrontations with others in attendance, two individuals were warned by Wells Fargo Center staff about their continuing disruption of the fan experience. Ultimately, the decision was made by Wells Fargo Center personnel to remove the guests from the premises, which was accomplished without incident," the statement read.

In a separate statement on behalf of Wells Fargo Center, the team said the fans had been warned three times about their behavior.
"During the second quarter of last night's 76ers game, Wells Fargo Center security responded to a situation that was disrupting the live event experience for our guests," that statement read. "After three separate warnings, the two individuals were escorted out of the arena without incident. The security team employed respectful and standard operating procedures."
Here are the signs in question
The protests in HK are not an attack on Chinese sovereignty. The protesters' demands include: permanent withdrawal of the extradition bill, for Carrie Lam to resign, an inquiry into police brutality, for those who've been arrested to be released, and greater democratic freedoms.

— Sam Wachs (@gogowachs) October 9, 2019
Other reports have indicated that the two fans were seated near a group of Chinese fans who were cheering on their home country and who were troubled and/or offended by the signs and that arguments had broken out between the sign holders and some of the Chinese fans. There is no indication that any of the Chinese fans were asked to leave the Wells Fargo Center as a result of this incident, so it appears that it is the two fans holding the signs supporting the protests in Hong Kong
This isn't just an isolated incident, the same thing happened at a Washington Wizards game in Washington, D.C.:
Several people at a Washington Wizards basketball game Wednesday against a Chinese team said their signs supporting anti-government demonstrators in Hong Kong and protesting the treatment of an ethnic group in China were confiscated.

The action follows a similar incident Tuesday when two fans were kicked out of a Philadelphia 76ers game because they carried small, handmade signs supporting anti-government demonstrators in Hong Kong.

A group of people at the Wizard's game said their signs were confiscated at Capital One Arena in Washington during a game against the Guangzhou Loong-Lions, of the Chinese Basketball Association. Another person said he was told to ditch his sign supporting Hong Kong or leave, and he chose to leave.

Patrick Hedger, 29, of Alexandria, Virginia, said he had a sign that read "Free Hong Kong" and chanted slogans like, "We will not bow to Chinese communist oppression" and "freedom of speech."

"I knew I had to say something and take a stand," said Hedger, who lived in Hong Kong briefly as a child and again when he was in a study-abroad program

Others at the Wizards game tweeted they were allowed to wear "Free Hong Kong" shirts but a sign that read "Google Uyghurs," referring to a Muslim ethnic group that the U.S. government says is being repressed in China with mass detention in internment camps, was confiscated.

Jon Schweppe, 31, who posted the video, said they also decided to leave after being told by security that political statements were not allowed. "We felt we'd made our point at that point," he said.

The Wizards said in a statement that no fans were asked to leave, and that the building security staff removed signs in accordance with the arena's policies against political or commercial signs.

The policies posted online say signs are allowed but may not be political or commercial in nature. Video purporting to show the confiscation of the sign about the Uyghurs shows an official saying no political signs are allowed.
Here's some video of what happened in D.C:
All of this is occurring, of course, in the context of the week-long controversy that erupted after a co-owner of the Houston Rockets posted a message supportive of the protests in Hong Kong on his private Twitter account. Despite the fact that the post was deleted, it has led to a controversy in China that has thrown ongoing exhibition games in Beijing and Shanghai into doubt and led to a muddled response from the league. Specifically, the league has spent the better part of this week trying to mend fences with its partners in China while at the same time claiming that it supported the free speech rights of its owners and players, a position that has seemingly satisfied nobody.
The fact that the NBA's kowtowing to China has come to American shores is likely to just make the problem worse. In all likelihood, we'll see more people bring signs like these to games, especially as the exhibition games against Chinese teams continue for the next several days. No doubt, the league will continue to do what it can to please China because it's obviously made the choice between money and freedom of speech and between good relations with a dictatorship and recognizing freedom of speech.